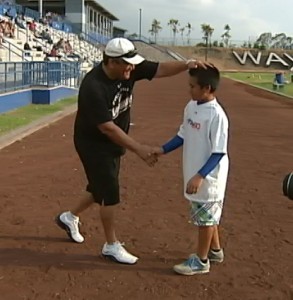 By David Corrigan and Stephanie Salazar
[Video by David Corrigan, interview conducted by Karin Stanton]
KEALAKEHE, Hawaii: NFL Football Players and Cheerleaders held a Youth Clinic at Kealakehe High School in Kona on Tuesday.
The players and cheerleaders presented the kids with inspirational messages and positive skills training. The 2-hour clinic featured a variety of hands-on skills and techniques for both boys and girls…
… and from the looks of this field goal kicking the challenge, some of the girls were more than willing to show the boys how its done.
The NFL Pro Bowl Youth Clinic, now in its 10th year, is focused on motivating youth to realize their dreams and to maximize their potential.
Mayor Billy Kenoi, a Pro Bowl Ohana Committee Member who helped to bring the clinic to the Big Island, was in attendance.
Also in attendance, Jason Alani of Captain Cook, who recently won the national championship for the Boys 8-9 division of the NFL's Punt, Pass & Kick competition.
Alani was among the winners honored during on-field award presentation during the nationally televised AFC divisional playoff game between the Ravens and the Texans.
At the Kealakehe clinic, all youth participants received an NFL Pro Bowl T-shirt, autographed by each player and an NFL Pro Bowl sling backpack.
The NFL players and cheerleaders will be stopping by Keaau High School on Wednesday.