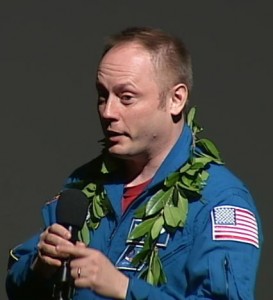 By David Corrigan and Stephanie Salazar
[Video by David Corrigan]
HILO, Hawaii: The 2012 Astronaut Ellison Onizuka Science Day was held at the University of Hawaii – Hilo on Saturday.
Hundreds of educators and students filled the campus theater for the opening general assembly, and shared in the memories and inspiration of Ellison Onizuka, who was born and raised in Kealakekua, and grew up to become NASA's first Japanese-American astronaut.
The 12th annual event is held on the same day that – 26 years ago – the tragic Challenger Space Shuttle explosion claimed Onizuka's life along with 6 other crew members.
The featured speaker was Astronaut Michael Fincke, who shared his own story with the young men and women in attendance.
One of Onizuka's mentors, a recognizable figure from South Kona – Norman Sakata – spoke about corresponding with the young astronaut in the days before his scheduled mission to space.