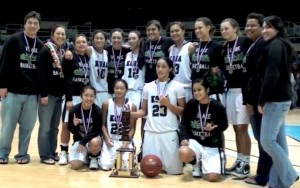 Big Island teams sweep Hawaii state girls basketball championships
Konawaena video by Paula Honda, HawaiiPrepWorld.com | Kamehameha-Hawaii video by Baron Sekiya, Hawaii247.com
HONOLULU, Hawaii: Hawaii Island sports has in the spotlight, thanks to girls basketball teams from Konawaena and Kamehameha-Hawaii.
Both teams took the state championships in HHSAA tournament play this weekend.
Bobbie Awa, in her 12th year coaching, lead Konawaena to its fifth state title.
The Wildcast defeated Iolani, 56-45, in the Division I state basketball championship game on Oahu.
It was capped off a perfect season for Konawaena, who went undefeated all season.
Kamehameha Schools Hawaii ran away with the Division II girls basketball state championship 57-36 to secure the Warriors' third title in eight years,
Congratulations to both teams!