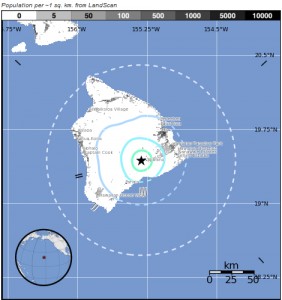 VOLCANO, Hawaii: A magnitude 4.1 earthquake has struck Hawaii Island.
The temblor, which shook around 9:02 p.m., was at a depth of 3.2 miles. It occurred 5 miles west of Volcano. USGS maps put the quake in the same vicinity as the recent swarm of quakes between the Kilauea and Mauna Loa volcanoes.
Earlier today, scientists said they are continuing to keep an eye on the swarm of small earthquakes around the active Kilauea volcano. In its Thursday morning status report, the Hawaiian Volcano Observatory wrote that the seismic swarm that we reported on yesterday, located just northwest of the summit, continues at low levels. This magnitude 4.1 would be the largest of the many quakes, and perhaps the only one to be felt as far north as Hilo.
On Wednesday, the area shook with more than 60 earthquakes, 14 of which were greater than magnitude-2. The largest was a magnitude-3.2 earthquake at 6:55 a.m.
Since then the swarm has slowed dramatically. It remains to be seen what this latest quake means for that trend.