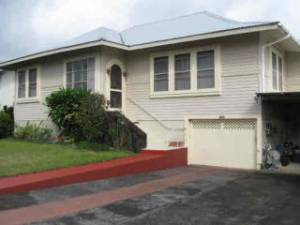 House listed actually is in escrow and not for rent
Media release by Hawaii County Police Department, photo from Craig's List ad
HILO, Hawaii: Big Island police are warning the public about a rental scam using a popular online free classified advertising service.
An unidentified person posted an ad on Craig's List offering a house for rent on Haili Street in Hilo with attractive terms. The ad says utilities are included in the $1,000 rent and cats and dogs are welcome. When an interested renter responds, the scammer claims to be out of the country for several years and looking for a responsible renter to take care of the house.
The house listed actually is in escrow and not for rent.
Although Craig's List warns users to be leery of landlords who are out of the country and not available to meet the renter, this type of scam has cheated prospective renters out of rent money and security deposits in other jurisdictions, said Lieutenant Gregory Esteban from the Hawaiʻi Police Department's Criminal Investigations Section.
"We are aware of similar scams like this on the mainland, where criminals prey on individuals looking for a reasonably-priced house," Esteban said. "We don't want our residents to fall victim to this kind of scam."