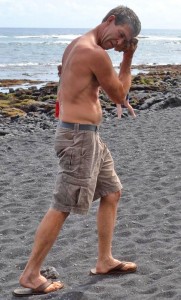 Oregon man allegedly punched in eye, had camera stolen at Punalu'u
Media release by Hawaii County Police Department
PUNALUU, Hawaii: Big Island police are asking for the public's help in identifying a man wanted for questioning in connection with an assault at Punaluʻu Black Sands Beach on January 12.
A 29-year-old man from Meadow Lake, Oregon, was taking pictures of turtles when another man confronted him and told him to stay away from the turtles. The suspect then punched the cameraman in the left eye and took his camera and wrestled him to the ground. During the ensuing struggle, the victim's girlfriend retrieved the camera. Bystanders separated the two men and the victim's girlfriend took a picture of the suspect (pictured to the right, according to police).
Police ask that anyone with information on his identity call Officer James Lorenzo at 939-2520 or the Police Department's non-emergency line at 935-3311.
Tipsters who prefer to remain anonymous may call Crime Stoppers at 961-8300 in Hilo or 329-8181 in Kona and may be eligible for a reward of up to $1,000. Crime Stoppers is a volunteer program run by ordinary citizens who want to keep their community safe. Crime Stoppers doesn't record calls or subscribe to caller ID. All Crime Stoppers information is kept confidential.