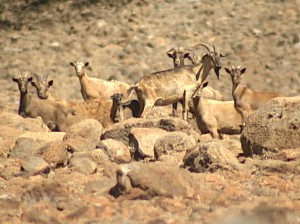 Only two legislators attend gathering at Nani Mau Gardens in Hilo
Video by David Corrigan, Voice of Stephanie Salazar
HILO, Hawaii: The room was packed at Nani Mau Gardens on Saturday evening for a "People's Hearing", and local hunters are not happy with the state.
The Mauna Kea Recreational Users Group was the host of the so-called "citizens' legislative evening", which was open to all interested in hunting or public access rights on public lands. President Wayne Blyth and fishing committee chair Robert Duerr served as the MCs.
Featured speakers included Joe Griffiths, Matt Hoeflinger, Tom Lodge, Patrick Pacheco, Tony Sylvester, Walthau Johansen, Syd Singer, and Steven Araujo. Many focused on the recent decision by the Department of Land and Natural Resources to fence Puu Maka'ala, a prime hunting ground that is now under the Natural Area Reserve designation.
Speakers also lambasted the ongoing efforts to eradicate ungulates all over the islands in the name of protecting watersheds.
Overall, hunters are up in arms over DLNR policy.
Invited guests included Big Island legislators, however State reps. Clift Tsuji and Jerry Chang were the only lawmakers who showed up. They were on the receiving end of the frustration.
The Mauna Kea Recreational Users Group works to promote the right of access to and responsible use of public lands and helps identify potential conflicts and common interests for users of public lands.
Some hunters have been warning that the state would be putting up fences and restricting access for decades… and only now are the warnings beginning to resonate with other concerned hunters. Others say data collected that does not support DLNR policy has been hidden from the public.
Representative Jerry Chang said he was impressed by the Saturday's display, and urged that hunters be more active at official legislative hearings held on Oahu.
On Monday, The DLNR Division of Forestry and Wildlife issued a memorandum on hunting and public access, which included a fact sheet defending the practise of installing protective fences and removing hooved animals.
It also said that hunters are a valuable partner in watershed conservation by helping to control game animals in forests and watershed areas throughout the state.
DOFAW included maps showing fenced areas in green and public game hunting areas in red.
The memorandum also included a fact sheet on Puu Makaala, saying that public hunting will be used for the first stage of animal removal in fenced areas.
The memorandum also contained a DOWFAW news release that was embargoed until Saturday at 5 p.m. … which was the exact time the hunters forum was scheduled to begin in Hilo… announcing a new program to increase public access for hunting, fishing, hiking, camping and other wildlife enjoyment opportunities statewide.
From the media release:
The DLNR Division of Forestry and Wildlife (DOFAW) recently hired an Access and Acquisitions Coordinator to work with private landowners, community groups and others to improve access to lands managed by DOFAW. These lands include Forest Reserves, Natural Area Reserves, Plant and Wildlife Sanctuaries, Game Management Areas and, potentially, other key parcels of land.

"This initiative is part of the DLNR's goal to increase protection of Hawai'i's coastlines, forests and watersheds, as well as to fulfill our mandate to provide access and wildlife-dependent recreation opportunities to the people of Hawai'i," said William J. Aila, Jr., DLNR Chairperson.

"As part of Governor Abercrombie's New Day Plan to transform state government by increasing public access to these areas, this new program will help Hawai'i's residents and visitors to better enjoy the outdoors and learn about the importance of conserving these unique environmental, cultural and historic areas in Hawai'i," Aila said.

In some cases DOFAW may provide incentives to private landowners for increased access to public lands. These incentives include road improvements, fencing, erosion control, removal of invasive species, education and outreach, and maintenance of access infrastructure. In other cases landowners have willingly volunteered to work with DOFAW to facilitate access across their lands, provided they are protected from any liability issues that may arise as a result of the increased access.

The Access Coordinator is in the process of identifying and prioritizing important access issues on each island and will be working to secure both public and private funding and support for the program. Recently, this program has secured two nationally competitive grants. These grants, from the National Shooting Sportsmen Foundation and the U.S. Department of Agriculture Voluntary Public Access Hunter Incentive Program will fund increased access for hunters and other forest users to public lands statewide and on Hawaii Island.

Questions regarding this access program may be directed to the Division of Forestry and Wildlife, Access and Acquisitions Coordinator, at (808) 587-0166.
The memorandum may be too little too late for this angry group of local hunters, who on saturday said their trust in the government has been shaken. Joe Griffiths, citing a conversation he had with the Pele Defense Fund, said that a class action lawsuit may be the only remedy the hunters have, now.