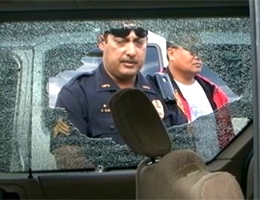 Window busted out, holes in vehicle, but no one hurt
Video by Daryl Lee, voice of Stephanie Salazar
PUNA, Hawaii: A terrifying moment for a family that was driving through Hawaiian Acres on Tuesday… when gunshots blasted out the windows on their vehicle.
No one was badly hurt in the incident that happened on road 10 in Hawaiian Acres.
The Mateo family, looking to move to the Big Island from Pearl City, was informally house hunting in Puna, when the bullets came flying through the air.
Police made two arrests, apparently in connection with the shooting. This video shows the apprehension. Details are limited at this point in time, we will have more on this story in tomorrow's newscast.
UPDATE: Hawaii County Police issued this media release about the incident:
Detectives from the Area I Criminal Investigation Section are investigating a reported shooting that occurred yesterday (March 13, 2012) in Puna.

On March 13, 2012 at about 1:34 pm, Puna patrol officers responded to the Hawaiian Acres subdivision after receiving a report that a 47 year-old Volcano man reported that while he and his family were driving on Road 10, he heard what sounded like a gunshot and something impacting his vehicle. He discovered that a window on his American made van was shattered and he immediately drove away and called police.

Patrol officers contacted the driver and discovered that there were 5 additional occupants in the van however none of them sustained any physical injuries. Officers canvassed the area and located and arrested a 68 year-old Hilo man and a 47 year-old Kurtistown man near the scene.

Detectives have recovered the van as part of the investigation.

Upon conferral with prosecutors, detectives released the 47 year-old Kurtistown man last night pending investigation. The 68 year-old Hilo man remains in police custody while detectives continue the investigation, which is currently classified as first degree reckless endangering.

Police ask that anyone with information or who may have witnessed the incident to call Detective Wendell Carter at (808)961-2378 or email him at wcarter@co.hawaii.hi.us.

Tipsters who prefer to remain anonymous may call Crime Stoppers at 961-8300 in Hilo or 329-8181 in Kona and may be eligible for a reward of up to $1,000. Crime Stoppers is a volunteer program run by ordinary citizens who want to keep their community safe. Crime Stoppers doesn't record calls or subscribe to caller ID. All Crime Stoppers information is kept confidential