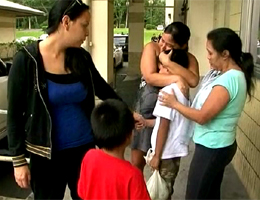 Puna community and police mobilized to search for Disen Heu-Aragaki
Video by Daryl Lee, voice of Stephanie Salazar
PUNA, Hawaii: A frantic search for a young boy in Puna came to a happy end on Thurday, as 9 year old Disen Heu-Aragaki was reunited with his family.
The story of the missing boy captivated Hawaii.
On Thursday morning, police scoured the area, along with the aid of a scent-tracking dog and a helicopter.
All that was known: the youngster was last seen wearing camouflage surf shorts and no shirt. Police say he left his Kurtistown home — which is located just below the J. Hara Store — around 2:30 p.m. Wednesday following an argument with his mother.
Officers and detectives from Puna Patrol, the Juvenile Aid Section, the Criminal Investigations Section, the Vice Section and the Traffic Enforcement Unit were searching the Puna area.
Disen attends the Keaau Elementary School oin Keaau. Like many of other children around the state, the kids at Keaau are currently on spring break.
At the J. Hara Store, the community gathered to spread the word and share information.
Friends were even stopping cars to speak to passing motorists.
A friend of the family made these comments to the media during the search, as the boy's parents were too distraught to speak.
It was later learned that a family found him wandering alone on 40th Avenue in Orchidland approximately nearly 2 miles from his home. They fed him and let him spend the night. On Thursday, the family took the boy with them to a construction site in Hilo. Their relative learned that the boy had been reported missing and called police to report his location.
Detectives and patrol units responded to an address on Railroad Avenue and determined that the child was unharmed. As a precautionary measure, Fire Department medics examined the boy and confirmed that he was in good health and had not been injured.
Then, the moment the family has been waiting for… Detectives transported the child to the Hilo police station, where he was reunited with his family.
An emotional father expressed thanks to the community for all the help looking for his son.
Young Disen apparently experienced his adventure in bare feet!
"I tried to run through the grass," sad the boy.
And the 9 year old had only request for his relieved family…
"We are going to McDonalds," his mom said.