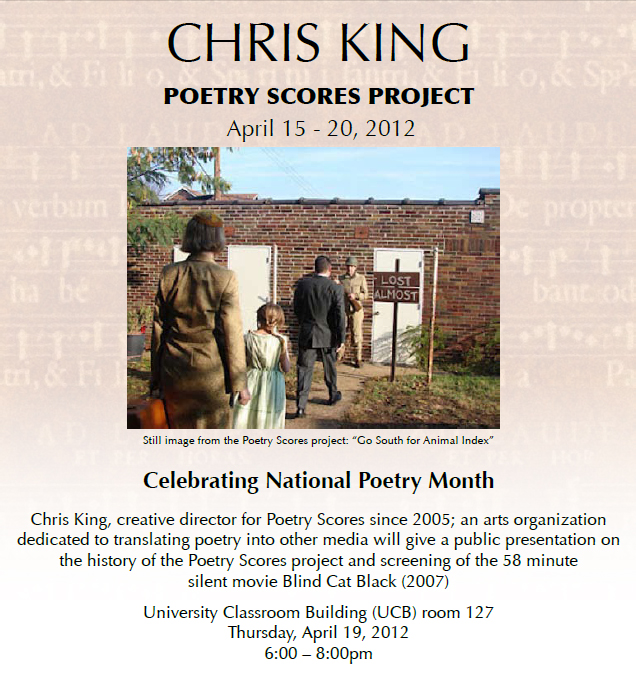 HILO, Hawaii: The University of Hawaii-Hilo's Art Department, in celebrating National Poetry Month, will host Chris King – the Creative Director for Poetry Scores (since 2005). The arts organization is dedicated to translating poetry into other media. His public lecture will outline the history of Poetry Scores and present the following:
What: a public screening of Blind Cat Black, a 58 minute Poetry Scores silent movie (2007).
Where: University Classroom Building – UCB room127, UH Hilo Campus
When: Thursday, April 19th, 6:00 – 8:00pm
Organizers say King, will conduct research for a future Hawaii Poetry Scores project during this campus residency, that will feature a long poem by Wayne Kaumualii Westlake (1947-1984).
Additional materials detailing the history of the Scores project will be on display in the foyer of the University of Hawaii Hilo Mo'okini Library throughout the month of April.
This residency was made possible with support through the Campus Center Gallery – SAC and the Art Department at the University of Hawai'i Hilo visiting artist program.
For additional information contact: Professor Michael Marshall, UHH Art Department, Chair, mdmarsha@hawaii.edu (808) 974-7524
For disability accommodation contact 933-0816 (V), 933-3334 (TTY), uds@hawaii.edu