PUUANAHULU, Hawaii: Improvement work on the long stretch of the existing Saddle Road has not finished, but officials are already planning on an important extension that will connect the inter-island highway with Queen Kaahumanu Highway.
On Wednesday, an Environmental Impact Statement Preparation Notice / Environmental Assessment was published to the Office of Environmental Quality control. The Hawaii Department of Transportation is both the proposing and approving agency, and is working in cooperation with the Federal Highway Administration's Hawaii Division.
The document offers a concise background on the planning for the extension project, which has been ongoing for over a decade:
An Environmental Impact Statement for the project was begun in 1999, and an EIS Preparation Notice was released on August 8, 1999. An alternatives study that generated three alternative alignments was completed, and fieldwork was accomplished over the next two years. Subsequently, in November 2003, the U.S. Army began an EIS for the Army Transformation of the 2nd Brigade, 25th Infantry Division (Light) to a Stryker Brigade Combat Team (SBCT) project, which included purchase and use of Parker Ranch's Ke'āmuku Parcel, where the western portion of the Saddle Road had been planned, for military training. As the location of the Saddle Road terminus was critical for the Saddle Road Extension project, the Saddle Road Extension was put on hold pending resolution of this issue. The EIS process for the military training concluded in April 2008, and shortly thereafter, the U.S. Army determined that the western terminus of the Saddle Road would have to move south to reasonably accommodate training activities in the newly acquired Ke'āmuku Parcel.

With the information that the western terminus of the Saddle Road would be shifted south, the FHWA undertook engineering studies to relocate the western segment of the Saddle Road and began preparation of the Saddle Road Supplemental Environmental Impact Statement to study the impacts of this shift. In February 2010, the Final Supplemental EIS was completed and the Record of Decision (ROD) was prepared for the project. The ROD selected the W-7 alignment (see Figure 1-1), with a western terminus relocated about a half-mile south of that presented in the 1999 EIS. This segment of the Saddle Road is currently in construction.

After resolution of this key issue that had placed the Saddle Road Extension project on hold from 2003 to 2010, the Draft EIS for the Saddle Road Extension was finally resumed in late 2011.
This map shows the three alternative for the alignment of the extension, all starting from and ending at the same location.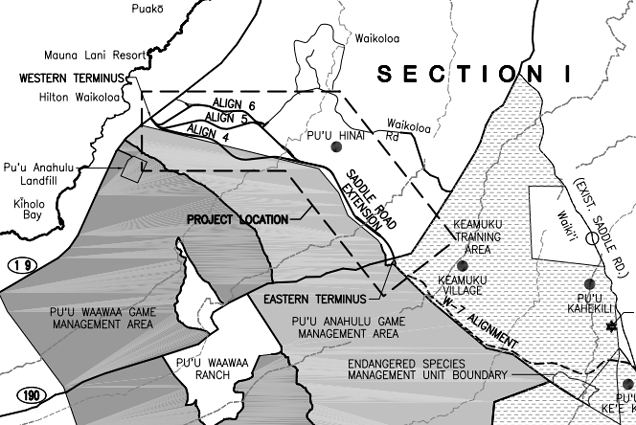 The document provides an estimated timetable is as follows:
Complete the EIS phase: May 2013
Begin design and right-of-way acquisition: 2014
Begin construction: 2017
Complete construction: 2019
The Draft EIS will include estimated construction costs for each alternative. The estimated cost  will reflect construction of a new two-lane highway with paved shoulders