MAUNA KEA, Hawaii: UKIRT – the United Kingdom Infra-Red Telescope – is on pace this year to smash any previous year's publication rate; a good sign for the productivity of the observatory.
From a UKIRT news release:
The productivity of an observatory is traditionally measured by the number of refereed articles containing observatory data. For the past three years running, UKIRT has set new productivity records as results from the UKIDSS survey have appeared in print.

This trend is continuing. In the first four months of 2012, 76 papers based on UKIRT data appeared in the literature. If this rate is maintained, the publication rate for 2012 will smash the previous record by a very wide margin (see figure below).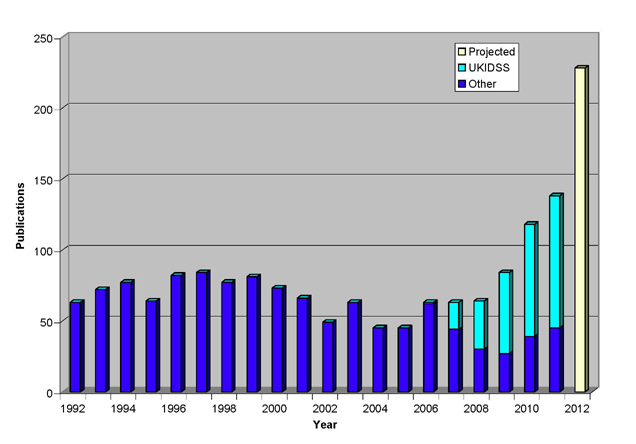 The 3.8-metre telescope is located on the summit of Mauna Kea and is the largest telescope in the northern hemisphere dedicated solely to infrared astronomy. The telescope's sole instrument, the Wide-Field Camera, is being used primarily to carry out the UKIRT Infrared Deep Sky Survey. UKIRT and the James Clerk Maxwell Telescope are both operated by the Joint Astronomy Centre.