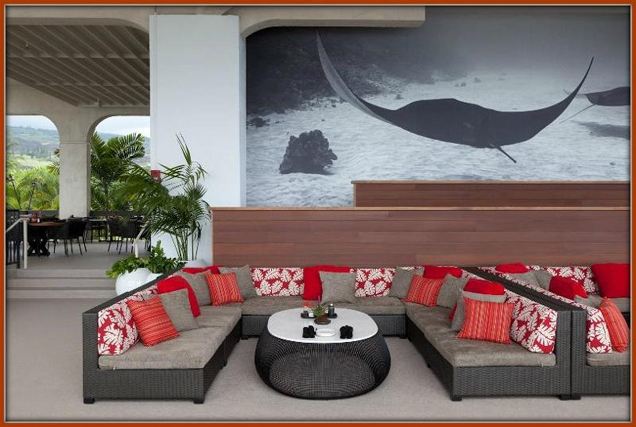 Video by David Corrigan, Kona Sheraton | Voice of Stephanie Salazar
[FMP poster="https://www.bigislandvideonews.com/media/newsupdate.jpg" width="280″ height="153″]https://www.bigislandvideonews.com/media/2012/09september/0911-03-RaysOnTheBay.mp4[/FMP]
KEAUHOU, Hawaii: The Sheraton Kona Resort & Spa at Keauhou Bay is letting people know that "Rays on the Bay" is open and ready to serve.
Located inside the recently renovated resort hotel, the restaurant offers a new menu by Executive Chef Viktor Schmidt, a panoramic of the Pacific, including good views at sunset and visits by local manta rays at nightfall.
Dinner service is from 4:00pm until 10:00pm daily, with lounge service until 11:00am.
The Sheraton Kona Resort & Spa at Keauhou Bay recently underwent a $16 million upgrade, with new dining concepts and improvements to its 485 guest rooms and 24 suites.
SOURCE: Current Events Public Relations on behalf of Sheraton Kona
Kona, HI – Sept. 10, 2012 – Delicate vegetable summer rolls. Mouth-watering Chinese style ribs. Wake-up-the-taste-buds manapua with sweet chili sauce. And that is just for starters. Rays on the Bay has opened on Hawaii, the Big Island and while diners may think the main attraction is seeing manta rays that often gather offshore, the food is causing a splash of its own.
Executive Chef Viktor Schmidt scoured the islands for inspiration showcased in a menu that is a microcosm of Hawaii's multi-ethnic population. From miso shrimp and chop chop chicken salads to artisan pizzas made from house-made dough then grilled quickly on kiawe wood fired grills, Rays on the Bay is a restaurant that diners will return to again and again. For a quick dinner, to linger over sunset, to toast a new beginning or a final night on the island, the menu is a delight of flavor combinations and diversity with innovative offerings that also include burgers, sliders, fresh fish tacos, tender Rib Eye steaks and island fresh catch prepared one of five different ways.
Evenings at Rays on the Bay begin with colorful tropical sunsets that transform the skies into moonlit nights. Panoramic ocean views from Rays on the Bay are maximized for diners and lounge-goers via three terraced levels with seating for 216. Preferred seating are those tables directly above the ocean's edge where giant manta ray gather to feed most evenings. But every seat in the house, including comfortable cozy lounge coves and raised bar seating, enjoy endless bay and coastline views.
Rays on the Bay's Rum Bar has seating for 22 where "the coldest beer on the island" is dispensed from a special tap. Pineapple Lychee Pop, Guava Lemonade and Keauhou Punch are just some of the imaginative specialty cocktails, many featuring Hawaii-made rums. To see and be seen, friends gather to socialize around fire pits while enjoying nightly live island music that ramps up the fun level and adds even more to the festive atmosphere at Rays.
"Rays on the Bay has opened as the only restaurant and rum bar in the world perched on lava cliffs with excellent viewing of manta rays that gather offshore most evenings," enthused Rays on the Bay general manager Jayden Callahan. "And while the mantas draw attention, we've worked hard to develop a menu and a fun environment that will also be an attraction and draw diners back to our tables again and again." Callahan added that the menu has something for everyone whether they have a few minutes or a few hours to spend. She describes the rum bar as "amazing."
An extensive wine list with offerings by the glass or bottle complements Rays on the Bay's creative fare.
Patrons arriving for dinner appreciate complimentary valet parking and everyone will applaud engaging aloha service from well-trained and personable Rays on the Bay staff.
Rays on the Bay is part of a now complete $16 million renewal at Sheraton Kona Resort & Spa. Dinner service is from 4:00pm until 10:00pm daily, Lounge service until 11:00am. Dinner reservations can be made at www.opentable.com or by calling Rays on the Bay direct at 808.930.4949. Visit RaysOnTheBay.com, follow us on Facebook and Twitter (@RaysOnTheBay) to learn more.
Visit www.SheratonKona.com.
About Sheraton Kona Resort & Spa at Keauhou Bay: Sheraton Kona Resort & Spa honors the culture, history, and people of Hawaii. By sharing stories of the land through personal connections, art, and cuisine guests are left with a profound sense of place that lasts a lifetime. Unique cultural tours and the Flying Fish activity center present guests the opportunity to experience Hawaii's culture from those who were born and raised here so that they find a connection to this place unlike any experienced before. With the resort's $16 million renovation complete, new dining concepts now include Rays on the Bay, the only restaurant in the world with manta ray viewing. Upgrades were made to the resort's 485 guest rooms and 24 suites, public areas and meeting space. At the core of the renewal are designs inspired by ulu (breadfruit) by renowned Hawaii designer Sig Zane. Centrally located with easy access to Hawaii Island's greatest adventures, Sheraton Kona Resort & Spa is the natural epicenter of Hawaii's vibrant culture where visitors walk the land of Hawaii's greatest kings or enjoy a massive fantasy pool, slide and waterfalls, sumptuous dining, luxurious Hoola Spa, complimentary fitness center, and a romantic bayside wedding chapel and gardens. Follow us on Twitter: @KeauhouSheraton or become a Facebook fan.
About Pyramid Resort Group:
Pyramid Resort Group manages and asset manages a diverse portfolio of resorts in one of kind destinations across the United States and the Caribbean. These locations range from Keauhou Bay in Kona, Hawaii, Phoenix, Arizona, and to the Cayman Islands. Pyramid Resort Group delivers creative, engaging experiences for the leisure and group guest inclusive of golf, spa, fitness, dining, meetings, recreation, water sports, and cultural immersion
Pyramid Resort Group is a division of Boston based Pyramid Hotel Group, which manages and asset manages over 70 hotels and resorts across the United States. In addition to management and asset management Pyramid provides services that include project management, property management, and advisory services for owners and lenders. www.pyramidhotelgroup.com