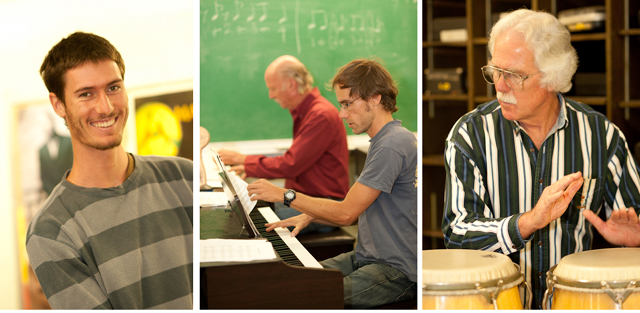 Media release from Catherine Tarleton, photo by Sarah Anderson
HONOKA'A, Hawai'i, the Big Island—Honokaa People's Theater will become a soundstage on Saturday, October 27, when Gary Washburn, director of Grammy-winning Honoka'a High School Jazz Band, premiers his original musical work, "Earth Life: October Full Moon." Performed by Washburn, Alex Czerny, Doug Johnson and Noa Eads, the concert will be recorded live by Ira Shigaki for EmKay Records, a Los Angeles based label, and distributed worldwide thru the WEA distribution system. Video Footage will be shot by Terry Warner of Duck Pond Productions.
Inspired by a solar eclipse, "Earth Life: October Full Moon" is a suite for two pianos and percussion, using various musical styles, including traditional and contemporary jazz, funk, pop, ethnic and in some passages, classical. Washburn began working on the composition in 1976 when he attended the MacDowell Colony in Peterborough, New Hampshire on an Aaron Copeland Fellowship—however he has, within the last month, added a new movement to the suite.
"The music just came over me while I was working and practicing one night," said Washburn. "I had an idea based on the Biblical passage about 'ashes to ashes, dust to dust' and the music was just there for me to write. It's the kind of 'programmatic music' inspired by non-musical ideas, that I like to write."
The eight-part suite will be performed by four of Hawai'i Island's most outstanding musicians. Percussionists Doug Johnson and Noa Eads deploy two dozen different instruments throughout the piece—drums and bells of all sizes, gongs, cymbals, chimes, maracas, rattles, a rainstick and more. Johnson, an accomplished marimba player with such prominent groups as the Olliephonics, Tropical Vibrations and others, has been playing music since he was a boy and is also a teacher of piano, guitar, drums and vibes. In fact, "Uncle Doug" was Noa Eads' first music teacher. Eads, son of talented artist and yoga teacher Calley O'Neill, was also a student of Washburn and is now drummer for the popular band "Nonami" and the hot new Legacy Jazz Band, under Washburn's direction.
Pianist Alex Czerny has been playing since he was four years old. Originally from East Berlin, he came to Hawai'i in 2008 with intercontinental reggae/rock band "The Durgas," and tours with them every summer in Europe and Asia. The rest of the year he is a piano tuner, one of only three on the island, and teaches all styles of piano to private students. (AlexPianoUnlimited.com)
Composer, teacher and musician Gary Washburn has been the driving force behind award-winning Honoka'a High School Jazz Band for over 30 years. An innovative music program that never sits still, the Band has received an award from the Grammy Foundation as one of 36 "Grammy Signature Schools," a NAMM Award (National Association of Music Merchandisers) as one of the best communities in the US for music education, and Gary earned a "Claes Nobel Educator of Distinction Award" from the National Society of High School Scholars.
As a prelude to the "October Full Moon" premier, Gary Washburn, Brian McCree/bass, Bruce David/drums, Paul Lindbergh/tenor sax and flute and Doug Johnson/percussion and vibes will perform additional original jazz by Washburn.
The audience will have a unique, one-time opportunity be part of the creative experience, and "Earth Life: October Full Moon" will be available digitally on all DSP sites such as iTunes, Amazon, etc., and in CD format thru Amazon's Disk On Demand program.
Admission is $10 adults, $7 kupuna, $5 keiki and students, available at the door. For more information, visit www.facebook.com/EarthLifeOctoberFullMoon or email catherinetarleton@gmail.com