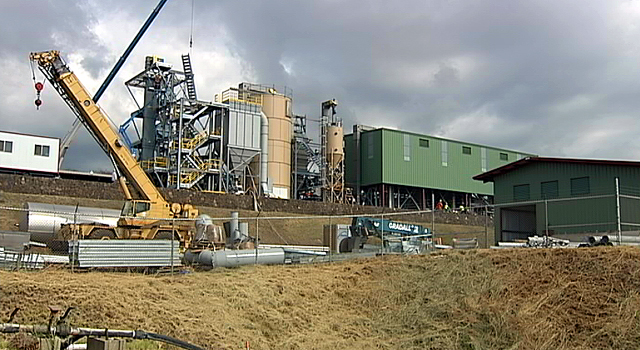 Biomass plant still not complete, reports Pacific Business News
KAWAIHAE, Hawaii: A Hawaii Island biomass plant that has been hailed as a leader in green business innovation has filed for Chapter 7 bankruptcy.
Big Island Carbon LLC, which planned to turn Hawaii-grown macadamia nut shells into granulated activated carbon, has laid off all 25 employees, according to a report in Pacific Business News, citing documents filed with the U.S. Bankruptcy Court in Delaware on November 5th.
Among those without a job: CEO Rick Vidgen, who in 2009 welcomed an excited crowd of dignitaries and investors to the groundbreaking ceremony at the Kaie Hana Industrial Park industrial Park located next to Hamakua Macadamia Nut Company.
The project – which planned to operate on land lased from the Department of Hawaiian Home lands – seemed troubled from the start. During the initial stages of construction, an expensive, custom-built kiln was damaged during transit from Kansas to the West Coast for shipping to Hawaii after a truck rear-ended the low-boy trailer on which it was traveling.
Eventually a new kiln arrived, with some fanfare… But, over the following months, the $20 million project would experience more delays and soaring coasts.
Former Governor Linda Lingle stopped during the final days of her term in November 2010.. At the time, Vidgen and his crew said they were close to production. But by April 2011, the cost of the company's facility had ballooned to $40 million… and it would end up coasting $50 million by the time the Chapter 7 bankruptcy was filed.
Things began to look up for the Big Island Carbon in August 2011… when the company was awarded the APEC 2011 Hawaii Business Innovation Showcase for Hawaii County.
The operation was one of only six businesses that were selected from 35 finalists statewide.
Videos were produced for each company to be shown on the global stage, part of the huge Asia-Pacific Economic Cooperation event in Honolulu… all in the hopes of positioning Hawaii as an attractive place for business and investment.
An operating partner for Denham Capital – tha project's majority owner – told PBN that the plant is nearly complete, and the company needs about $5 million more to finish it.
Big Island Carbon listed secured claims of $16.4 million in the court documents. The company owes almost $400,000 in unsecured claims to dozens of other companies, including $150,000 to the Department of Hawaiian Home Lands, PBN reports.