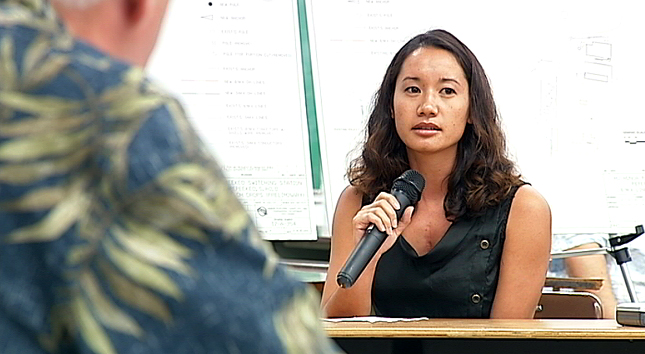 Opponents of Pepeekeo biomass project mostly absent from Hilo testimony
[FMP poster="https://www.bigislandvideonews.com/media/newsupdateextended.jpg" width="320″ height="175″]https://www.bigislandvideonews.com/media/2012/11november/1129huhonua.mp4[/FMP]
HILO, Hawaii: The public expressed widespread support for the Hu Honua Bioenergy project at Wednesday night's Public Utlities Commission hearing in Hilo.
Hu Honua Bioenergy LLC is converting the former Hilo Coast Power Company plant at Pepeekeo into a modern biomass energy facility. The 24-megawatt operation is expected to meet about 10 percent of the island's electrical needs and about enough for 14,000 homes, once in operation.
Hu Honua has negotiated a power purchase agreement with Hawaii Electric Light Company, which is subject to approval by the PUC. However, the hearing was triggered by the need to install transmission lines for the project, as explained by this HELCO engineer.
Nevertheless, the hearing created an opportunity for the public to share its views on the entire project.
Speaking in favor of the proposal, the growing forestry industry on the Hamakua Coast, where thousands of acres on the Hamakua Coast are occupied by Eucalyptus trees, ready for harvest.
That includes commercial truckers, whose business will get a boost by hauling the timber once the market is established.
There was also support from the carpenters, who have seen hard times as the economy has slowed. Many of them are local families who see Hu Honua as an opportunity to make ends meet on Hawaii Island.
Even energy resource experts gave their stamp of approval.
Conspicuously absent: the vocal opposition to the biomass plant, which accounted for only two testifiers out of the many who spoke.
Elaine Munroe shed a critical eye on the company's finances, while Lynn Nakkim brought up the environmental concerns.
The community's resistance to Hu Honua has been well documented in the past. Opponents have not given up the fight. Munroe told us that area residents are still involved in the appeal of the SMA permit contested case, as well as an EPA lawsuit over the plant. They are also backing one of the limited participants in the docket… the Life of the Land organization, which often tries to intervene in these biofuel proposals.
After the hearing, PUC commissioners discussed the nest step in the approval process.