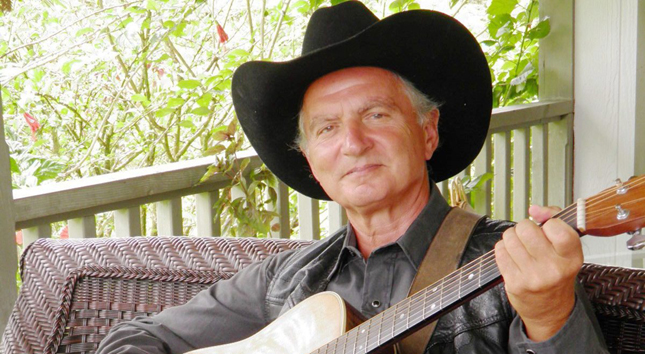 By David Corrigan
PAHOA, Hawaii: Bo Lozoff – a well known musician, author, spiritual leader, and "lavatic" – died in a Thursday evening crash on Puna's dangerous highway 130.
Police say Lozoff died from injuries he sustained in a motor vehicle vs. motorcycle crash at the intersection of Route 130 and Leilani Avenue.
Although police did not initially release Lozoff's name in connection with the fatal accident, friends and fans of Lozoff were spreading the sad news over the internet on Friday morning.
Police described the incident in a media release:
Responding to a 3:34 p.m. call, Puna patrol and Traffic Enforcement Unit officers determined that the 65-year-old man was operating a 2003 Suzuki motorcycle and traveling north on Route 130 when a 1999 Lexus multi-purpose vehicle being operated by a 66-year-old Pāhoa man failed to yield the right of way and made a left turn onto Leilani Avenue.

The motorcycle operator was not wearing a helmet and was dead at the scene.

The driver of the Lexus was not injured. His wife, a 64-year-old woman, went to the Hilo Medical Center by private vehicle and was treated and released with minor injuries.
The news came as a shock to the people on Hawaii Island. Many had just seen Lozoff at a CD release party in Hilo for his new album, Bo Goes Country, of which he was very proud. "This is my first new CD in six years," he wrote to those on his mailing list, "and my collaborators include world-class musicians and backup singers all the way from the Big Island of Hawai'i to Muscle Shoals, Alabama and Durham, North Carolina. I am very excited about the toe-tapping, heartfelt country music and awesome instrumental breaks we accomplished together. As one of my songs puts it, from the beauty in the skies to the pain that's in your eyes, that's what it takes to make a country song. And we made fourteen really good ones for ya, plus the six-minute bonus track, Johnny & Me, the true story of how I grew up singing along with Johnny Cash."
In an article written for the Examiner website, Leilehua Yuen was one of the first to memorialize Lozoff, reflecting on his extraordinary life. In the article, Yuen reflects on Lozoff's co-founding of the Prison-Ashram Project in 1973, and later the Human Kindness Foundation in 1987.
Yuen also wrote:
Lozoff received praise from the Dalai Lama, who wrote the forwards for two of his books, and from the late children's TV host, Mr. Rogers, who listed Lozoff among his heroes. But, his tenure at the Human Kindness Foundation also faced discredit when he was accused of improprieties and abusive behavior.

An innovative thinker, he sought ways to re-integrate former prisoners into society, and founded the environmental non-profit, Carolina Biodiesel, to both promote biodiesel and to create jobs for former prisoners. Carolina Biodiesel received a large bequest from Fred Rogers. Carolina Biodiesel is still operating in Durham.
It was because of his attraction to Tutu Pele that Big Island Video News crossed Lozoff's path in 2010. Living in Kalapana Gardens, situated closely to the island's active lava flows, Lozoff drew inspiration from the volcanic geology and culture.
[FMP poster="https://www.bigislandvideonews.com/media/episodes/28/01lava.jpg" width="320″ height="175″]https://www.bigislandvideonews.com/media/episodes/28/01kalapana.mp4[/FMP]
He led popular hikes to see the lava flows, and kept the public up to date with timely videos from the flow field. In this October 2010 special report (right), Lozoff took center stage, guiding our camera through a particularly tumultuous time at Kalapana Gardens, when a lava flow threatened to burn down his neighborhood. Lozoff handled the stressful situation with a smile and his trademark creativity.
One of the last experiences Lozoff had with his molten muse was a shortlived lava ocean entry, just a few days ago. Such an event is highly anticipated amongst "lavatics" like Lozoff. He shared the moment in a video on his YouTube channel (right).
This was the 37th traffic fatality on the Big Island this year compared with 19 at this time last year, police report.