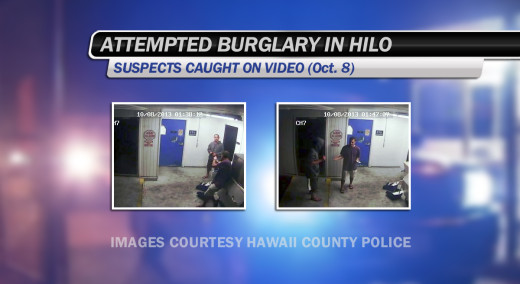 HILO, Hawaii – Police have released photos of an attempted burglary of a Hilo fast food restaurant on October 8th, and are asking the public for help identifying the suspects.
The two hopeful thieves weren't able to break into eatery on the 200 block of Waiānuenue Avenue, but they did damage to a security screen door, police say.
The images, captured on surveillance video, show the two burglars milling around the outside of the building in the early morning hours.
Police ask anyone who knows the identity of the individuals in the photos to contact Detective Grant Todd at 961-2385 or gtodd@co.hawaii.hi.us.
Tipsters who prefer to remain anonymous may call Crime Stoppers at 961-8300 in Hilo or 329-8181 in Kona and may be eligible for a reward of up to $1,000. Crime Stoppers is a volunteer program run by ordinary citizens who want to keep their community safe. Crime Stoppers doesn't record calls or subscribe to caller ID. All Crime Stoppers information is kept confidential.