(ABOVE VIDEO) Report on the Nov. 19 briefing by Hawaii County officials before the Commission on Water Resource Management in Honolulu. Footage courtesy Hawaii DLNR, voice of Sherry Bracken.
NEWS BRIEF
On Wednesday, November 19, officials representing the Hawaii County Planning Department and Department of Water Supply traveled to Oahu, where they briefed the State Commission on Water Resource Management. The departments are opposing the National Park Service (NPS) petition to designate the Keauhou Aquifer System in Kona a Ground Water Management Area (GWMA). The NPS is requesting the GWMA "due to uncertainties in sustainable yield and future demand that may cause potential harm to near shore biota and loss of opportunity to practice traditional and customary rights." [submittal dated 10.16.2013]
Speaking before the commission were Planning Director Duane Kanuha, Water Supply Manager Quirino Antonio and Deputy Manager Keith Okamoto, and Jon Nishimura of Fukunaga and Associates. Expanded clips from their testimonies are included below.
INSIGHTS
This image, included in the Water Supply presentation to the commission, helps illustrate why the county is in opposition to the GWMA. It shows how, according to the county's numbers, all projected growth tracks (up until 2035) are well below the sustainable yield of 38 million gallons-per-day demand.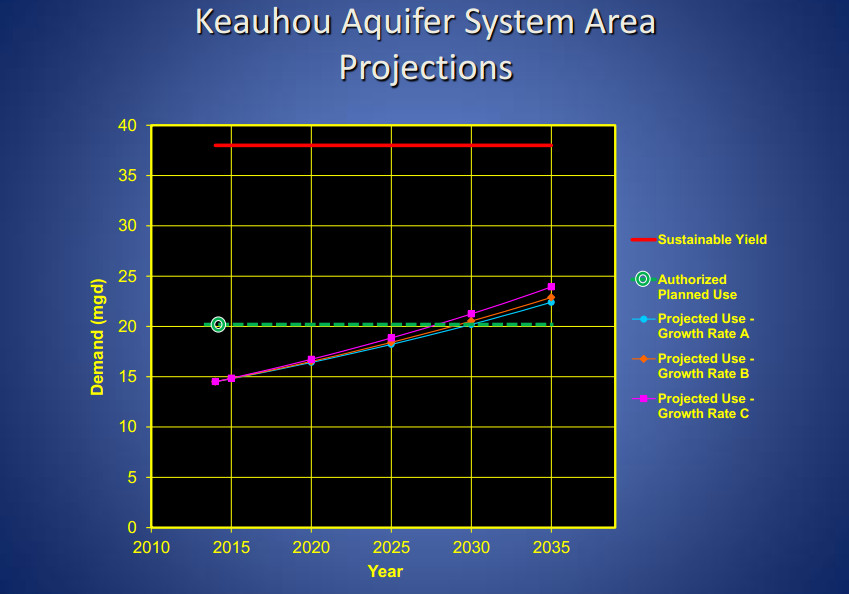 ADDITIONAL VIDEO
Director of the Hawaii County Planning Department, Duane Kanuha:
Hawaii County Department of Water Supply Manager Quirino Antonio:
Video CliffsNotes from the presentation made by Jon Nishimura of Fukunaga and Associates on behalf of the county: