11 pm Update – Hurricane Hilda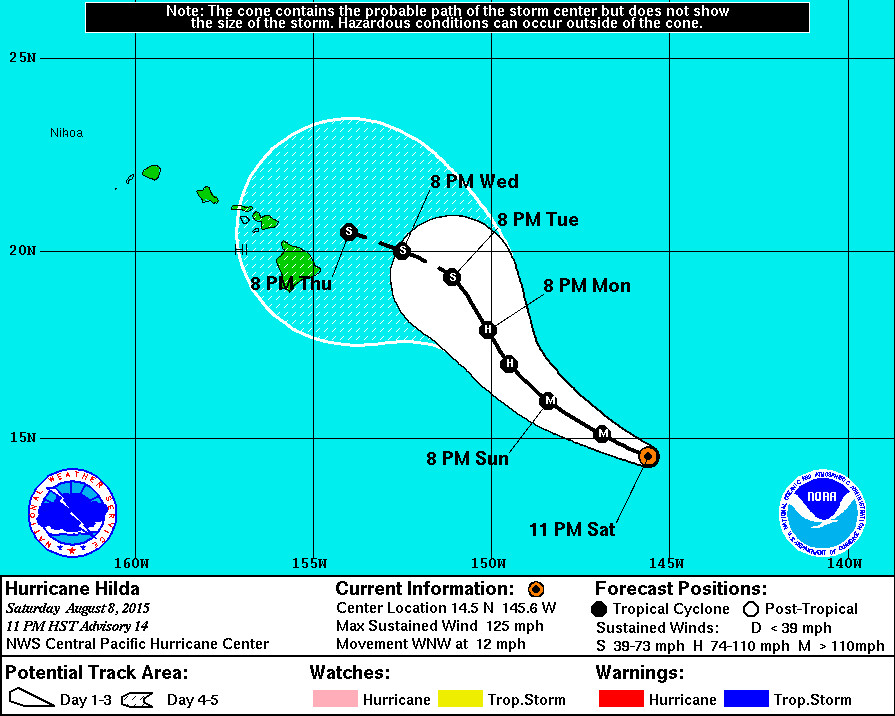 LOCATION: Hurricane Hilda is 715 miles east southeast of Hilo and now moving west northwest at 12 mph. There are currently no coastal watches or warnings in effect. The National Weather Service says Hilda is expected to gradually turn toward the northwest and slow in forward speed over the next couple of days.
STRENGTH: Maximum sustained winds have lowered to 125 mph, making Hilda a Category 3 hurricane. Some fluctuations in intensity are possible tonight, forecasters say, followed by gradual weakening on Sunday and then significant weakening on Monday.
SIZE: Hilda has previously been called a tiny storm. Hurricane force winds extend outward up to 25 miles from the center and tropical storm force winds extend outward up to 125 miles.
National Weather Service at 11 pm
HILDA/S SATELLITE REPRESENTATION HAS DEGRADED FROM A PEAK THIS MORNING… BUT A CLOUD-FILLED EYE IS STILL NOTED IN LATEST INFRARED IMAGES. A BLEND OF THE AVAILABLE SUBJECTIVE DVORAK CURRENT INTENSITY ESTIMATES VALID AT SYNOPTIC TIME YIELDED 6.0/115 KT… WHILE THE LATEST ADT VALUE IS 5.5/102 KT. CONVECTIVE CLOUD TOPS SURROUNDING THE CENTER HAVE WEAKENED AND SHRUNK IN THE LAST FEW HOURS… AND THUS THE INITIAL INTENSITY FOR THIS ADVISORY HAS BEEN SET AT 110 KT.

THE INITIAL MOTION VECTOR IS 295/10 KT… WITH HILDA NEAR THE SOUTHWESTERN EDGE OF OF A DEEP LAYER RIDGE CENTERED TO THE DISTANT NORTHEAST. OVER THE NEXT 2 TO 3 DAYS… THE TRACK FORECAST ANTICIPATES A TURN TO THE NORTHWEST… AND A SIGNIFICANT SLOWING IN FORWARD SPEED. THIS WILL OCCUR AS HILDA MOVES TOWARD A DEVELOPING WEAKNESS IN THE RIDGE AND INTO AN AREA OF LIGHT STEERING CURRENTS. AS HILDA SLOWLY ROUNDS THE RIDGE AND GAINS LATITUDE… IT WILL BEGIN TO ENCOUNTER INCREASING WESTERLY SHEAR THAT WILL LEAD TO SIGNIFICANT WEAKENING. TOWARD THE END OF THE FORECAST… A SHALLOWER SYSTEM IS FORECAST TO MAKE A TURN BACK TOWARD THE WEST-NORTHWEST. THE OFFICIAL TRACK FORECAST IS ESSENTIALLY AN UPDATE OF THE PREVIOUS THROUGH 72 HOURS… AND CLOSELY FOLLOWS THE TVCN CONSENSUS… BUT HAS BEEN SHIFTED TOWARD THE LEFT ON DAYS 4 AND 5… INFLUENCED BY THE 00Z RUNS OF THE GFS AND ECMWF. WORTH NOTING THAT TRACK MODELS HAVE BEEN FAIRLY INCONSISTENT FROM RUN TO RUN IN THE LATER FORECAST PERIODS… LIKELY DUE TO THE DEPTH OF THE FORECAST CIRCULATION AND ITS INTERACTION WITH THE STRONG SHEAR.

SHEAR WILL REMAIN LIGHT AND WATER TEMPERATURES SUFFICIENTLY WARM TO SUPPORT A MAJOR HURRICANE THROUGH THE NEXT 24 HOURS OR SO… WHICH COULD ALLOW FOR SOME STRENGTHENING… BUT THE OFFICIAL FORECAST DOES NOT ANTICIPATE THIS. INSTEAD LITTLE CHANGE IN INTENSITY IS FORECAST THROUGH SUNDAY. A STEADY WEAKENING TREND IS EXPECTED THEREAFTER… AS HILDA TRANSITIONS FROM AN ENVIRONMENT OF LOW SHEAR TO AN INCREASINGLY HOSTILE ENVIRONMENT… WITH STRONG WESTERLY SHEAR PROVIDED BY A PERSISTENT SUBTROPICAL JET STREAM OVER THE HAWAIIAN ISLANDS. THE UPDATED INTENSITY FORECAST FOLLOWS THE IVCN CONSENSUS… BUT IS NOT AS AGGRESSIVE WITH WEAKENING ON DAYS 4 AND 5.

FORECAST POSITIONS AND MAX WINDS

INIT 09/0900Z 14.5N 145.6W 110 KT 125 MPH
12H 09/1800Z 15.1N 146.9W 110 KT 125 MPH
24H 10/0600Z 16.0N 148.4W 105 KT 120 MPH
36H 10/1800Z 17.0N 149.5W 95 KT 110 MPH
48H 11/0600Z 17.9N 150.1W 80 KT 90 MPH
72H 12/0600Z 19.3N 151.1W 60 KT 70 MPH
96H 13/0600Z 20.0N 152.5W 40 KT 45 MPH
120H 14/0600Z 20.5N 154.0W 35 KT 40 MPH