Friday 6 pm – Tropical Depression Kilo update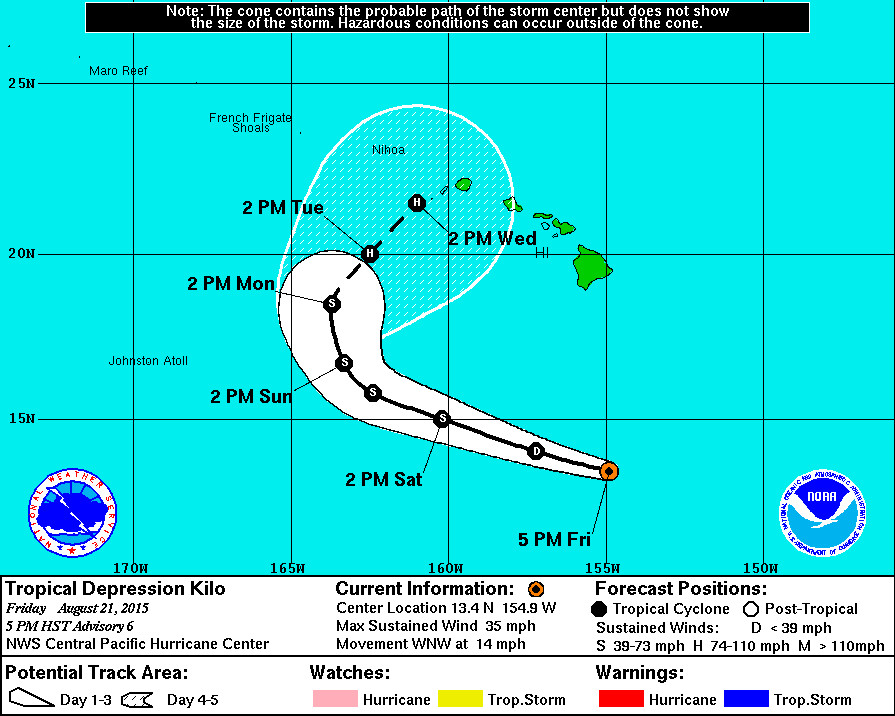 WARNINGS: There are no coastal watches or warnings in effect.
LOCATION: Tropical Depression Kilo is 435 miles south of Hilo and is moving west northwest at 14 mph. This general motion is expected to continue over the next couple of days, with a gradual decrease in forward speed expected early Sunday.
STRENGTH: Kilo has weakened from a Tropical Storm back down to a Tropical Depression, with maximum sustained winds of 35 mph. Gradual strengthening is expected the next couple of days and Kilo is still expected to become a hurricane.
National Weather Service 5 pm
SATELLITE IMAGES THROUGH THE DAY SHOWED THAT THE ORGANIZATION OF KILO HAS CONTINUED TO DETERIORATE. AN EXPOSED… ELONGATED LOW LEVEL CIRCULATION CENTER IS EAST OF THE MAIN AREA OF ASSOCIATED DEEP CONVECTION… WHICH INDICATES THAT THE CYCLONE IS BEING SIGNIFICANTLY AFFECTED BY VERTICAL SHEAR. THE 0000 UTC CIMSS SHEAR ANALYSIS SHOWED ONLY 8 KT OF SHEAR FROM THE EAST-NORTHEAST SO IT IS SURPRISING THAT KILO'S DEVELOPMENT HAS BEEN ARRESTED. TOPS OF THE DEEP CONVECTION HAVE ALSO WARMED AND DECREASED IN SIZE. DVORAK INTENSITY ESTIMATES CAME IN AT 45 KT FROM PHFO… HELD UP DUE TO DVORAK CONSTRAINTS… 30 KT FROM SAB AND 25 KT FROM JTWC. BASED ON THESE ESTIMATES AND THE OVERALL LACK OF ORGANIZATION… KILO HAS BEEN DOWNGRADED TO A TROPICAL DEPRESSION FOR THIS PACKAGE WITH AN INTENSITY OF 30 KT.

THE DETERIORATING CONDITION OF KILO MAKES THE INTENSITY FORECAST A CHALLENGE. SEA SURFACE TEMPERATURES ARE VERY WARM… ABOVE 29C… AND THE OCEAN HEAT CONTENT FROM RAMMB-CIRA SHOWS INCREASING VALUES TO THE WEST. IN ADDITION… VERTICAL SHEAR IS EXPECTED TO WEAKEN THROUGH 48 TO 60 HOURS. THE MAIN INTENSITY OBJECTIVE AIDS POINT TOWARD FURTHER STRENGTHENING WITH KILO STILL BECOMING A HURRICANE. HWRF IS THE MOST AGGRESSIVE WITH HURRICANE INTENSITY ACHIEVED AT 60 HOURS. THE FORECAST IS LESS AGRESSIVE BUT STILL SHOWS KILO BECOMING A HURRICANE IN ABOUT 3 DAYS BASED ON THE OBJECTIVE GUIDANCE AND THE CONTINUED PRESENCE OF FAVORABLE ENVIRONMENTAL INGREDIENTS. THIS CLOSELY FOLLOWS THE IVCN CONSENSUS AND THE PREVIOUS FORECAST PACKAGE. ALL OF THIS MAY BE IRRELEVANT IF KILO IS NOT ABLE TO DEVELOP SIGNIFICANT DEEP CONVECTION NEAR IT/S CENTER. IF THIS DEVELOPMENT FAILS TO OCCUR… THEN KILO WILL BECOME A POST-TROPICAL REMNANT LOW. WHILE SURPRISING… IT IS NOT UNHEARD OF IN THE CENTRAL NORTH PACIFIC BASIN.

THERE HAS BEEN LITTLE CHANGE IN THE LARGE SCALE PICTURE. KILO IS MOVING AT 285/12 KT TO THE SOUTH OF A MID- AND UPPER-LEVEL RIDGE. THE GLOBAL MODELS CONTINUE TO SHOW THAT THIS RIDGE WILL BUILD WESTWARD TO KEEP KILO ON A GENERAL WEST-NORTHWESTWARD PATH THROUGH THE NEXT 36 TO 48 HOURS. BEYOND THIS TIME FRAME… A WEAKNESS IN THE RIDGE IS FORECAST TO DEVELOP… AND THIS SHOULD RESULT IN A REDUCTION IN FORWARD SPEED WITH A GRADUAL TURN TO THE NORTH OR NORTHEAST. MOST OF THE DYNAMICAL OBJECTIVE AIDS HAVE SHIFTED WESTWARD TO BE MORE IN LINE WITH THE ECMWF… BUT THE GFDL AND HWRF STILL SHOW A NORTHEASTWARD TURN POINTED TOWARD THE WESTERN HALF OF THE MAIN HAWAIIAN ISLANDS. THE CURRENT FORECAST IS CLOSE TO THE PREVIOUS PACKAGE AND LIES EAST OF THE DYNAMICAL CONSENSUS… THE GFS AND THE ECMWF… BUT A BIT WEST OF HWRF AND GFDL.

A U.S. AIR FORCE RESERVE WC-130J TOOK OFF AT ABOUT 22/0100 UTC AND WAS ENROUTE TO KILO. THE DATA FROM THIS MISSION SHOULD PROVIDE CRITICAL INSIGHT INTO IT/S STRUCTURE AND INTENSITY. SUBSEQUENT FLIGHTS WILL TAKE PLACE AT 12 HOURLY INTERVALS UNTIL FURTHER NOTICE. WITH THE G-IV AIRCRAFT TASKED IN THE ATLANTIC… A WC-130J IS ALSO SCHEDULED TO DO A SYNOPTIC SURVEILLANCE MISSION ON SATURDAY MORNING IN ORDER TO SAMPLE THE STRENGTH OF THE RIDGE NORTH OF THE TROPICAL CYCLONE.

FORECAST POSITIONS AND MAX WINDS

INIT 22/0300Z 13.4N 154.9W 30 KT 35 MPH
12H 22/1200Z 14.0N 157.2W 30 KT 35 MPH
24H 23/0000Z 15.0N 160.2W 35 KT 40 MPH
36H 23/1200Z 15.8N 162.4W 40 KT 45 MPH
48H 24/0000Z 16.7N 163.3W 45 KT 50 MPH
72H 25/0000Z 18.5N 163.7W 60 KT 70 MPH
96H 26/0000Z 20.0N 162.5W 70 KT 80 MPH
120H 27/0000Z 21.5N 161.0W 85 KT 100 MPH