Thursday 5 pm updated Ignacio track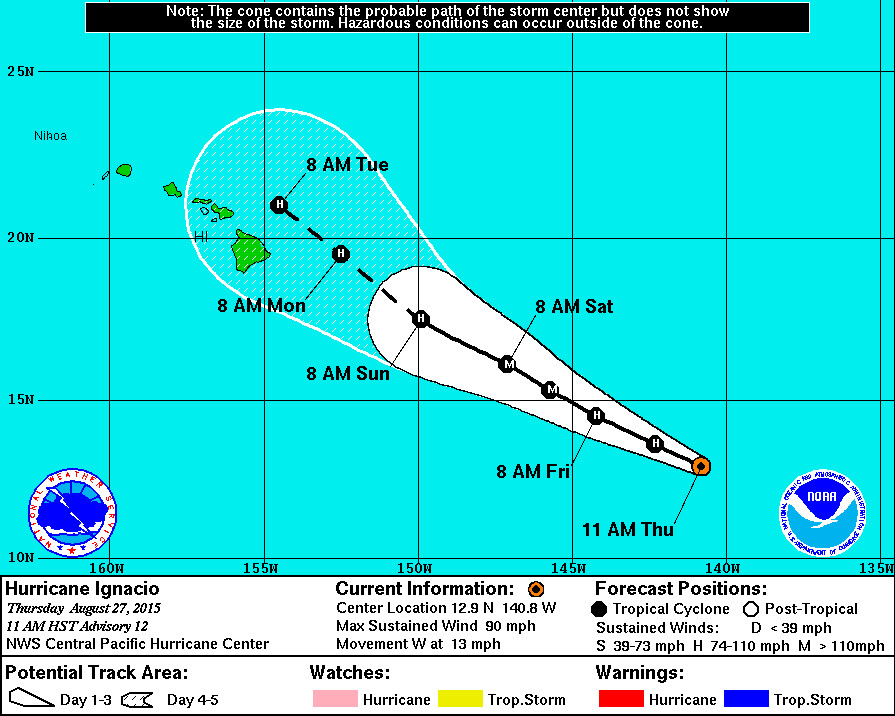 WARNINGS: There are no coastal watches or warnings in effect.
STRENGTH: Ignacio is a Category One hurricane, with maximum sustained winds at 90 mph. Some additional strengthening is forecast during the next 48 hours.
LOCATION: Ignacio is 980 miles east southeast of Hilo and is moving toward the west-northwest near 13 mph. This direction of motion should continue for the next couple of days with a slight decrease in forward speed tonight.
SIZE: Hurricane force winds (over 74 mph) extend outward up to 25 miles from the center. Tropical storm force winds extend outward up to 80 miles.
National Weather Service 5 pm
ALTHOUGH ITS OVERALL APPEARANCE HAS BECOME A BIT RAGGED IN THE SATELLITE IMAGERY ON THE WEST SIDE THIS AFTERNOON…DEEP CONVECTION NEAR THE CENTER OF IGNACIO CONTINUES TO PUSH TOPS ABOVE THE -80C LEVEL. THE EYE HAS REMAINED CLOUD-FILLED THROUGH THE DAY WITHIN A CENTRAL DENSE OVERCAST. A 2246 UTC GPM PASS SHOWED THE STRONGEST CORE CONVECTION SOUTHEAST OF THE CENTER. DVORAK INTENSITY ESTIMATES CAME IN AT 77 KT FROM SAB AND JTWC…AND 90 KT FROM PHFO. THE 2330 UTC CIMSS ADT ESTIMATE WAS ONCE AGAIN CLOSE TO 80 KT. WITH THE AVAILABLE ESTIMATES UNCHANGED…THE INITIAL INTENSITY FOR THIS ADVISORY PACKAGE IS ONCE AGAIN HELD AT 80 KT. A 1932 UTC ASCAT PASS WAS USED TO HELP REFINE THE WIND RADII.

THE INITIAL MOTION FOR THIS ADVISORY IS 290/11 KT. IGNACIO IS MOVING SOUTH OF A SUBTROPICAL RIDGE WHICH IS EXPECTED TO WEAKEN. THIS WILL RESULT IN A SLOWER FORWARD MOTION STARTING TONIGHT. OBJECTIVE AIDS FOR THIS PACKAGE CONTINUE TO SHOW A GENERAL WEST-NORTHWEST TO NORTHWEST TRACK THROUGH THE FORECAST PERIOD. THE LATEST GFS HAS SHIFTED ITS FORECAST TRACK SOUTHWARD A BIT… POSSIBLY DUE TO A WEAKER PROJECTED CYCLONE IN THE MODEL. THE HWRF HAS SHIFTED SOUTH AS WELL WITH A WEAKER SYSTEM. THE CURRENT FORECAST MAINTAINS THE TRACK OF THE PREVIOUS FORECAST AND IS CLOSE TO THE GFEX THROUGH 72 HOURS… THEN CLOSE TO THE GFS AT 96 AND 120 HOURS.

DESPITE BEING OVER SEA SURFACE TEMPERATURES ABOVE 28C AND LIGHT TO MODERATE VERTICAL WIND SHEAR… IGNACIO HAS NOT BEEN ABLE STRENGTHEN TODAY. ACCORDING TO SHIPS GUIDANCE… A WINDOW FOR FURTHER STRENGTHENING SHOULD EXIST THROUGH 48 HOURS. THE CURRENT FORECAST REFLECTS THIS… THOUGH WITH A MAXIMUM INTENSITY LOWERED TO 95 KT DUE TO TODAY/S TRENDS. GRADUAL WEAKENING IS FORECAST BEYOND 48 HOURS… MAINLY DUE TO SLIGHTLY COOLER SEA SURFACE TEMPERATURES AND INCREASING VERTICAL WIND SHEAR. THIS IS CLOSE TO THE IVCN CONSENSUS THROUGH 48 HOURS AND DSHP BEYOND 48 HOURS.

FORECAST POSITIONS AND MAX WINDS

INIT 28/0300Z 13.3N 141.9W 80 KT 90 MPH
12H 28/1200Z 14.0N 143.3W 85 KT 100 MPH
24H 29/0000Z 14.8N 145.0W 90 KT 105 MPH
36H 29/1200Z 15.6N 146.5W 95 KT 110 MPH
48H 30/0000Z 16.4N 147.9W 95 KT 110 MPH
72H 31/0000Z 18.0N 150.6W 85 KT 100 MPH
96H 01/0000Z 20.0N 153.5W 75 KT 85 MPH
120H 02/0000Z 22.0N 156.0W 65 KT 75 MPH