Friday 5 am updated Ignacio track
WARNINGS: There are no coastal watches or warnings in effect.
LOCATION: Ignacio is 840 miles east southeast of Hilo and is moving toward the west-northwest at 10 mph. This motion is expected to continue with a slight decrease in forward motion through early Sunday.
STRENGTH: Ignacio is a Category One hurricane, with maximum sustained winds at 90 mph. Ignacio will slowly strengthen through late Saturday… Then begin to weaken.
SIZE: Hurricane force winds (over 74 mph) extend outward up to 25 miles from the center. Tropical storm force winds extend outward up to 80 miles.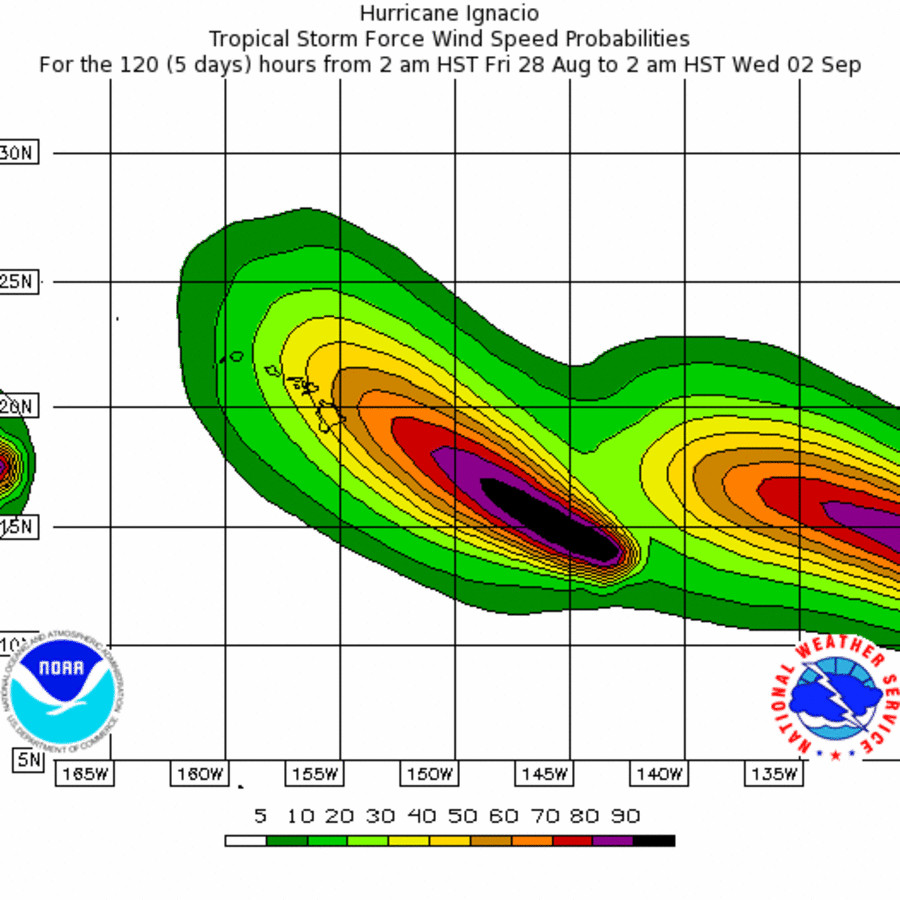 Friday 5 am National Weather Service
OVERALL SATELLITE PRESENTATION FOR IGNACIO HAS CHANGED LITTLE OVERNIGHT… WITH AN OBLONG 180 NM WIDE CDO HIDING THE LLCC. A VERY COLD MINUS 90 DEGREE CELSIUS CONVECTIVE TOP POPPED UP JUST SOUTH OF THE SUSPECTED CENTER WITHIN THE PAST FEW HOURS… WHILE THE FIRST GOOD HINT AT A CONSISTENT WARM SPOT IS NOTED BEGINNING WITH 1300 UTC IMAGERY. AN 1130 UTC AMSU PASS ADDS CONFIDENCE TO THE 1200 UTC POSITIONAL FIX. SUBJECTIVE DVORAK SATELLITE INTENSITY ESTIMATES RANGED ONCE AGAIN FROM 4.5… 77 KT… FROM SAB TO 5.0…90 KT FROM JTWC AND PHFO. UW-CIMSS ADT SHOWS AN UNCHANGING 80 KT AND… GIVEN THE ALMOST STEADY STATE SATELLITE PRESENTATION… WE WILL MAKE 80 KT OUR INITIAL INTENSITY FOR THIS ADVISORY.

IGNACIO CONTINUES TO SLIDE WEST NORTHWESTWARD ALONG THE SOUTHEAST FLANK OF A WEAKENING SUBTROPICAL RIDGE. INITIAL MOTION FOR THIS ADVISORY IS SET AT 290/09 KT… INDICATING A SLIGHT DECREASE IN FORWARD SPEED OVER THE PAST 12 HOURS. TRACK GUIDANCE REMAINS TIGHTLY PACKED…GENERALLY SHOWING A CONTINUED MOTION INITIALLY TOWARD THE WEST NORTHWEST… THEN NORTHWEST… THROUGH THE FIVE DAY FORECAST PERIOD. GFS SHIFTED SLIGHTLY TO THE LEFT AT 120 HOURS AND BEYOND… BUT WAS NEARLY UNCHANGED ELSEWHERE ALONG THE TRACK. CONSENSUS GUIDANCE IS ALSO ALMOST UNCHANGED SINCE THE LAST ECMWF RUN WAS AT 0000 UTC. IN CONTRAST… HWRF AND GFDL CONTINUE SHIFTING NOTICEABLY TO THE RIGHT.. .WITH HWRF NOW TURNING IGNACIO SHARPLY NORTHWARD BEYOND 72 HOURS. THE FORECAST TRACK FOR THIS ADVISORY IS UNCHANGED FROM THE PREVIOUS ONE… FOLLOWING THE CONSENSUS ARC BUT REMAINING ON THE LEFT EDGE OF THE GUIDANCE ENVELOPE.

SHIPS GUIDANCE SHOWS THE WINDOW FOR SYSTEM INTENSIFICATION CLOSING AFTER 36 HOURS… WITH SLIGHTLY COOLER SSTS AND INCREASING SHEAR TAKING A STEADY TOLL ON INTENSITY AFTER 48 HOURS. THAT SAID… IGNACIO IS IN A FRIENDLY ENVIRONMENT RIGHT NOW… WITH LOW SHEAR AND SSTS ABOVE 28 DEGREES CELSIUS. FOLLOWING THE SHIPS GUIDANCE TREND… IGNACIO IS FORECAST TO SLOWLY STRENGTHEN TO 95 KT AT 36 HOURS… MAINTAIN THAT STRENGTH THROUGH 48 HOURS… THEN STEADILY WEAKEN THROUGH THE REST OF THE FORECAST PERIOD. TO STAY IN LINE WITH SHIPS… THE RATE OF WEAKENING WAS DECREASED SLIGHTLY FOR THIS ADVISORY… KEEPING IGNACIO AT 70 KT AT 120 HOURS. THIS TREND ALSO CLOSELY FOLLOWS HWRF… BUT IS WEAKER THAN GFDL. THE FORECAST HAS THE CENTER OF IGNACIO PASSING CLOSE TO… BUT JUST NORTHEAST OF… THE MAIN HAWAIIAN ISLANDS AS A HURRICANE EARLY NEXT WEEK.

FORECAST POSITIONS AND MAX WINDS

INIT 28/1500Z 14.1N 143.8W 80 KT 90 MPH
12H 29/0000Z 14.7N 145.1W 85 KT 100 MPH
24H 29/1200Z 15.6N 146.7W 90 KT 105 MPH
36H 30/0000Z 16.5N 148.1W 95 KT 110 MPH
48H 30/1200Z 17.3N 149.5W 90 KT 105 MPH
72H 31/1200Z 19.2N 152.2W 80 KT 90 MPH
96H 01/1200Z 21.2N 154.7W 75 KT 85 MPH
120H 02/1200Z 23.3N 157.1W 70 KT 80 MPH