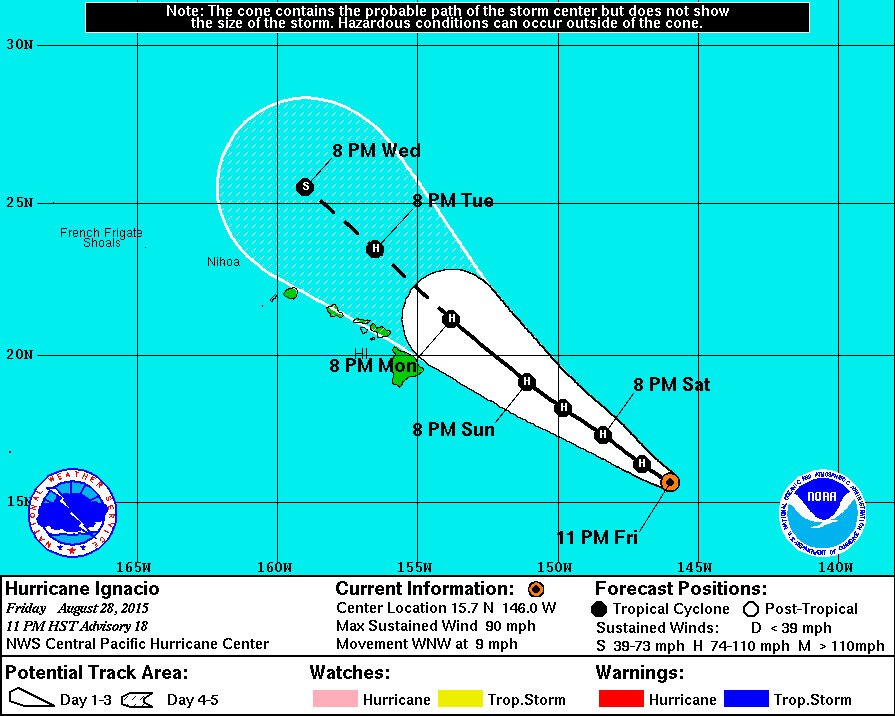 HAWAII – Hurricane Ignacio is tracking northwest and drawing closer to Hawaii, reports the National Weather Service in a 11 p.m. HST update.
This afternoon, Governor David Ige signed an emergency proclamation in anticipation of the storm's arrival. The state says that even though Ignacio's track is still highly uncertain, "the system has the ability to cause widespread damage across the state."
Ignacio is 660 miles east southeast of Hilo and has maintained Category 1 hurricane strength with maximum sustained winds of 90 mph. Some strengthening is forecast over the next day or so, followed by a slow weakening trend which is expected to begin on Sunday. Hurricane force winds extend outwards from the center up to 30 miles and tropical storm force winds extend outward up to 80 miles.
A watch may be required for portions of the main Hawaiian Islands on Saturday.
Ignacio's forecasted track shows it passing just to the north of Hawaii Island. Emergency officials are encouraging residents to take the time to prepare early for possible storm impacts that could include high surf, strong winds, and heavy rains.
---
HIGH SURF ADVISORY
No watches or warnings are in effect at this time however a High Surf Advisory has been issued for both the east and west facing shores of Hawaii Island effective from 6 a.m. tomorrow morning (Saturday, August 29th) through 6 p.m. Sunday evening. Surf heights of 5 to 8 feet can be expected on Saturday, building to 10 to 14 feet on Sunday.
Resultant surf will be large and potentially life-threatening, says the National Weather Service, especially on the Big Island late this weekend and early next week.
Also, Hawaii County Civil Defense says residents in low lying coastal areas and boat owners are advised to take necessary precautions and to secure all vessels. "All preparations should be completed before nightfall tomorrow," said civil defense in an evening radio message.
---
EMERGENCY PROCLAMATION SIGNED
The proclamation signed today bu the governor activates the Major Disaster Fund set aside by the Legislature for disaster relief for the entire state. The state says it also allows easier access to emergency resources at the state and federal levels, along with the ability to suspend certain laws as needed for emergency purposes.
"We thank Governor Ige for his support during this crucial time, and are taking advantage of this pre-landfall period to ensure that we are as best prepared as possible," said Vern Miyagi, Executive Officer of the Hawaii Emergency Management Agency, in a media release. "With our whole state engulfed in the cone of uncertainty, we ask the public to continue their preparedness efforts and monitor news media for the latest updates regarding Hurricane Ignacio."
---
HAWAIIAN ELECTRIC PREPARES
Hawaiian Electric Companies have activated emergency response plans, according to a utility media release. The company is making preparations to quickly respond to customer outages and other potential impacts to the systems.
The power utility is also urging customers to consider these emergency electrical preparedness steps and to follow the electrical safety advice below:
Check emergency equipment, such as flashlights, emergency generators, battery-operated (hand-crank or solar) radios, light sticks, and lanterns, and buy extra batteries. Do not use candles.
If someone in your home depends on an electrically powered life support system and you don't have a backup generator, make plans in advance to go to a safe location where electricity will be available. Some shelters are designed for people with health needs—just remember to take your own medical equipment and medications.
Turn your refrigerator/freezer to the coldest setting; in the event of a power outage, food will keep fresh longer.
Stock an ice chest with ice or frozen ice packs.
Store matches or a lighter in a waterproof container.
For cooking, purchase butane, propane, or a canned heat stove and enough fuel for seven days, or a charcoal grill and charcoal. Do not use these units indoors.
Properly secure propane tanks in a cool, dry, and well-ventilated storage area.
Before a storm hits or if there is a power outage, unplug all unnecessary electric equipment and appliances until the storm has passed or until power is restored.
Stay away from downed power lines. Assume they are energized and dangerous. If you see a downed power line or someone injured after touching a downed power line, call 9-1-1 for help.
Should you need to evacuate, take emergency supplies and remember to shut off electricity at the main breaker or switch.
When using a portable generator, carefully read and follow instructions in the manufacturer's manual. Do not plug the generator into your household electrical outlets.
If you have a rooftop photovoltaic system, consult with your licensed solar contractor regarding normal and emergency operation procedures for your solar system. As a safety precaution, most photovoltaic systems are designed to safely shut down during outages. PV systems typically have monitoring systems which allow owners to check on the status of their system.
If you become trapped in an elevator during a power outage, relax and stay calm until help arrives. Use elevator emergency communication systems to report where you are and who is with you. Do not try to force open elevator doors. Never try to exit a stalled elevator car. Always wait for trained and qualified emergency personnel.