---
11 a.m. UPDATE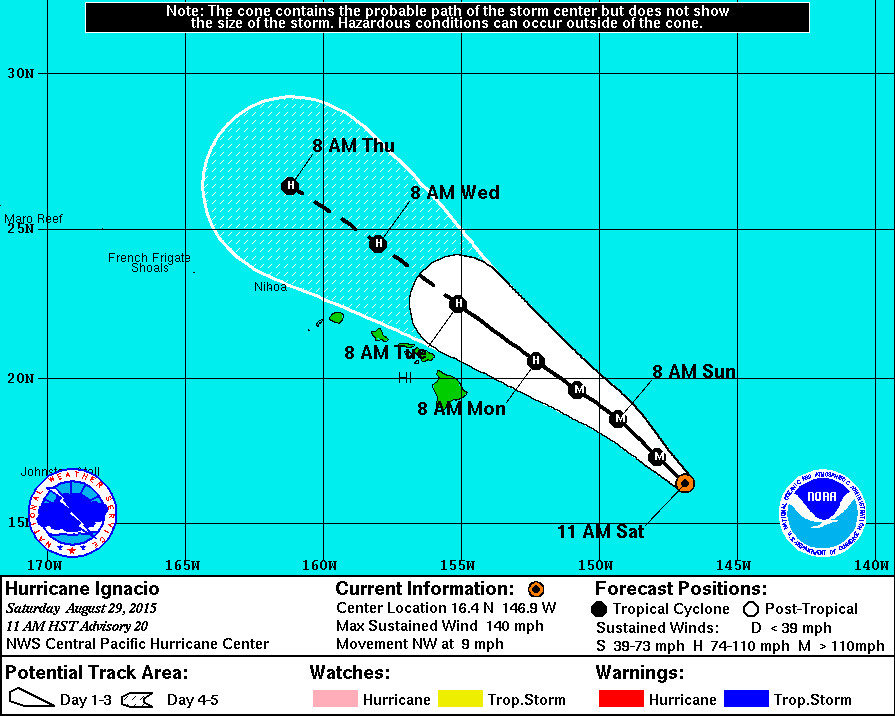 WARNINGS: A Tropical Storm Watch is in effect for Hawaii County.
LOCATION: Ignacio is 585 miles east southeast of Hilo and is moving northwest at 9 mph. This motion is expected to continue for the next couple of days with Ignacio passing northeast of the Big Island on Monday.
STRENGTH: Ignacio is a Category Four hurricane, with maximum sustained winds at 140 mph. Some additional strengthening is still possible today before a weakening trend begins.
SIZE: Hurricane force winds (over 74 mph) extend outward up to 30 miles from the center. Tropical storm force winds extend outward up to 140 miles.
---
POTENTIAL IMPACTS
WIND:Tropical storm conditions are possible on the Big Island of Hawaii starting Sunday night.
RAINFALL:Total rainfall amounts of 2 to 4 inches with isolated maximum amounts near 6 inches mainly in areas of higher terrain are possible in the watch area.
SURF:A High Surf Advisory has been issued for both the east and west facing shores of Hawaii Island effective from 6 a.m. this morning through 6 p.m. tomorrow evening. Surf heights of 5 to 8 feet can be expected on Saturday and building to 10 to 14 feet on Sunday. Civil defense says residents in low lying coastal areas and boat owners are advised to take necessary precautions and to complete all preparations by noon today. Emergency personnel will be conducting door to door notifications in surf and surge vulnerable areas of Kapoho in the Puna District and parts of Hilo.

---

COAST GUARD: PORTS ON ALERT

The Coast Guard Captain of the Port has moved the ports of Hilo and Kawaihae to Condition Whiskey (IV): The ALERT condition in which winds above 34 knots (39 mph) are expected within 72 hours. The projected arrival of storm force winds could facilitate the need to close commercial ports throughout the main Hawaiian Islands due to severe weather.

---

TUESDAY'S SIREN TEST CANCELLED

The Hawaii Emergency Management Agency has cancelled the monthly test of the statewide outdoor siren warning system scheduled for Tuesday, September 1, 2015 in order to avoid confusion as Hurricane Ignacio moves by the Hawaiian Islands.

Tests of outdoor sirens and the Emergency Alert System are conducted simultaneously, normally on the first working day of the month, in cooperation with Hawaii's broadcasting industry. The next regularly schedule monthly test will be on Thursday, October 1, 2015, at 11:45 a.m.

---

11 a.m. DISCUSSION

by National Weather Service

Ignacio has a very impressive satellite presentation this morning with a 20 nm warm… Clear eye. The reconnaissance aircraft found 133 kt flight level winds in the northeast quadrant of Ignacio… With sfmr winds peaking at 121 kt. Based on this information the advisory intensity has been set to 120 kt… The second category four hurricane in the central Pacific Basin of 2015… And the third major hurricane for the year. The wind radii have been adjusted once again to fit the new aircraft data.

The hurricane is moving toward the northwest… 315 degrees… At 8 knots. Our forecast philosophy has not changed… As Ignacio continues to move steadily northwest toward a break in the mid-level ridge. This motion is expected to continue for the next couple of days and the track guidance is tightly clustered around this idea. Later in the forecast period… Beyond day 3… Some of the guidance shows a slight bend toward the west as the system begins to encounter shear from the subtropical jet as well as a weak upper level trough over the main Hawaiian Islands. Our forecast is slightly to the right of the previous forecast and close to the consensus guidance through 72 hours owing to the initial more northward motion… And slightly to the left of the previous forecast at days 4 and 5.

Ignacio is currently at the northern edge of an area of weak shear underneath an upper level ridge. Sea surface temperatures along the forecast track from nasa-sport are 27-28c. The hurricane has a very small window to intensify further today… But as it continues northwest it will begin encountering upper level westerlies that will start to induce weakening. Our forecast stays close to the ships guidance through the next 24 hours… Then shows weakening at a slightly more gradual trend than ships through the rest of the forecast period. It is possible that Ignacio could weaken faster beyond 48 hours if the strong shear depicted in the global models materializes.

Forecast positions and max winds

Init 29/2100z 16.4n 146.9w 120 kt 140 mph
12h 30/0600z 17.3n 147.9w 125 kt 145 mph
24h 30/1800z 18.6n 149.3w 115 kt 135 mph
36h 31/0600z 19.6n 150.8w 105 kt 120 mph
48h 31/1800z 20.6n 152.3w 95 kt 110 mph
72h 01/1800z 22.5n 155.1w 80 kt 90 mph
96h 02/1800z 24.5n 158.0w 70 kt 80 mph
120h 03/1800z 26.4n 161.2w 65 kt 75 mph