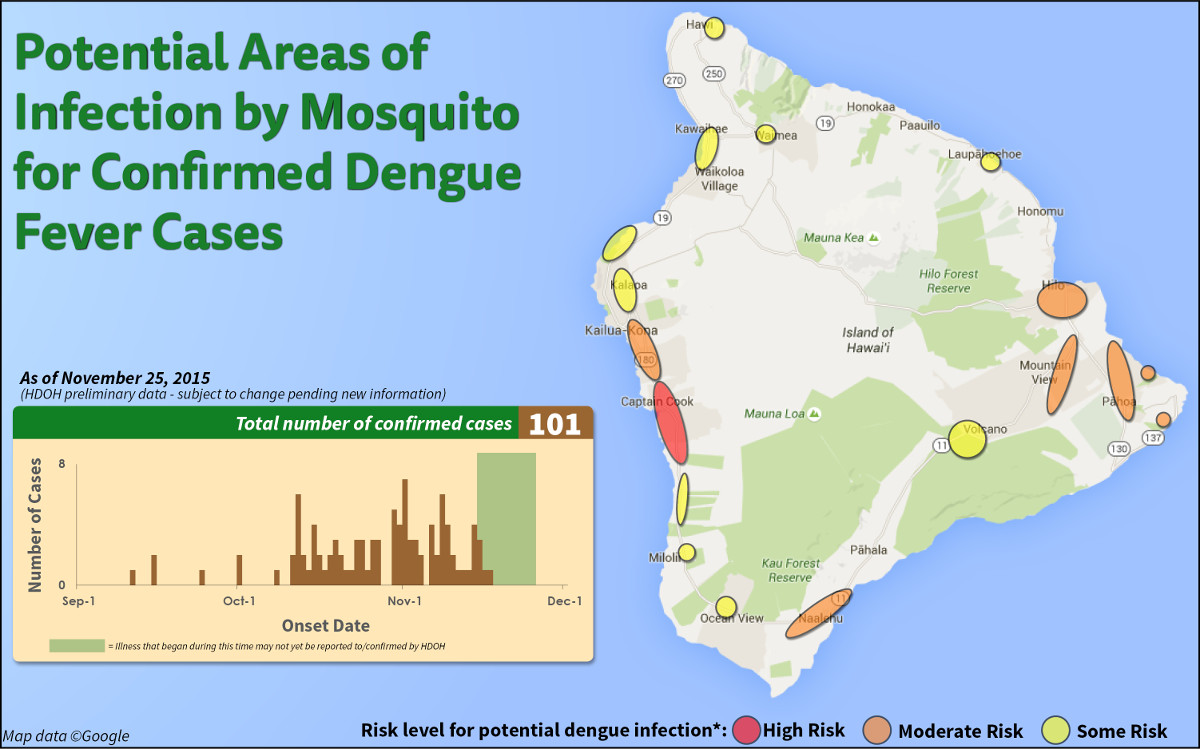 HAWAII ISLAND – The number of confirmed cases of dengue fever on Hawaii Island has passed the 100 mark. The count is now up to 101, according to today's 1 p.m. update from the Hawaii Department of Health. Of the confirmed cases, 88 are Hawaii residents and 13 are visitors. 78 cases have been adults; twenty-three have been children under the age of 18. The onset of the illness has ranged between 9/11/15 to 11/17/15.
As of today, the state says a total of 190 reported potential cases have been excluded based on test results and/or not meeting case criteria.
The state DOH also released a new Hawaii Island risk map, showing some changes (previous map here). For example the high risk area in red surrounding Na'alehu has been downgraded to an orange moderate risk and the size of the risk area has been reduced. In addition, what was once a large high risk location around Kona has been divided up into different sections for multiple risk levels. The state still considers the area around Captain Cook to be high risk, but now Kailua-Kona is moderate risk. There are now more moderate risk areas identified in East Hawaii, in what appears to be near Hawaiian Beaches and Kalapana, as well as a long stretch in Puna mauka centered on Mountain View.
"Risk levels of areas where confirmed cases may have contracted dengue fever are determined by factors including the number of confirmed cases who reported visiting those areas, as well as observed mosquito activity," the text beneath the map reads. "Individuals should always protect themselves against mosquitoes and mosquito bites island-wide; extra precaution should be taken in areas of risk."
News reports say a representative of the Center For Disease Control and Prevention will be visiting Hawaii to assist with the response to the outbreak.
The Hawaii Tourism Authority also issued its first dengue fever Industry Update today, saying that "as a precaution, we recommend that visitors familiarize themselves with information on DOH's website prior to arriving in the state and encourage our stakeholders on Hawaii Island to share this information with their visitors and guests."
The Hawaii County Council will be holding a Special Meeting to discuss the dengue outbreak on December 2 at 1 p.m. at the Hilo Council Chambers. The request for the meeting was made by Hilo councilmember Aaron Chung.
Hawaii County Civil Defense has also announced a second round of public meetings on the situation.
TONIGHT – Tuesday (Nov. 24) at 6:30 p.m. at Mt. View School Cafeteria
Friday (Nov. 27) at 6 p.m. at Ocean View Community Center
Monday (Nov. 30) at 6 p.m. at Waimea Middle School Cafeteria
Tuesday (Dec. 1) at 6:30 p.m. at Kohala High School Cafeteria
Thursday (Dec. 3) at 6:30 p.m. at Pahoa High School Cafeteria
---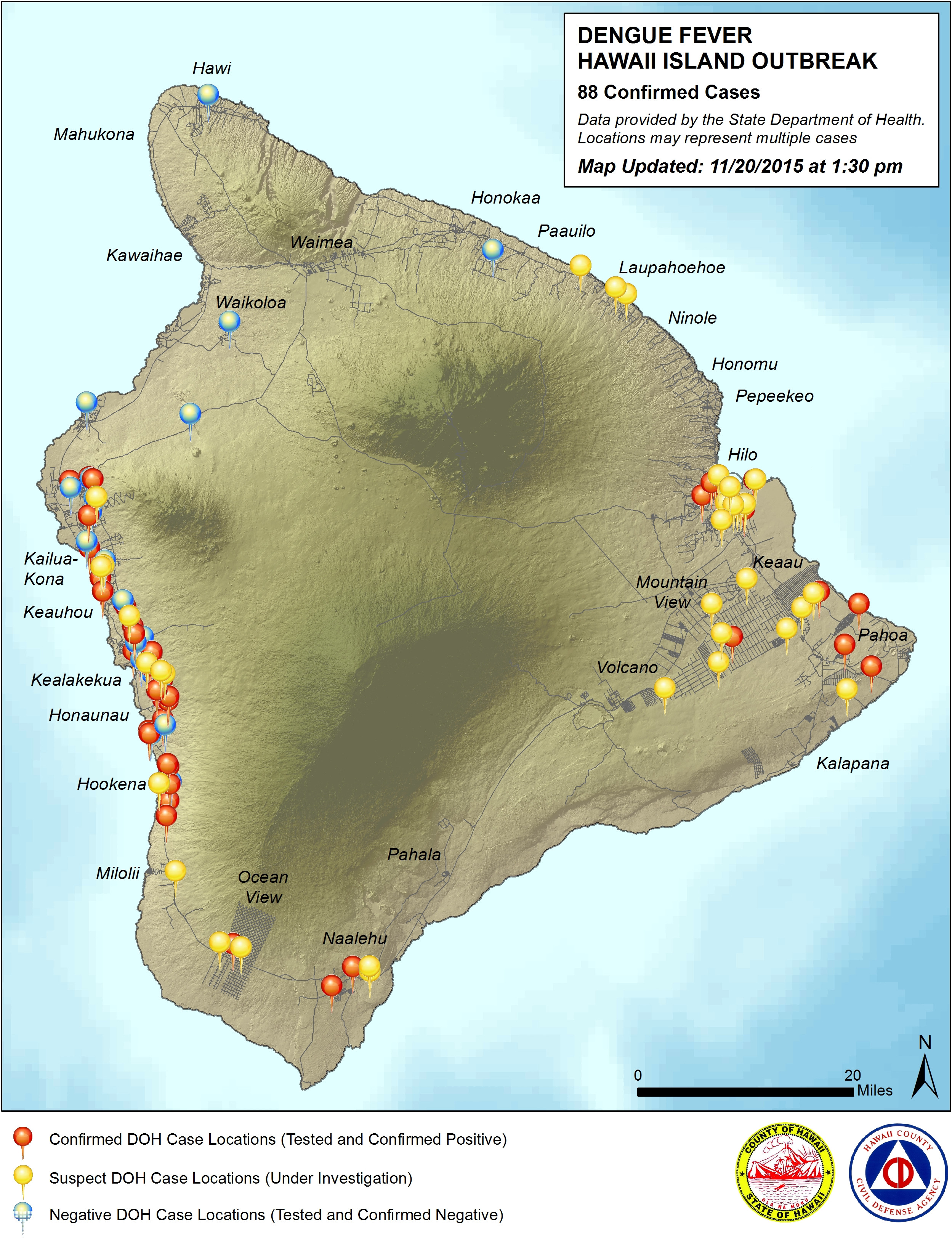 LATEST NEWS: The Hawaii Island dengue fever outbreak