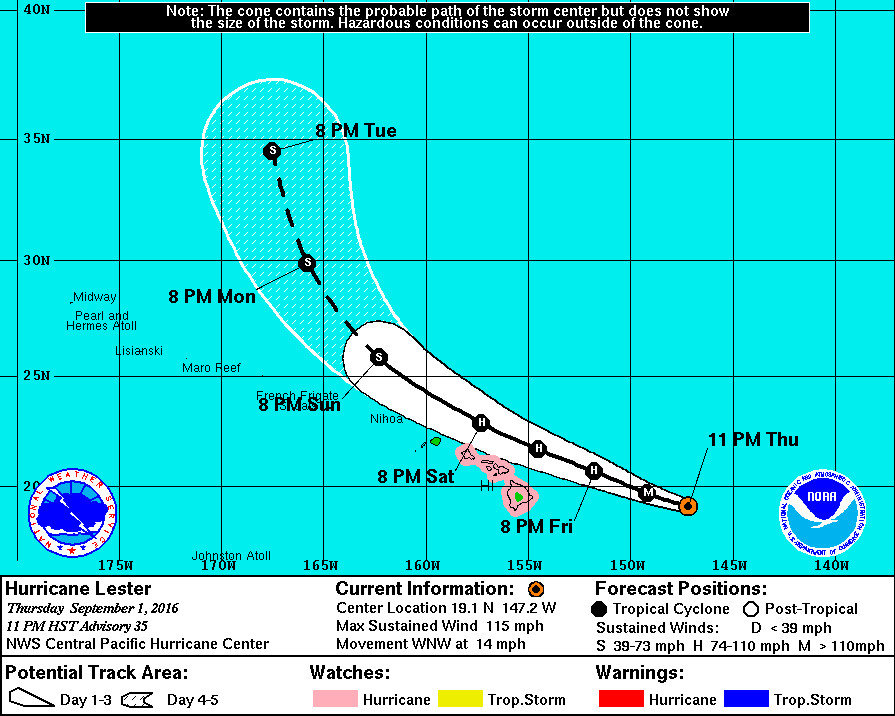 HAWAII ISLAND – A Hurricane Watch remains in effect for Hawaii County as Lester has weakened somewhat but remains a major hurricane.
The latest satellite images "show that Lester is a strong and well-organized hurricane lacking banding features, with a ring of strong convection completely encircling the well-defined eye," the National Weather Service reported at 11 p.m.
Reconnaissance aircraft from the 53rd Weather Reconnaissance Squadron has been flying through Lester this evening, and found the storm remains a category three Hurricane, with maximum sustained winds near 115 mph. Gradual weakening is expected.
Lester's west-northwest track looks to be holding, as predicted, and that means the hurricane should have minimal wind impact on Hawaii Island.
The initial motion vector for this advisory is 285/12 kt, with Lester tracking toward the west-northwest along the southern flank of a low- to mid-level ridge. Meanwhile, in the upper levels, Lester lies squarely between a high-level anticyclone to the east and a persistent trough near Hawaii, in an area of southerly flow aloft. These steering features will prevail through the forecast period, keeping Lester on a west-northwest track.
The official forecast keeps the center of Lester offshore of the islands, however forecasters say "a small deviation from the official forecast track could bring profound impacts to Hawaii". Users are also reminded that impacts from hurricanes can occur well away from the center.
Still, Lester is expected to bring lots of moisture over the already-saturated Big Island, which could translate into heavy rains starting as early as Saturday.
There will also be "large and damaging surf of 15 to 25 feet" along east facing shores Friday night into Saturday and continuing through Sunday.