(BIVN) – Democratic senators are questioning proposed reductions in the Department of Interior budget that could have an impact on Hawaii Island, as well as across the United States.
Interior has drawn up a $11.7 billion budget proposal as a part of President Trump's overall Fiscal Year 2018 request, which is a reduction of more than $1 billion compared to the current fiscal year.
Interior Secretary Ryan Zinke appeared at an oversight hearing held by the Senate Committee on Energy and Natural Resources on June 20, where he defended the cuts that critics say will limit access to public lands, threaten conservation efforts, and abdicate commitments to tribes.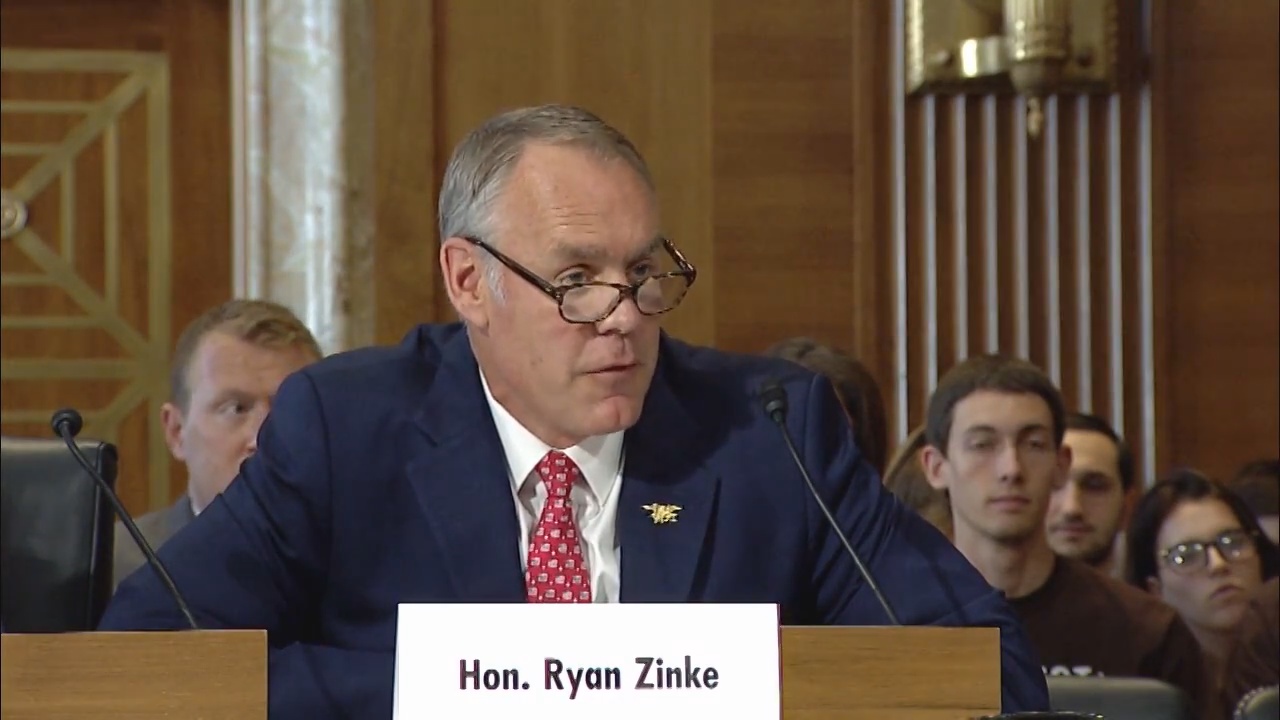 Ranking committee member, Sen. Maria Cantwell (D-Wash.), focused on the $378 million cut to the National Park Service budget. "Just one year after the National Park Centennial, this budget would cut almost $400 million from the Park Service budget. It would result in cutting more than 1,000 full-time employees," said Sen. Cantwell. "And according to the Department's own math, 'nearly 90 percent of parks would reduce their current staffing levels, leading to the reduction of services to the public.'"
Hawaii Island is home to a number of National Park units, the largest among them being Hawaii Volcanoes National Park.
The Trump administration budget also proposes cuts to U.S. Fish and Wildlife Service, U.S. Geological Survey and Bureau of Land Management, all of which fall under the Dept. of the Interior.
"The Administration's war on science is also on full display. The U.S. Geological Survey would be cut by 15%, $163 million. We're talking about water and climate science; we're also talking about USGS work on natural hazards, including a number of earthquake and volcano early warning systems vital to the public," said Sen. Cantwell.
The proposed budget zeroes out nearly $4 million in funding for volcano monitoring and an Early Warning System that would improve monitoring of high-threat volcanoes in the Cascades and Mt. Rainier, Sen. Cantwell pointed out. The budget also zeroes out over $9.5 million in funding for earthquake monitoring and an Early Warning System that would help protect cities and communities across the West Coast from a catastrophic earthquake disaster, the senator from Washington said.
Sen. Cantwell told Secretary Ryan that she finds the budget "so focused on the oil and natural gas aspect of revenue that I think you are neglecting the fact that the outdoor economy generates $887 billion dollars a year, $65 billion in federal revenue, $59 billion in state and local revenue, so that's $124 billion dollars to the government. So that versus the $2 billion you're talking about or $18 billion depending on price fluctuations for oil and gas. I want to make sure we are putting pedal to the metal as it relates to the outdoor economy and the opportunities — that is what is going to generate a lot more revenue for us as a government."
The Republican chair of the oversight committee, U.S. Sen. Lisa Murkowski, R-Alaska, noted that while she does not support every proposal within the administration's budget request, the positives within it outweigh the negatives.
"I believe this budget request focuses on taking care of the lands the federal government already owns, rather than endlessly buying more," Murkowski said. "I believe this will help western states, especially Alaska, to access our lands and waters and responsibly produce our natural resources."
But Sen. Cantwell hit upon another Interior item that is dear to some Hawaii interests; the Federal Land and Water Conservation Fund (LWCF) appropriations would also see devastating cuts. "Secretary Zinke's proposal also uses a budget gimmick to try to obscure the fact it's cutting the Land and Water Conservation Program by 85 percent, $61 million down from $400 million. This is our nation's most successful land conservation program, which 85 Senators voted to make permanent just last year," said Senator Cantwell. "Suffice it to say, this budget would pump the brakes on the booming outdoor recreation economy—all in favor of industries that have had trouble competing in today's marketplace."
Hawaii Sen. Mazie Hirono (D) also questioned the LWCF cuts, which she called "a popular bipartisan program… created over 50 years ago to balance natural resource extraction with conservation of our nation's land and water resources" that funds land conservation projects in Hawaii and across the country. In recent years, LWCF has provided critical land acquisition funding for Hawaii's "Island Forests at Risk" proposal. However, the Trump Administration's fiscal year (FY) 2018 budget zeros out all funding for land acquisitions from the LWCF, Hirono said.
"When you were here for confirmation hearings you were a big supporter…of the Land and Water Conservation Fund. That fund is supposed to be a conservation program that is funded by oil drilling revenues and yet this fund is cut by 84 percent," Senator Hirono told Sec. Zinke. "The reason that I'm particularly interested in the strength of the Land and Water Conservation Fund is that it is a very bipartisan-supported fund. Hawaii has submitted a proposal that obtains funding from the LWCF and our proposal is called "Island Forests at Risk." It protects water resources, improves ecosystems, etc. So has your commitment to the LWCF changed? Because this fund is cut by 84 percent in the President's budget, which you support."
According to the senator's website, Hirono has been working to secure federal support for land acquisitions in Hawaii and has been a strong supporter of federal resources for conservation. For the first time in FY 2016 the Obama Administration's budget ranked "Island Forests at Risk" high enough for the National Park Service and U.S. Fish and Wildlife Service to acquire lands that protect native forests and watersheds that are essential to the recovery of threatened and endangered species and cultural resource protection, Hirono reports. Now, Trump's FY 2018 budget proposal could halt the conservation efforts.
Meanwhile, the Department of the Interior today announced an initiative to "alleviate unnecessary regulatory burdens placed on the American people," which seeks to implement the vision set out by President Trump in Executive Order (E.O.) 13777, "Enforcing the Regulatory Reform Agenda."
Interior says it is seeking input from the public, and specifically from entities "significantly affected by Federal regulations, on what Interior regulations may be appropriate for repeal, replacement, or modification".
The Department says it will be taking a look at regulations that:
Eliminate jobs, or inhibit job creation;
Are outdated, unnecessary, or ineffective;
Impose costs that exceed benefits;
Create a serious inconsistency or otherwise interfere with regulatory reform initiatives and policies;
Rely, in part or in whole, on data or methods that are not publicly available or insufficiently transparent to meet the standard for reproducibility; or
Derive from or implement E.O.s or other Presidential directives that have been subsequently rescinded or substantially modified.
"Interior encourages all sectors of the public, including state, local, and tribal governments, small businesses, consumers, non-governmental organizations, and trade associations to provide input to improve Interior's regulations," the department said in a June 21 media release. "This initiative is part of a government-wide initiative to alleviate unnecessary regulatory burdens on the American public. Interior's regulations include those of the Bureau of Land Management, Bureau of Ocean Energy Management, Bureau of Safety and Environmental Enforcement, Bureau of Indian Affairs, Bureau of Indian Education, National Park Service, Office of Surface Mining, Reclamation and Enforcement, Bureau of Reclamation, U.S. Fish and Wildlife Service, and U.S. Geological Survey, and other agencies."