(BIVN) – UPDATED – On Monday evening at 6 p.m. Governor David Ige addressed Hawai'i live on Facebook and network TV in order to provide "updates and announcements" regarding the false ballistic alert that panicked island residents and visitors on Saturday. Technical difficulties seemed to undermine the Governor's message. Many of the viewers who tuned in to the Facebook live broadcast expressed disappointment in the poor quality of the video stream, which paused and cut out often.
Here is the full text of Governor David Ige's statement:
I want to begin by offering my personal apology for the fear, anxiety and heartache the false alert on Saturday created for you. It was terrifying for all of us – our families, visitors, and especially, the children of Hawaiʻi.

My number one priority is the safety and security of the people of Hawaiʻi and our visitors. Our everyday heroes are protecting our state, 24 hours a day, 365 days a year. I thank them for their dedication and sacrifice.

I will not stand for scapegoating of our emergency management personnel when a number of unfortunate errors caused this event. Death threats are completely unacceptable and not how we do things here.

I am the governor and these good, decent emergency personnel work for me. I am ultimately responsible.

I wish I could say there was a simple reason for why it took so long to get the correction to the false alert out.

While we got to Twitter, TV and Facebook fairly quickly, we were hamstrung by a number of factors making it difficult to get a timely cancellation out to cell phones.

It is clear what happened Saturday revealed the need for additional safeguards and improvements to our state system.

I already directed the Hawaii Emergency Management Agency to cease their ballistic missile defense internal warning drill until a full review of the facts and circumstances surrounding the false alert is concluded.

We created an immediate process with a pre-scripted cancellation and false alert message.

We imposed a two-step, two-person rule for all TV, radio and wireless activation.

And we established better protocols and lines of communication across our emergency management network.

Moving forward, there is much to fix, plan for and do.

Today, I signed an Executive Order appointing Brigadier General Kenneth Hara, the Deputy Adjutant General, to oversee a comprehensive review of our emergency management enterprise and to immediately implement needed changes. He will be working closely with General Miyagi and the Hawaiʻi Emergency Management Agency team.

General Hara is also tasked with helping us, government, businesses, families and individuals know what to do, where to go and how to prepare. Children going down manholes, stores closing their doors to those seeking shelter and cars driving at high speeds cannot happen again. We will do a better job of educating the public.

General Hara will give me an initial action plan within 30 days and a formal report in 60 days.

We've already made a number of fixes.

On Saturday, we went to work immediately to implement improvements to our emergency management system, staffing, and procedures to fix these problems. Let me be clear, false notifications – and waiting for what felt like an eternity – will not happen again. You have my promise on this.

I have also been pushing for the ability to test the cellular alerts, just as we do the monthly siren test. But it has been blocked nationwide. This has prevented us from testing the cell phone warning alert system.

Long before Saturday, I signed a formal opt-in agreement with FirstNet. This is a nationwide broadband network for the first responder community being built across the state.

FirstNet makes it possible to exchange critical information instantly among all of Hawaiʻi's responder community.

They will have the latest and most accurate information and will be able to respond more quickly.

FirstNet will continue to function should telephone circuits and cell systems be overloaded. I look forward to partnering with the legislature and our Congressional delegation to make sure we provide you with the tools and resources you need to keep you and your families safe.

We are a resilient community. We look out for and help each other.

Hawaiʻi knows how to stand strong and defend itself. But we must also work for a more peaceful world. We must demand a de-escalation with North Korea, so sirens and warnings become a thing of the past.

In the words of Martin Luther King, Junior, who we remember today, "The time is always right to do what is right."

Thank you and aloha.
The Governor's office also provided the text of today's Executive Order: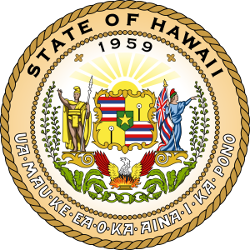 Hawaii Governor David Ige
Jan. 15, 2018
EXECUTIVE ORDER NO. 18-01
By the authority vested in me as Governor by the Constitution and laws of the State of Hawaii, in order to provide alerts, response, and relief for emergencies, damages, losses, and suffering, and to protect the health, safety, and welfare of the people, I, DAVID Y. IGE, Governor of the State of Hawaii, hereby determine and order as follows:
WHEREAS, Hawaii, with a population of approximately 1.4 million residents across eight inhabited islands, are susceptible to a myriad of natural and man-made hazards; and
WHEREAS, Hawaii is located in the most remote location on Earth separated by great distances and travel time from the continental United States; and
WHEREAS, Hawaii's location in the Pacific makes it a highly strategic location for government and military interests which necessitates additional emergency management coordination and preparation; and
WHEREAS, Hawaii's location and vulnerability to multiple hazards has helped Hawaii continue to develop an emergency management system intended to protect the public from all natural and man-made hazards; and
WHEREAS, as part of Hawaii's preemptive and protective measures, Hawaii officials have been actively working on warning and response plans that include alerting the public as early as possible in order to maximize preemptive and protective actions to protect the public; and
WHEREAS, on January 13, 2018, an emergency warning of an actual ballistic missile launch was inadvertently issued during a shift change drill conducted by the State Warning Point; and
WHEREAS, this false alarm resulted in significant response actions at all levels and sectors in Hawaii; and
WHEREAS, while Hawaii's emergency management system is highly evolved, this recent false alarm reinforces the need for continued improvement of all emergency management plans and operations.
2
NOW, THEREFORE, I, DAVID Y. IGE, Governor of the State of Hawaii, pursuant to the powers delegated to me by the Constitution and the applicable laws of the State of Hawaii, including chapter 127A and section 121-11, Hawaii Revised Statutes, hereby authorize and direct Brigadier General, Kenneth S. Hara, currently serving as the Deputy Adjutant General of the State of Hawaii, Department of Defense, to review the current emergency response system, including notifications and warnings, and make recommendations for improvement with such review to include:
1. Facilitating efforts to identify capability and resource gaps and develop an action plan that recommends prioritization for resources required to enhance resilience, preparedness, and response capabilities.
2. Identifying actions to strengthen and expand government, private, and public partnerships for preparedness for all hazards.
3. Revising and recommending emergency notification procedures to ensure immediate notification, confirmation, or cancellation of threats
4. Strengthening information sharing, collaboration, and communication.
5. Improving public education to help the public know what to do when an alert goes out.
6. Produce an initial action plan no later than 30 days of this executive order, a final report no later than 60 days of this executive order, and identify any portions of these documents that should not be released to the public for security or other legal reasons.
Done at the State Capitol, this 15th day of January, 2018.
The Governor apologized in a statement to Hawai'i issued on Sunday:
On Saturday, Hawai'i's residents and visitors experienced an unfortunate situation that has never happened before and will never happen again – a false alert issued by the Hawai'i Emergency Management Agency that a ballistic missile was on its way to the Hawaiian Islands.

On behalf of the State of Hawai'i, I deeply apologize for this false alert that created stress, anxiety and fear of a crisis in our residents and guests.

I can personally assure each and every resident and visitor that steps have already been taken by the Hawai'i Emergency Management Agency to ensure that a situation of this type never happens again.

The Hawai'i Emergency Management Agency is committed to protecting the people of Hawai'i, and over the past year it has been taking responsible measures to prepare for the highly unlikely event of a missile attack. As a state government, we must learn from this unfortunate error and continue to prepare for any safety threat to Hawai'i's residents and visitors – whether it is a man-made threat or a natural disaster such as a hurricane or tsunami.

In the next few days, I will continue meeting with our emergency preparedness team and personally talking with families, individuals and leaders from around our state to ensure we reach every household. We must also do what we can to demand peace and a de-escalation of tensions with North Korea.

Again, on behalf of the State of Hawai'i, I apologize for yesterday's events and any hardship and inconvenience this created for you, your family and loved ones.