(BIVN) – The 2018 Waimea Cherry Blossom Heritage Festival reaches its silver anniversary on Saturday, and will be marked by the annual blooming of Church Row Park's historic cherry trees and the Japanese tradition of viewing them— hanami.
Hanami celebrates the fleeting beauty of nature while heralding the arrival of spring, organizers say.
According to the County of Hawai'i: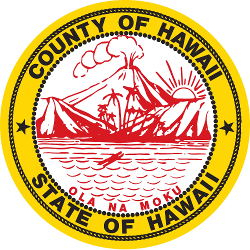 County of Hawai'i
on January 31, 2018
A suggestion by a community member is how the annual Waimea Cherry Blossom Heritage Festival got started. Annually attracting thousands of people from all over the world, the festival marks its 25th anniversary on Saturday, February 3, 2018 from 9:00 a.m.-3:00 p.m.
This year's festival will be at multiple venues throughout Waimea. Look for pink banners identifying site locations throughout town, sprawling from Church Row Park to the Parker Ranch Historic Homes.
Spend the day to experience an all-day lineup of Japanese and multi-cultural performing arts at several locations, plus hands-on demonstrations of bonsai, origami, traditional tea ceremony, fun mochi pounding, plus a host of colorful craft fairs, a quilt show and food booths. Roberts Hawaii provides free shuttle transportation among most venues, although walking to the venues is encouraged.
It was the early 1990s when the late James Tohara of Hāwī thought the annual blossoming of the trees in Church Row Park should be celebrated.
"He came to me and asked if we could do something," said retired Hawai'i County Parks and Recreation Director George Yoshida of Hilo. "He felt the blooming of the trees was a wonderful resource being wasted."
Yoshida decided to explore the idea and consulted with Evelyn Togashi, then serving as a Recreation Specialist with the Department's Culture and Arts Division.
"Our original thought was to create a festival to celebrate the viewing of the trees, while encouraging the community buy into the idea of participation," Yoshida said. "We wanted people to plant cherry trees along the roadway leading into Waimea to beautify the whole landscape."
The festival started in 1994 at Church Row Park, offering mainly Japanese-themed entertainment and the planting of more trees.
The retired parks director says the festival took off when Roxcie Waltjen, now the Director of Parks and Recreation, joined the Department in the late 1990s. Roxcie led the festival through 2017 as the Department's Culture and Education director.
"Roxcie got all the right people in the community involved and the festival grew with more activities and locations," said Yoshida. "I give her credit for the festival's success."
Here is a quick rundown of festival activities at various locations follows, provided by event organizers:
Church Row Park
Historical Cherry Tree Display: Waimea Lions' Club offers a pictorial history of the cherry trees and serves as the festival's official Lost and Found station. T-shirt sales.
Entertainment: 9:30 a.m.-1 p.m. Hula, Japanese dance, koto music by Darin Miyashiro, taiko drumming, lion dance.
Bonsai: The Waimea Bon-yu Kai Bonsai Club offers a display and sale of bonsai, ongoing demonstrations and a clinic to discuss and work on the art of bonsai.
Cherry Blossom Express: Train ride for small keiki.
Asian Collectibles/Food Sales at Kamuela Hongwanji: Browse Asian-themed collectibles, cherry blossom crafts, plus Asian foods: Inari sushi, nishime bento, chichi mocha and andagi.
Cooking Demos/Entertainment at Kamuela Hongwanji: 9 a.m.-noon, Kona-Kohala chefs offer cooking demonstrations with free samples, lion dance.
Origami instruction at Kamuela Hongwanji: Hands-on fun with Kikuko Kibe.
Open House at Kamuela Hongwanji: Rev. Shingo Furusawa explains Shin Buddhism rituals.
Food Sales: Imiloa Church and in park
Parker Ranch Center – Hwy. 19
Festival Entertainment Stage: In the back parking lot. Opening 9 a.m. dedication ceremonies kick off continuous entertainment until 3 p.m.: Bon Odori Taiko, Hula Halau Ka Noeau with Kumu Hula Michael Pang, Lion Dancers, Ira & Boy Varize, Darlene Ahuna and Patio Productions.
Craft Fair: Nearly 150 crafters inside Center and in the back parking lot.
Mochi Tsuki Pounding: Help pound mochi using 500 pounds of rice with the Kona Hongwanji Mission outside the Fireside Food Court starting 10 a.m.; samples.
Kahilu Theatre – Lindsey Road/Parker Ranch Center
Tea Time: In the lobby: Mauna Kea Tea provides tastings of Hawaii-grown and Japanese teas with local tea maker at 10 a.m. and 1 p.m.
Performing Arts: On stage: Koto player and teacher Darin Miyashiro at noon; Shizuno Nasu of the Spiral Vision Company bringing traditional music and dance from Japan and the Cosmo Orchestra peforming the Sakura Shumphony, 1:30-3 p.m.
Mana Christian Ohana Church – (Former Kahilu Town Hall) Behind Parker Ranch Center
Ka Hui Kapa Apana O Waimea Quilt Show: Display by six generations of quilters in the family of club president Cyndy Martinez; sewing novelties and craft fair.
New Car Display: Kamaaina Motors
Historic Spencer House – (Next to Waimea Center) Hwy. 19
Japanese Collectibles: View a display of kimonos and collection of kokeshi dolls, plus learn about the 1840 Spencer House.
Waimea Historic Corner-Hwys. 19/190 intersection
Firehouse Gallery Activities: Waimea Arts Council presents cherry blossom and spring-themed art, sales of $10 festival poster with artist signing, sidewalk chalk drawing for all ages, food sales
Waimea Senior Center: Cherry Bakeoff Contest at Waimea Senior Center. Entries must be submitted 8-10 a.m. and will be sold after winners announced at 10:45 a.m., along with other baked goods. Proceeds benefit Waimea Senior Citizens Club.
Waimea Preservation Association: Waimea Outdoor Circle heirloom seed giveaway, t-shirt sales
Thelma Parker Gym: Craft fair
Thelma Parker Library: Explore the effects of ultraviolet radiation on humans and Waimea cherry blossoms while learning how to protect objects from UV exposure during a NASA@My Library Activity 9:30 a.m.-4 p.m.
Parker Ranch Historic Homes-Hwy. 190, Shuttle transport between Parker Ranch Center
Japanese Tea Ceremony: The Urasenke Hilo Association performs traditional chanoyu 9 a.m.-2 p.m. inside Puuopelu.
Hands-on Fun: Free, self-guided tours of homes, feather lei making
Keiki Paniolo Activities
Food Sales
W.M. Keck Observatory Hwy. 19
Solar Scope Viewing: West Hawaii Astronomy Club and Keck provide solar telescopes for viewing the sun and answer questions. 10 a.m.-2 p.m.
Kamuela Liquors-Hwy. 19
Sake Tasting: Noon-3 p.m.
The Waimea Cherry Blossom Heritage Festival is produced by the Hawaii County Parks and Recreation's Culture and Education Section. Overseen by Parks and Recreation Director Roxcie Waltjen, the festival is a community-wide effort by a dedicated team of volunteers, 808-961-8706.