(BIVN) – Puna councilwoman Eileen O'Hara began today's council meeting with a moment of silence, remembering those who were gunned down in a massacre at Marjory Stoneman Douglas High School on Feb. 14.
O'Hara also made mention of the tense atmosphere around Hawaiʻi Island Wednesday morning, following an explosion of rumor on social media that there could be school shootings at more than one Big Island high school. Police temporarily increased presence at the two public high schools in the Puna district, as well as Konawaena School.
"Just this morning, we had gun threats at three of our local high schools here on the Big Island," O'Hara said in Kona. "Fortunately they've been found to be not credible – hopefully, not credible – but this is spreading way too fast. It's like a wildfire. It's time to stem that tide and pray for the victims of this type of violence. So, I'm going to ask for a few moments of silence so we can reflect on this."
According to a Hawaiʻi County police media release: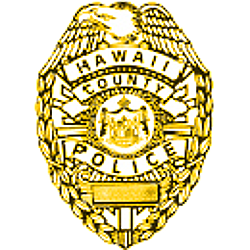 Hawaiʻi County Police Department
on February 21, 2018
In response to social media posts on, (January 29), which were brought to school official's attention yesterday, (February 20), police were summoned to the Pāhoa High School campus. It was reported that during a back and forth Instagram text between two female teenagers in which insults were exchanged, a 16-year-old female made a comment referencing bringing a firearm to school.
Police generated a Harassment case and located and interviewed the 16-year-old suspect yesterday, she was later released and the case is being routed to Family Court.
Subsequently, social media messages were posted yesterday discussing that a potential shooting was to take place at Pāhoa High school today, (February 21), later social media posts began discussing that a shooting would take place at a Keaʻau school as well.
In response to the concern, police have temporarily increased presence at the two public high schools in the Puna district, and have been meeting with school officials. All reported threats in any form referencing a potential school shooting are being investigated thoroughly and are being treated appropriately.
On Tuesday night, police issued a text alert, saying that, "due to social media posting, police will be at Konawaena School on Feb. 21, to increase police presence. Suspect has been arrested."