Lower East Rift Zone Eruption
The eruption of lava continues from the lower East Rift Zone in Leilani Estates with little change over the past few days, the USGS Hawaiian Volcano Observatory says. "Lava fountains reaching heights of 53 m (174 ft) were observed at Fissure 8 in the late afternoon," scientists reported last night. "Lava from Fissure 8 continues to flow through the well-established channel to the ocean at Kapoho, with rare, small overflows of the channel levees. A laze plume at the ocean entry was blown onshore this afternoon, and areas of upwelling offshore were present throughout the day. Fissures 16 and 18 continue to ooze lava."
Due to the current volcanic activity, Hawaii County Civil Defense says the following policies are in effect:
Leilani Estates West of Pomaikai Street is open only to residents with official credentials.
There is no immediate threat, but residents in Leilani, Waa Waa, and Papaya Farms Road should heed warnings from Civil Defense officials and be prepared to evacuate with little notice.
Kīlauea Summit
At 3:19 a.m. HST, USGS reported another small explosion occurred at Kīlauea's summit, producing a plume which rose to 6,000 ft above sea level. As with previous events, minor ashfall may occur downwind.
Dramatic changes are occurring at the summit, scientists say. (VIDEO)
Vog Concerns
Gas emissions from the fissure eruption and at the ocean entry continue to be very high, civil defense stated this morning.
Due to volcanic and air quality conditions, the following guidance is given:
The Department of Health recommends limiting outside activities and staying indoors if you have breathing issues.
You can monitor the latest air quality measurements through the University of Hawaii's Vog Measurement and Prediction Project, through the line on our Civil Defense website.
A community meeting on volcanic ash and vog will be held today at 5:30 p.m. at the Ocean View Community Center.
Federal Individual Assistance Request
Governor David Ige signed a requesting for approval "of all federal individual assistance programs for Hawai'i County residents who have lost their homes and property in the Kilauea volcanic eruption that began in May," the state announced on Wednesday.
From the office of the governor:
The county has estimated that the eruption has destroyed about 455 residential dwellings, 192 of which are primary residences. In addition, there are homes and farms that are isolated by the lava flows, while others are inaccessible or uninhabitable because of high ash and sulfur dioxide concentrations.

To date, assistance for individuals has been provided by the county government, state agencies, and a large network of non-profit organizations. The state has no individual assistance programs.

Gov. Ige is requesting assistance from ALL of the federal government's individual federal assistance programs to address disaster-related issues such as shelter, unemployment, trauma and legal matters. The programs include:

Individuals and Households Program (IHP) – which addresses residents' various needs and will help survivors get back on their feet.

Transitional Sheltering Assistance (TSA) – which will support short-term sheltering for residents.

Crisis Counseling Assistance and Training Program (CCP) – which will provide crisis counseling to residents affected by the eruption.

Disaster Unemployment Assistance (DUA) – which provides assistance to those who have become unemployed because of the disaster.

Disaster Case Management – provides follow-up services required to help families develop individualized recovery plans and provide sustained, coordinated case management.

Disaster Legal Services – provides guidance and assistance for families, primarily with insurance clams recovery/reproduction of legal documents, and advice on landlord issues. This program allows for the establishment of a hotline and other necessary support.

On May 11, 2018 the President approved Gov. Ige's request for a disaster declaration, authorizing the Public Assistance Grant Program for Hawai'i County, and the Hazard Mitigation Grant Program for the State of Hawai'i.
Kalapana Transfer Station Re-Opens, One Day Per Week
"Due to the road conditions on Highway 130 from the volcanic activity, the Kalapana Solid Waste Transfer Station was closed during the month of May," Hawaii County officials announced Wednesday. "The State Department of Transportation has determined that it is safe for the Solid Waste Division Trucks to cross the metal plates on the road and transport refuse out of the Transfer Station."
The Station will now be open one day per week on Saturdays from 6:00 a.m. to 6:00 p.m., and will resume collection on Saturday, June 16, 2018.
"The Division asks for everyone's assistance with this new schedule change, and asks the public to not leave refuse outside the gates at the facility on the days the Station is closed," the county says.
Furniture Drive
Lex Brodie's Tire is partnering with ​MATSON, Mihara Transfer, Connect Point Church and our Management Team at Lex Brodie's Tire to help Hope Services Hawaii furnish their newly constructed micro-shelters.
"We reached out to Hope Services Hawaii to see what else was needed for the Puna Lava Relief," Lex Brodies wrote in a recent email. "Hope Services Hawaii has been able to place families in rental homes, but they have nothing to put in them. We are reaching out to our customers to see if you would like to help our neighbors in need."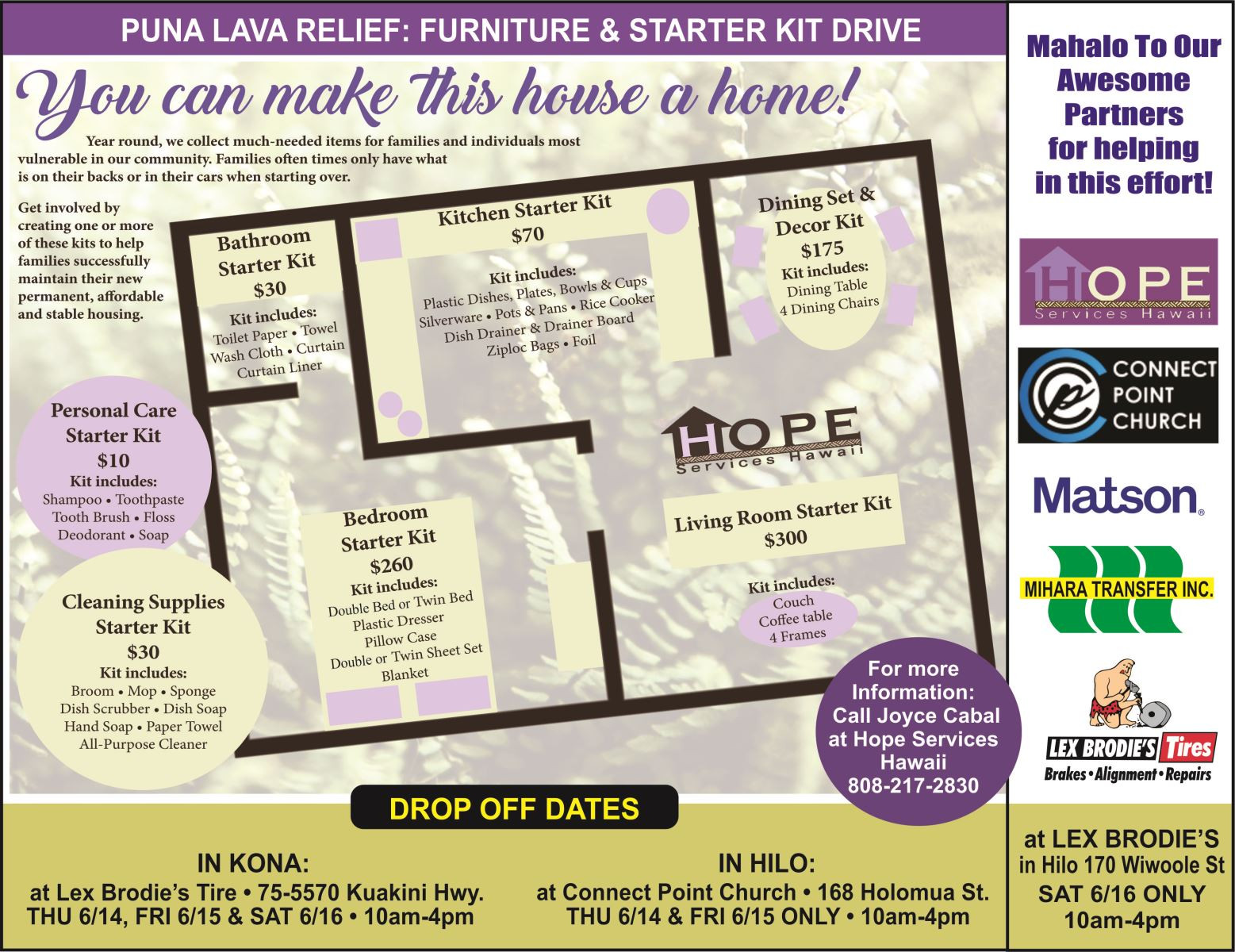 Donation drop offs will be accepted on the West Side of the island in Kona at Lex Brodies Tire at 75-5570 Kuakini Hwy. this Thursday 6/14, Friday 6/15 And Saturday 6/16 from 10 am to 4 pm.
On the East side of the Island, donations can be dropped off in HILO at Connect Point Church at 168 Holomua St. this Thursday 6/14 and Friday 6/15 only from 10 am to 4 pm. Saturday at Lex Brodie's Tire-Hilo from 10am-4pm.
Animal Rescue Planning Task Force Formed
From the Hawaii Island Humane Society:
A community meeting was convened this past Saturday by the American Society for the Prevention of Cruelty to Animals (ASPCA) and Hawaii Island Humane Society (HIHS) to discuss initiating an independent assessment of the areas affected by the eruption and ways to improve communication among the various parties including residents, rescue organizations and government entities.

Representatives from various government agencies and animal organizations participated in a planning session with the intent to create an assessment plan, define infrastructure in place and enhance communications.

"We've made great progress. Mahalo to everyone providing valuable situational awareness and offering to help with plans and initiatives moving forward," said community meeting organizers, ASPCA Senior Director for Disaster Response Dr. Dick Green and HIHS Executive Director Donna Whitaker.

A fly over assessment of the eruption areas was conducted on June 11 while two teams completed a ground assessment of the Leilani Estates subdivision. Given the results from the assessment, a response plan is being developed.

Gaining permission and safe access to areas affected by the eruption remains a high priority for the task force. Firm plans and communication are now in place with the various agencies to seek permission to gain safe access to rescue animals and pets.

To initiate a rescue request for your animal or pet call the Hawaii Island Humane Society at 808-498-9475. The HIHS animal and pet rescue hotline will be open from 7 am to 7 pm daily.

Hawaii Island Humane Society has rescued approximately 150+ animals with nearly all returned to owners and the remainder in foster homes. Hawaii Island Humane Society is also exploring ways to enhance capacity at the Keaau Shelter and expanding fostering opportunities. Disaster-related animals will be housed at the Keaau Shelter for 30 days to allow for reunification with owners.

For up-to-minute information follow HIHS on social media on Facebook @HIHSoc and Twitter @HIHumaneSoc.