(BIVN) – Hurricane Hector has become a major hurricane as it heads towards the Central Pacific. Maximum sustained winds have increased to near 120 mph (195 km/h) with higher gusts, making Hector a category 3 hurricane on the Saffir-Simpson Hurricane Wind Scale. Additional strengthening at a slower rate is expected during the next couple of days, the National Hurricane Center predicts.
The latest forecast track has Hector passing just to the south of Hawai'i Island on Wednesday of next week.
"There is the potential for Hector to bring some impacts to portions of the Hawaiian Islands by the middle of next week, but it is too soon to specify the magnitude of the impacts or where they could occur," the National Weather Service forecasters reported. "This is a good time for everyone in the Hawaiian Islands to ensure they have their hurricane plan in place."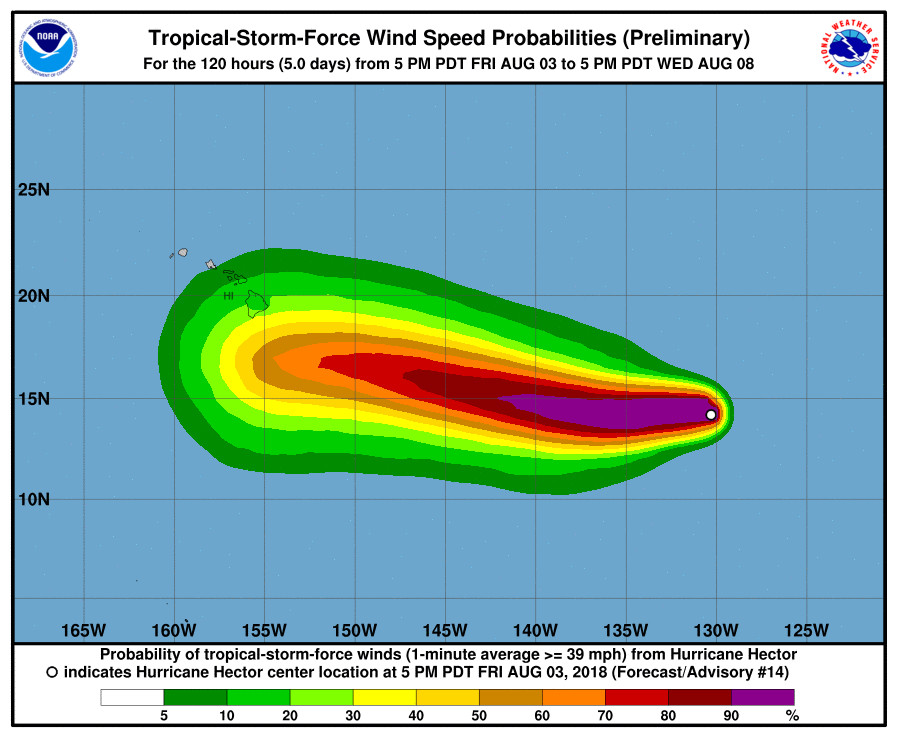 From the 5 p.m. HST NWS National Hurricane Center discussion:
Hector has continued to quickly strengthen since the last advisory, with the eye becoming more distinct and the cloud tops in the eyewall cooling to near -80C. Satellite intensity estimates from TAFB and SAB were 102 kt near 00Z, and given the increasing organization since that time the initial intensity is increased to 105 kt.

The initial motion is now 275/10. There is again little change to the track forecast philosophy, as a large subtropical ridge to the north of the hurricane should steer Hector generally westward during the forecast period. Due to a weakness in the ridge, the hurricane is forecast to gain some latitude from 36-96 h. While the guidance agrees with this scenario, there is a significant amount of spread between the GFS and NAVGEM on the north side of the guidance envelope and the UKMET and ECMWF on the south side. The consensus models are in the center of the envelope, and the new forecast is close to these in best agreement with the HCCA corrected consensus. The new forecast is little changed from the previous track.

Recent satellite microwave data show that Hector is developing an outer eyewall, which suggests the hurricane should undergo an eyewall replacement cycle during the next day or so. This makes it a little unclear how long the current intensification will last. The intensity forecast will show a little more strengthening during the next 12 hr followed by little change in strength through 36 h. The HWRF, HMON, and COAMPS-TC models show a little more intensification at 48-60 h, and the official forecast follows suit. After that time, while Hector should remain in a light-shear, warm-water environment, entrainment of drier air should lead to a gradual weakening of the cyclone. Overall, the new intensity forecast lies near the upper edge of the intensity guidance.