UPDATE: The Flash Flood Warning in effect for East Hawaii has been extended until 3:45 a.m. HST. According to the 12:21 a.m. HST National Weather Service alert:
At 12:14 a.m. HST, Hawaii County Civil Defense reported that Bayfront Highway in Hilo remains closed due to flooding. Flooding is also being reported on several other roads in the Hilo area. Water levels on the Honolii Stream and Wailuku River are very high and continuing to rise. Streams and drainages in the area around and north of Hilo may be overflowing, causing property damage and dangerous road conditions. Radar and rain gauges show persistent rainfall rates of 1 to 2 inches per hour, as outer rain bands from Hurricane Lane continue to stream into windward sections of the Big Island. Additional flash flooding is likely to develop across windward sections of the Big Island during the night due to the persistent heavy rains.
(BIVN) – A Hurricane Warning remains in effect for Hawaii Island as Category 4 Hurricane Lane, 195 south southwest of South Point, is moving northwest near 7 mph toward the Hawaiian Islands.
"This general motion is expected through Thursday, with a gradual turn toward the northwest," the Central Pacific Hurricane Center reported at 11 p.m. "On Friday, a turn toward the north is anticipated as Lane's forward motion slows even more. A turn back toward the west is expected on Saturday. On the forecast track, the center of Lane will move very close to or over the main Hawaiian Islands tomorrow through Friday."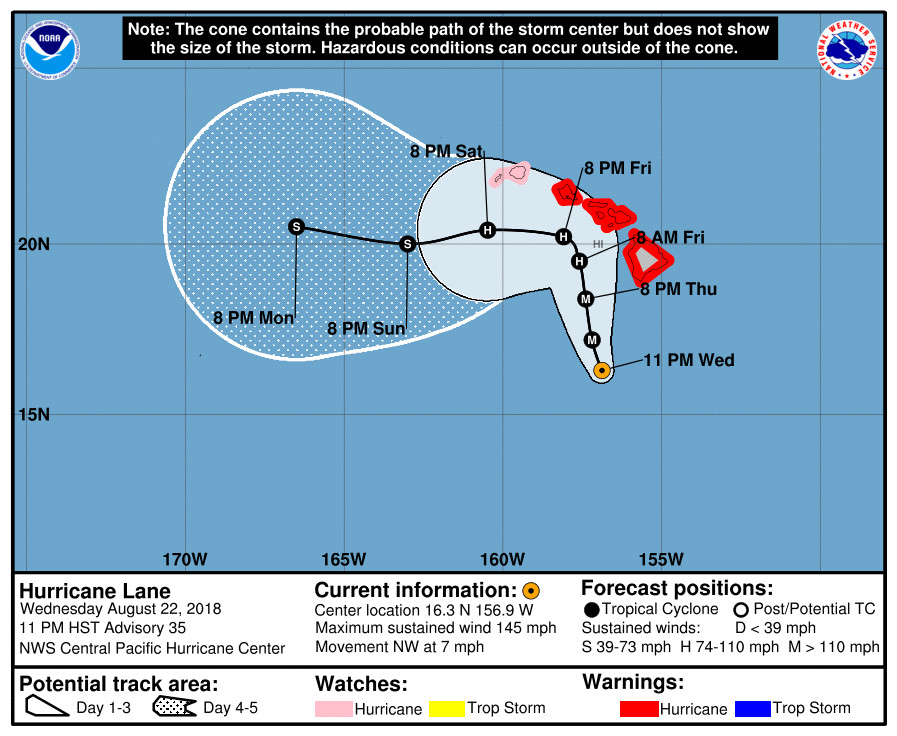 According to the CPHC, the hazards affecting land are:
WIND: Tropical storm conditions are expected on portions of the Big Island beginning early Thursday morning, with hurricane conditions expected in some areas Thursday afternoon or Thursday night. Tropical storm conditions are expected to begin over portions of Maui county on Thursday, with hurricane conditions expected in some areas Thursday night into Friday. Tropical storm conditions are expected to begin on Oahu late Thursday night, with hurricane conditions expected Friday into Friday night.
RAINFALL: Rain bands from Hurricane Lane will continue to overspread the Hawaiian Islands tonight and Thursday. Excessive rainfall associated with Lane will impact the Hawaiian Islands into the weekend, leading to significant and life-threatening flash flooding and landslides. Lane is expected to produce total rain accumulations of 10 to 20 inches, with localized amounts in excess of 30 inches over the Hawaiian Islands.
SURF: As Lane is slow-moving, large swells generated by Lane will severely impact the Hawaiian Islands over the next couple of days. These swells will produce very large and damaging surf along exposed west and south facing shorelines. A prolonged period of high surf will likely lead to significant coastal erosion.
STORM SURGE: The combination of a dangerous storm surge and large breaking waves will raise water levels by as much as 2 to 4 feet above normal tide levels along south and west facing shores near the center of Lane. The surge will be accompanied by large and destructive waves.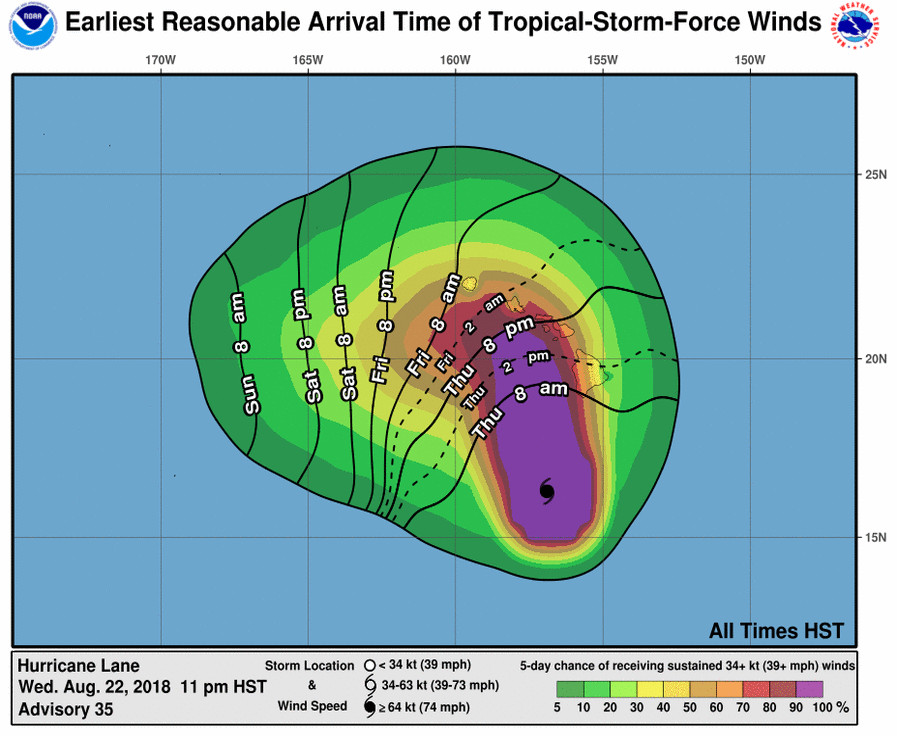 From the CPHC discussion posted at 11 p.m. HST:
Lane remains resilient in the face of increasing southwesterly wind shear, and remains a potent category 4 hurricane this evening. The cloud-filled eye continues to be surrounded by a solid ring of cold cloud tops, with lightning bursts persisting in the northern eye wall for the last several hours. The subjective Dvorak current intensity estimates from GTW/TAFB/HFO/SAB were all 6.5/127 kt for this advisory, while ADT was slightly lower. The current intensity estimate for this advisory will remain 125 kt based on a blend of these data.

Lane continues to make the long-awaited turn toward the northwest, and the forward speed has slowed, with the initial motion for this advisory estimated to be 315/6 kt. Lane has reached the western periphery of a deep-layer ridge, with a trough aloft to the northwest of Hawaii. The steering flow is relatively light and out of the south, and Lane will move northwest and north at a relatively slow speed through Friday in this environment. By 48 to 72 hours, most of the track guidance begins to show a sharp turn toward the west, as the low level circulation of Lane decouples in the face of 35 to 40 kt of shear. Exactly when this critical turn will happen is very difficult to forecast, so confidence in this portion of the track is quite low. The updated track forecast is very close to the previous but has been shifted slightly closer to the islands on days 2 and 3, when Lane will be making its closest point of approach to the islands. In deference to the HCCA, the forecast track has shifted to the right in response to the HWFI/GFSI and other members doing so, while the EMXI lies on the left hand side of the guidance envelope. Beyond 72 hours, the shallow circulation of Lane is expected to be carried westward away from the islands in the low-level trade wind flow.

Lane is beginning to move underneath increasing shear, analyzed to be near 20 kt, and latest satellite pictures indicate that this may be finally beginning to negatively impact Lane. The shear is expected to remain moderate for the first 24 to 36 hours, then become quite strong beyond 48 hours. A gradual weakening trend is shown through 48 hours, with more rapid weakening beyond that time frame. The intensity forecast remains on the high end of the guidance envelope, but follows closely all of the guidance trends that indicate significant weakening through the forecast period.

KEY MESSAGES:

1. Lane will pass dangerously close to the main Hawaiian Islands as a hurricane Thursday and Friday, and is expected to bring damaging winds. These winds can be accelerated over and downslope from elevated terrain, and will be higher in high rise buildings.

2. The slow movement of Lane also greatly increases the threat for prolonged heavy rainfall and extreme rainfall totals. This is expected to lead to life-threatening flash flooding and landslides over all Hawaiian Islands.

3. Large and damaging surf can be expected along exposed shorelines, especially along south and west facing coasts, with localized storm surge exacerbating the impacts of a prolonged period of damaging surf.

4. Do not focus on the exact forecast track or intensity of Lane, and be prepared for adjustments to the forecast. Although the official forecast does not explicitly indicate Lane's center making landfall over any of the islands, this could still occur. Even if the center of Lane remains offshore, severe impacts could still be realized as they extend well away from the center.

FORECAST POSITIONS AND MAX WINDS

INIT 23/0900Z 16.3N 156.9W 125 KT 145 MPH
12H 23/1800Z 17.2N 157.2W 120 KT 140 MPH
24H 24/0600Z 18.4N 157.4W 115 KT 130 MPH
36H 24/1800Z 19.5N 157.6W 95 KT 110 MPH
48H 25/0600Z 20.2N 158.1W 75 KT 85 MPH
72H 26/0600Z 20.4N 160.5W 65 KT 75 MPH
96H 27/0600Z 20.0N 163.0W 50 KT 60 MPH
120H 28/0600Z 20.5N 166.5W 40 KT 45 MPH