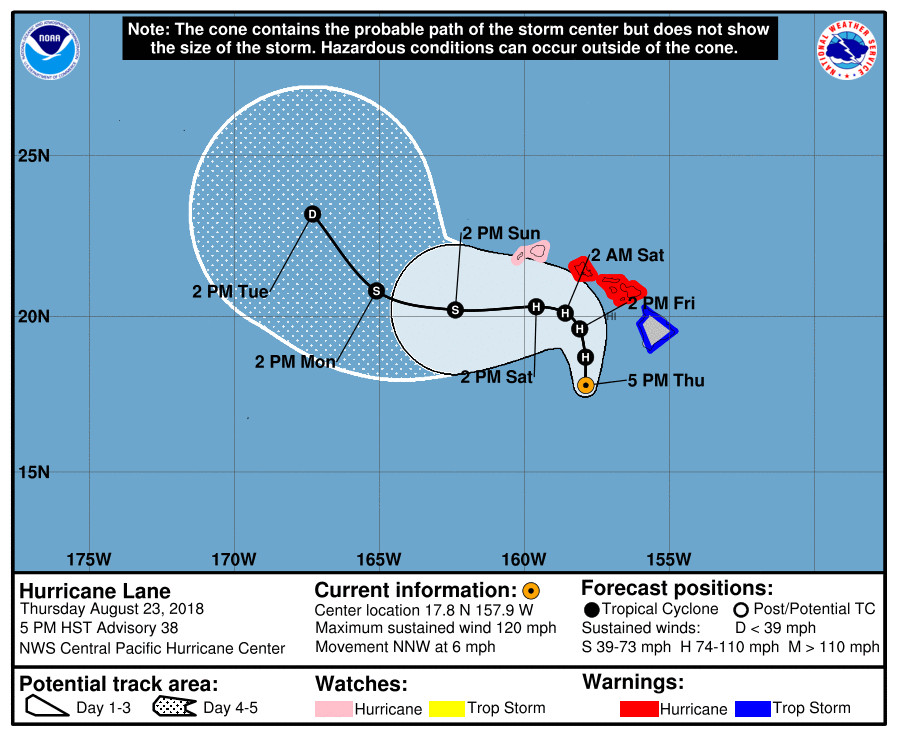 (BIVN) – Although Hurricane Lane is a category 3 hurricane with maximum sustained winds near 120 mph, the Hurricane Warning for the Big Island has been changed to a Tropical Storm Warning.
Some weakening is forecast during the next 48 hours, but Lane is still expected to remain a hurricane as it draws closer to the islands. Tropical storm conditions are expected on portions of the Big Island tonight and Friday.
Over two feet of rain has already fallen at a couple of locations on the windward side of the Big Island, the National Weather Service says. Excessive rainfall associated with this slow moving hurricane will continue to impact the Hawaiian Islands into the weekend, leading to significant and life-threatening flash flooding and landslides, forecasters say.
Lane is a slow-moving storm, presently heading north northwest at 6 mph, and large swells will be generated by the hurricane. "These swells will produce very large and damaging surf along exposed west and south facing shorelines. A prolonged period of high surf will likely lead to significant coastal erosion," the Central Pacific Hurricane Center says. "The combination of a dangerous storm surge and large breaking waves will raise water levels by as much as 2 to 4 feet above normal tide levels along south and west facing shores near the center of Lane. The surge will be accompanied by large and destructive waves."
According to the Central Pacific Hurricane Center discussion posted at 5 pm HST:
The weakening trend is underway. Over the past several hours, the CDO of Lane has become elliptical as strong shear, 25 to 35 kt in the UW-CIMSS shear analysis, begins to impinge on the core of the hurricane. Outflow has become very restricted in the southwest The eye, while still clearly evident on radar, is becoming indistinct in the visible and infrared satellite imagery. The satellite intensity estimates from HFO, JTWC, TAFB and SAB were a unanimous 5.5, and the CIMSS FT number was 5.6 with the CI being held up by constraints. Based the current intensity of 105 kt on these estimates.

The initial motion estimate is 330/5. There is no change to the forecast philosophy with this package. Lane continues to be steered toward the north on the western side of a mid-level ridge which is located to the east of Hawaii. The consensus guidance continues to show a northward motion, or even a motion toward just east of due north, as the ridge builds south and possibly southwest of the cyclone. The official forecast is similar to the previous track, and remains a bit left of the consensus tracks. As the inner core continues to deteriorate, Lane will come increasingly under the influence of the low level easterlies and begin tracking westward. However, the exact time when this will occur is still rather uncertain, and only a small delay in this decoupling could bring Lane farther north, with considerably worse conditions over the islands. Even if Lane remains along the forecast track, some significant impacts are expected.

Our intensity forecast shows weakening, but continues to trend on the high side of the intensity guidance through 72 hours owing to how organized Lane's core has been in recent days. During the later periods of the forecast, it is possible that Lane will not survive the shear and may become a remnant low even sooner than forecast.

KEY MESSAGES:

1. It is vital that you do not focus on the exact forecast track or intensity of Lane, and remain prepared for adjustments to the forecast. Although the official forecast does not explicitly indicate Lane's center making landfall over any of the islands, this remains a very real possibility. Even if the center of Lane remains offshore, severe impacts could still be realized as they extend well away from the center.

2. Lane will pass dangerously close to the main Hawaiian Islands as a hurricane on Friday, and is expected to bring damaging winds. Terrain effects can cause strong localized acceleration of the wind through gaps and where winds blow downslope. These acceleration areas will shift with time as Lane passes near or over the islands. Winds will also be stronger at the upper floors of high rise buildings.

3. The slow movement of Lane also greatly increases the threat for prolonged heavy rainfall and extreme rainfall totals. This is expected to lead to major, life-threatening flash flooding and landslides over all Hawaiian Islands.

4. Large and damaging surf can be expected along exposed shorelines, especially along south and west facing coasts, with localized storm surge exacerbating the impacts of a prolonged period of damaging surf. This could lead to severe beach erosion.

FORECAST POSITIONS AND MAX WINDS

INIT 24/0300Z 17.8N 157.9W 105 KT 120 MPH
12H 24/1200Z 18.7N 157.9W 95 KT 110 MPH
24H 25/0000Z 19.6N 158.1W 85 KT 100 MPH
36H 25/1200Z 20.1N 158.6W 75 KT 85 MPH
48H 26/0000Z 20.3N 159.6W 65 KT 75 MPH
72H 27/0000Z 20.2N 162.4W 55 KT 65 MPH
96H 28/0000Z 20.8N 165.1W 35 KT 40 MPH
120H 29/0000Z 23.2N 167.3W 30 KT 35 MPH