(BIVN) – Hurricane Norman, on a path towards the Central Pacific, grabbed everyone's attention on Sunday after making "a remarkable and surprising come back" overnight, strengthening into a Category Four hurricane.
With maximum sustained winds of 130 mph, Hurricane Norman is 1,705 miles east of Hilo and moving west-northwest near 18 mph. This motion is expected to continue for the next couple of days with a gradual decrease in forward speed thereafter, the National Hurricane Center says.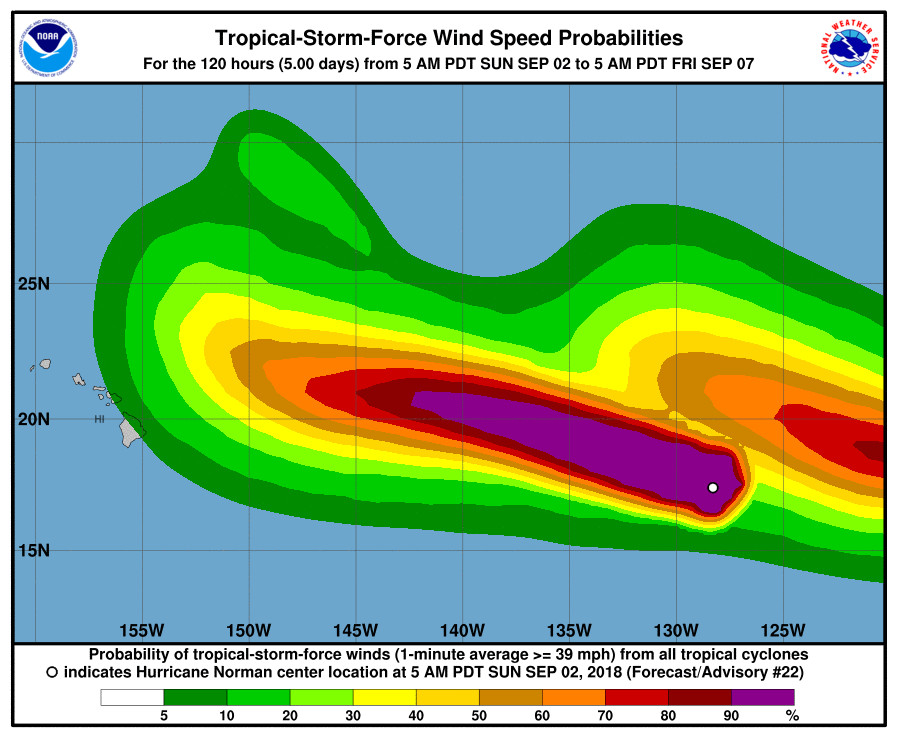 Some fluctuations in intensity are likely today and Monday, but a gradual weakening trend should then begin, forecasters say. It should be nearing Hawaii at the end if this week as a weak hurricane and is presently expected to pass to the north of the islands.
"Consensus models continue to keep the track of the Hurricane passing northeast of the Hawaiian Islands," the National Weather Service in Honolulu said this morning. "The track of Norman may block the trade winds keeping a light overnight land and afternoon sea breeze regime in place over each island. Scattered showers are possible each afternoon mainly over mountain and island interior sections."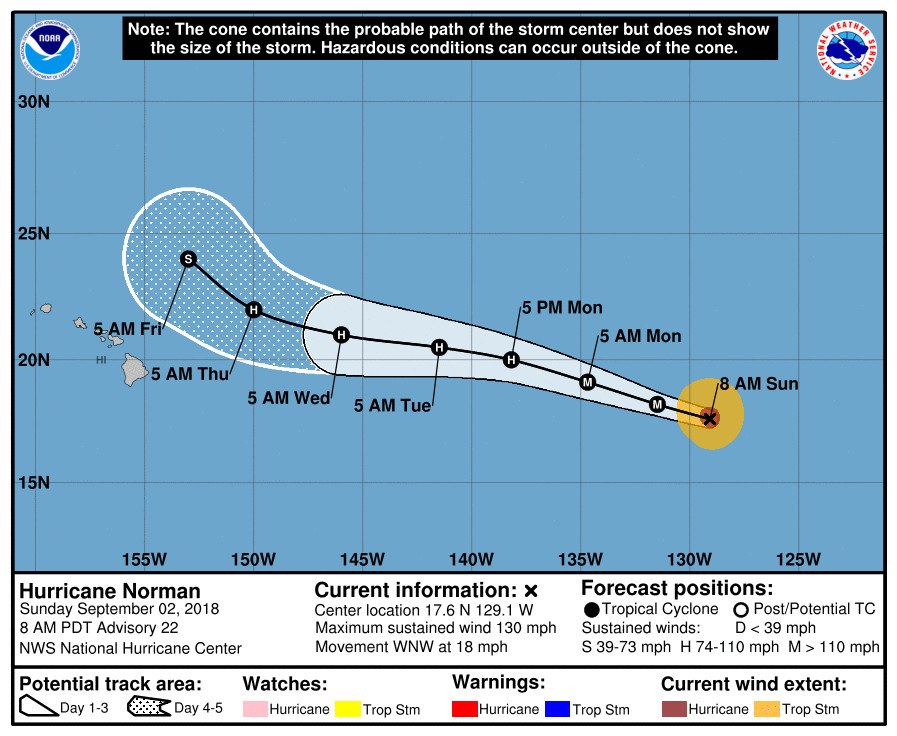 "It remains too soon to determine any local impact that Norman may have on Hawaiian weather," the NWS forecasters said.
According to the 5 a.m. HST National Hurricane Center discussion:
Norman has made a remarkable and surprising come back today. Satellite images reveal a distinct eye surrounded by a ring of very deep convection, and Dvorak T-numbers from both TAFB and SAB reached T6.0 around 1200 UTC. These numbers have leveled off since then. On this basis, the initial intensity has been increased to 115 kt, making Norman again a Category Four Hurricane on the Saffir-Simpson Scale. The hurricane, however, will begin to approach lower SSTs, and although some of the intensity models are more aggressive in forecasting strengthening, the NHC forecast prefers the consensus IVCN, and forecasts a gradual weakening beyond 12 to 24 hours.

Norman is moving toward the west-northwest at 16 kt. There is a strong subtropical ridge anchored to the north of Norman, and this flow pattern will continue to steer the hurricane between the west and west-northwest at the same speed for the next 2 to 3 days. By then, the ridge is forecast to be weaker and a turn toward the northwest is expected by the end of the forecast period. Track guidance is in very good agreement, and unanimously, all models forecast the gradual turn to the northwest beyond 4 days. The NHC track forecast is in the middle of the envelope and is not much different from the earlier one.

FORECAST POSITIONS AND MAX WINDS

INIT 02/1500Z 17.6N 129.1W 115 KT 130 MPH
12H 03/0000Z 18.2N 131.5W 115 KT 130 MPH
24H 03/1200Z 19.1N 134.7W 100 KT 115 MPH
36H 04/0000Z 20.0N 138.2W 90 KT 105 MPH
48H 04/1200Z 20.5N 141.5W 80 KT 90 MPH
72H 05/1200Z 21.0N 146.0W 70 KT 80 MPH
96H 06/1200Z 22.0N 150.0W 65 KT 75 MPH
120H 07/1200Z 24.0N 153.0W 55 KT 65 MPH
Former Hurricane Miriam has weakened into a tropical depression and is far east northeast of the Hawaiian Islands.
Behind Hurricane Norman is Tropical Storm Olivia, 440 miles south southwest of the southern tip of Baja California. Olivia is expected to become a hurricane, as well.