(BIVN) – Norman appears to have rapidly intensified overnight, as the storm has strengthened into a major hurricane, 480 miles east of Hilo.
"Maximum sustained winds have increased to near 115 mph, and Norman is now a category 3 hurricane on the Saffir-Simpson Hurricane Wind Scale. The Central Pacific Hurricane Center says some fluctuations in intensity are possible today, followed by gradual weakening from tonight through Thursday night. Norman is expected to remain a hurricane through Thursday, forecasters say.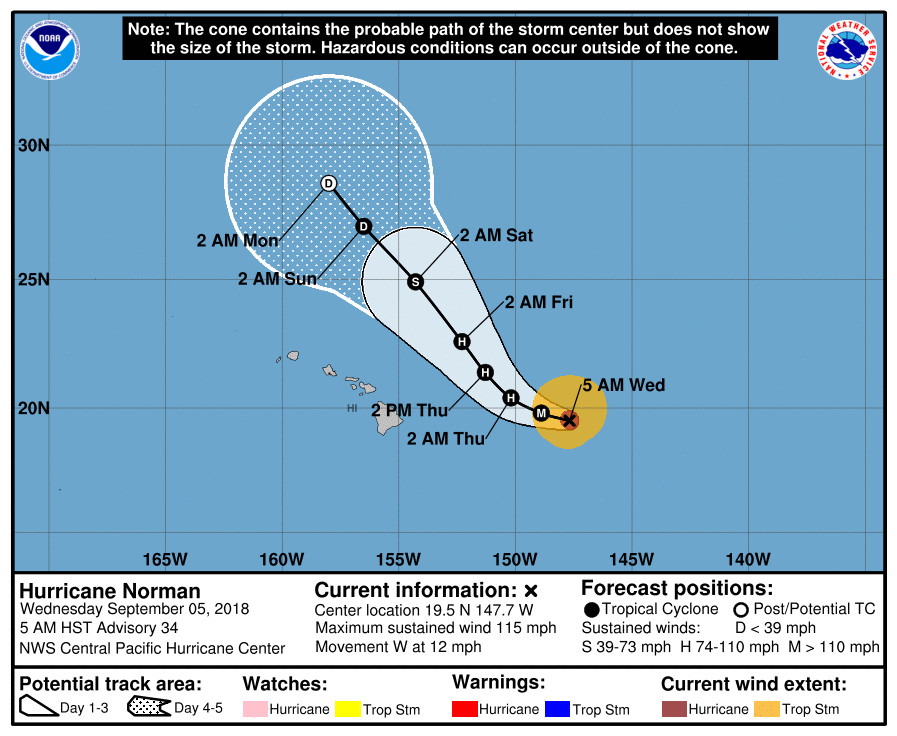 Norman is moving toward the west near 12 mph, "and this general motion is expected to continue through this morning," forecasters say. "Norman is expected to slow its forward motion slightly, and turn toward the west-northwest later today and tonight. A turn toward the northwest is expected Thursday and Thursday night," as the hurricane passes Hawaii Island.
A High Surf Warning is already in effect for east-facing shores of Hawaii Island. Surf heights will be increasing to 10 to 15 feet today, and to 12 to 18 ft tonight and Thursday.
"Buoy 51004, a few hundred miles SE of the Big Island has been showing a steady rise in the medium to long period energy overnight," the National Weather Service in Honolulu said. "The Hilo buoy 51206 is also now showing a rise and we should continue to see this swell build and spread across the islands today. The swell is expected to peak Thursday into Thursday night."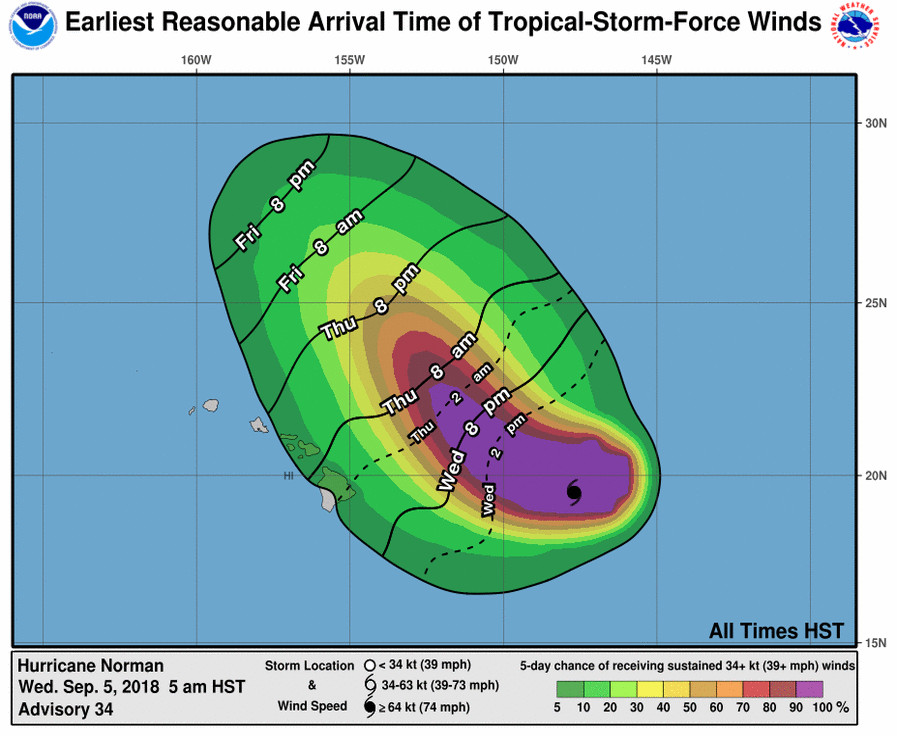 "Moisture from Hurricane Norman could reach the east end of the state on Thursday, with winds easing slightly as Norman advances closer to the islands," the Honolulu-based forecasters said. "Windward areas, especially the western islands may see an increase in showers. In all, trade wind weather is still expected on Thursday, though it will probably feel more muggy with the anticipated increase in moisture."
"If this forecast holds," NWS says, "winds over the islands are likely to weaken further over the weekend. Meanwhile, bulk of the moisture from Norman may stay northeast of the area. Therefore, the rather muggy weather may persist, with a convective weather regime developing over the islands."
From the Central Pacific Hurricane Center discussion at 5 a.m. HST:
Norman appears to have rapidly intensified overnight. Although the eye has become slightly less distinct during the past couple of hours, the satellite fix agencies (SAB, JTWC, and PHFO) were in unanimous agreement that the subjective Dvorak current intensity estimate was 5.5/102 kt. In addition, the most recent UW-CIMSS ADT estimate was 5.8/110 kt. Based on these estimates, we have increased the initial intensity to 100 kt for this advisory.

Norman has been moving just south of due west, or 265 deg, at 10 kt. It is being steered by a deep subtropical ridge located to the north and northeast. The western edge of this ridge is forecast to erode later today as an upper-level trough digs down toward the region north of the Hawaiian Islands during the next couple of days. As a result, the forecast guidance is showing an increasing spread in the track forecasts starting in 48 hours. This is likely due to the way the different models forecast the weakening of the western flank of the ridge due to the upper-level trough. This weakening of the ridge is expected to cause Norman to slow its forward motion and gradually turn toward the west-northwest starting later today. This will likely be followed by a turn toward the northwest starting later tonight or early Thursday, and continuing into this weekend. The latest forecast track has been shifted to the left of the previous forecast, and remains close to the middle of the guidance envelope through the next 2 days. Even though the guidance spread increases during days 3 through 5, all of the models support the general northwestward motion persisting. The latest official forecast is also very close to the FSSE, TVCE, HCCA and GFEX consensus model guidance.

Norman is expected to remain a hurricane for the next couple of days. The latest CIRA ocean heat content (OHC) analysis appears to support it remaining near major hurricane intensity today. Vertical wind shear has gradually increased to near 15 kt based on the latest UW-CIMSS estimate, which may be contributing to some of the degradation of the eye this morning. By tonight, most of the guidance is in good agreement that Norman will start to weaken under the effects of increasing southwesterly vertical wind shear, cooler SSTs, and drier environmental conditions. This weakening will likely persist through day 5, when Norman is forecast to become a remnant low. The intensity forecast follows similar trends of the prior advisory, and favors the latest ICON guidance.

The NOAA Gulfstream IV aircraft is scheduled to conduct another mission to sample the environment around Norman later today. The valuable data collected during this mission will be used to improve the initialization of the various hurricane forecast models that we use to predict the motion and intensity of Norman later today and tonight.

FORECAST POSITIONS AND MAX WINDS

INIT 05/1500Z 19.5N 147.7W 100 KT 115 MPH
12H 06/0000Z 19.8N 148.9W 100 KT 115 MPH
24H 06/1200Z 20.4N 150.2W 90 KT 105 MPH
36H 07/0000Z 21.4N 151.3W 80 KT 90 MPH
48H 07/1200Z 22.6N 152.3W 70 KT 80 MPH
72H 08/1200Z 24.9N 154.3W 45 KT 50 MPH
96H 09/1200Z 27.0N 156.5W 30 KT 35 MPH
120H 10/1200Z 28.6N 158.0W 25 KT 30 MPH…POST-TROP/REMNT LOW