(BIVN) – A Tropical Storm Watch has been issued for Hawai'i Island – as well as Oahu, Maui, Molokai, Lanai, and Kahoolawe – as Hurricane Olivia continues to move west towards the islands, 595 miles east northeast of Hilo.
According to the National Weather Service, a tropical storm watch means that tropical storm conditions are possible in the watch area. A watch is typically issued 48 hours before the anticipated first occurrence of tropical-storm-force winds, conditions that make outside preparations difficult or dangerous.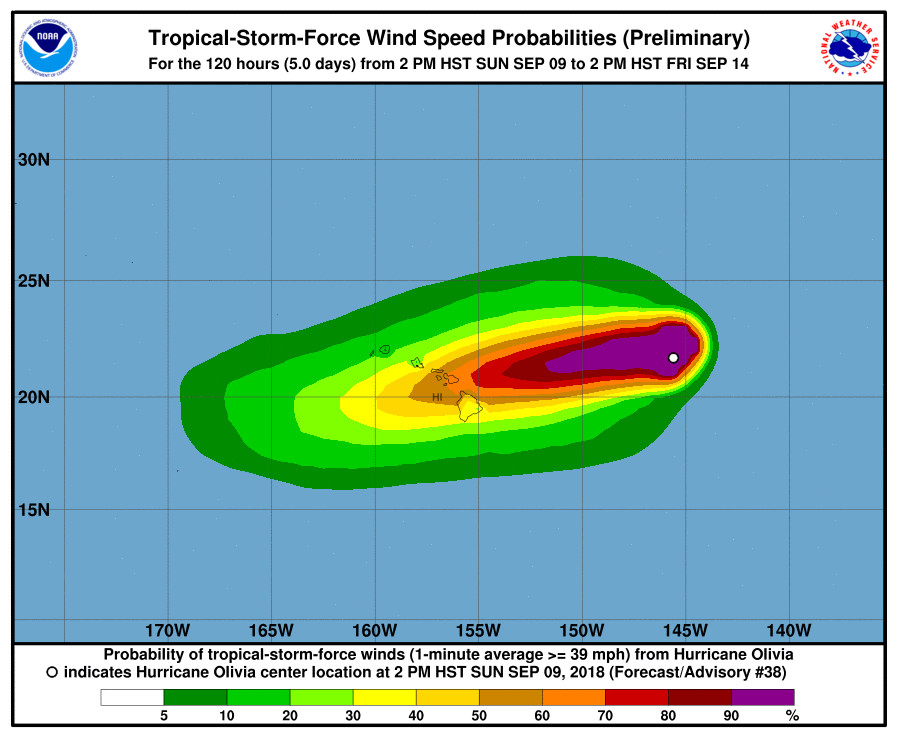 Olivia is still a category one hurricane, with maximum sustained winds near 75 mph with higher gusts. Little change in strength is forecast during the next 36 hours, with gradual weakening expected afterward, the Central Pacific Hurricane Center says.
Governor David Ige has already signed an emergency proclamation "that will provide relief for disaster damages, losses and suffering caused by Hurricane Olivia," the state says. "Even if Olivia arrives as a Tropical Storm, as predicted, Hawai'i is in danger of experiencing high winds, heavy rains, high surf, storm surges and flooding that threaten to harm communities and cause extensive damage to public and private property across the state."
The proclamation declares the counties of Hawai'i, Maui, Kalawao, Kaua'i and the City and County of Honolulu disaster areas for the purpose of implementing emergency management functions. The proclamation also authorizes the expenditure of state monies as appropriated for the speedy and efficient relief of damages, losses, and suffering resulting from Hurricane Olivia, state officials say. The emergency proclamation expires on September 17, 2018.
"We're monitoring this storm closely and taking steps now to ensure that we're prepared for its impacts to the state. A tropical storm could bring heavy rain and flooding, especially in places that are saturated from previous storms. Now is the time to prepare," said Gov. David Ige.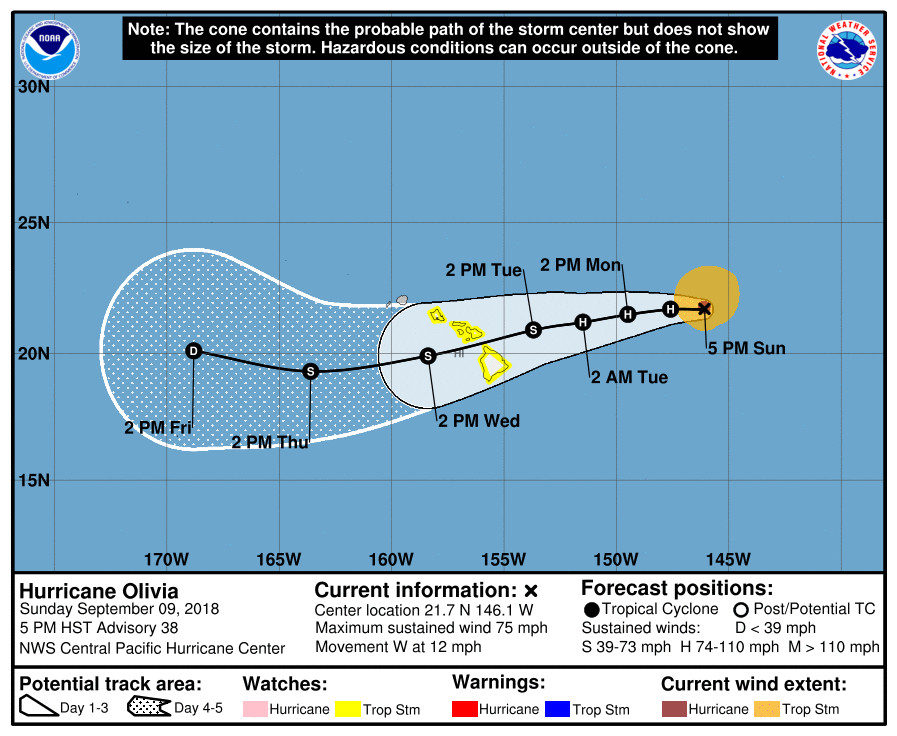 At this early stage, forecasters say anticipated impacts include:
WIND: Tropical storm conditions are possible within the watch area starting Tuesday.
RAINFALL: Storm total rainfall amounts of 10 to 15 inches, with isolated amounts over 20 inches, are possibile associated with Olivia.
SURF: Large swells generated by Olivia are expected to continue to increase near the main Hawaiian Islands. Surf will to build as Olivia approaches, and may become damaging on some exposed east facing shores Tuesday or Wednesday.
According to the 5 p.m. discussion from the Central Pacific Hurricane Center:
Olivia has continued to exhibit an indistinct but persistent eye feature over the past several hours. A 2120 UTC AMSR2 and a 0050 UTC SSMIS pass showed a partial eyewall, mainly in the southeastern semicircle, along with what appears to be a developing banding feature to the northeast and east of the center. The subjective intensity estimates from SAB, JTWC, and PHFO were unanimous at 4.5, and ADT gave a 4.3. Have maintained the current intensity of 65 kt for now, pending more data from the next Air Force Reserve Hurricane Hunter mission this evening.

Neglecting wobbles, Olivia is moving 270/10. This due west motion is being induced by a deep layer ridge to the north and northwest of the tropical cyclone. In 12 to 24 hours, the ridge is expected to strengthen and build southward ahead of Olivia, forcing the cyclone on a slightly slower and more south of due west motion that will persist through about 96 hours. Unfortunately, the track guidance actually shows slightly more spread for this cycle. The ECMWF, Canadian, and NAVGEM models are on the northern side of the envelope, while the GFS now appears to be a southern outlier. The consensus guidance splits the difference and remained very close to the previous forecast. Thus, made very little change to the forecast track. However, the spread in the guidance and resulting uncertainty demonstrates the importance of not focusing too much on the exact track as Olivia moves across the islands.

There's also little change to the forecast thinking in terms of intensity. Sea surface temperatures will be marginal, but gradually increasing along the track as Olivia approaches the main Hawaiian Islands. Wind shear is expected to remain weak over the tropical cyclone through the next 24 hours, then begin gradually increasing,
approaching 30 knots by 72 hours. All of the intensity guidance depicts weakening after 36 hours, but at somewhat different rates. Our forecast depicts Olivia weakening faster than HCCA and LGEM, but not as fast as most of the consensus guidance, HMON, and SHIPS.

KEY MESSAGES:

1. It is important to not focus on the exact forecast track and intensity when planning for Olivia. Persons on all the main Hawaiian Islands should continue preparing for the liklihood of direct impacts from this system this week. Those impacts could include intense flooding rainfall, damaging winds, large and dangerous surf, and storm surge.

2. Regardless of the exact track and intensity that Olivia takes as it approaches the islands, significant effects often extend far from the center. In particular, the mountainous terrain of Hawaii can produce localized areas of strongly enhanced winds and rainfall, even well away from the tropical cyclone center.

FORECAST POSITIONS AND MAX WINDS

INIT 10/0300Z 21.7N 146.1W 65 KT 75 MPH
12H 10/1200Z 21.7N 147.6W 65 KT 75 MPH
24H 11/0000Z 21.5N 149.5W 65 KT 75 MPH
36H 11/1200Z 21.2N 151.5W 65 KT 75 MPH
48H 12/0000Z 20.9N 153.7W 60 KT 70 MPH
72H 13/0000Z 19.9N 158.4W 50 KT 60 MPH
96H 14/0000Z 19.3N 163.6W 40 KT 45 MPH
120H 15/0000Z 20.1N 168.8W 30 KT 35 MPH