(BIVN) – Hurricane Walaka is a major hurricane, moving north in the Central Pacific, 985 miles west southwest of Kailua-Kona.
Walaka, a powerful category 4 hurricane with sustained winds near 155 mph, is not a threat to the main Hawaiian islands. However, the storm is headed towards Johnston Island and Papahānaumokuākea. A Hurricane Warning is in effect for Johnston Atoll, and a Hurricane Watch is in effect for the Papahānaumokuākea Marine National Monument from Nihoa to French Frigate Shoals to Maro Reef.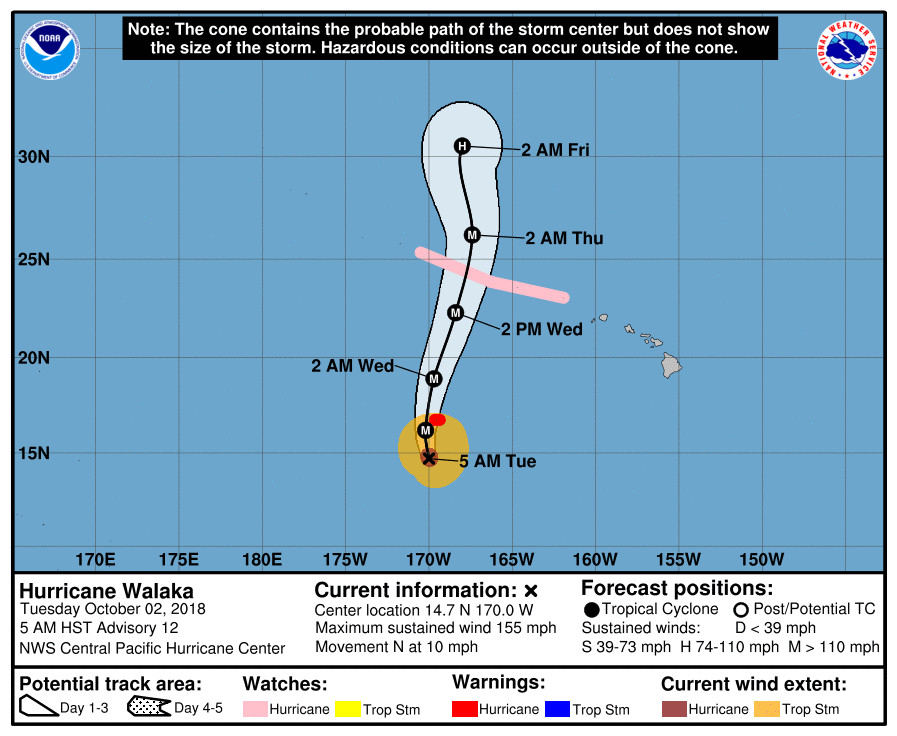 Hurricane Walaka reached category five strength on Monday and weakened a bit overnight. The environment surrounding Walaka remains conducive for additional intensification during the next 24 hours, the Central Pacific Hurricane Center says.
The passing of Walaka could bring some extra moisture over parts of the state. "Thursday through Saturday, as Walaka passes to the west of the main islands on Wednesday and Thursday a moisture convergence plume sets up between the southerly tropical flow in the wake of the storm, and the easterly trade winds from the East Pacific high," the National Weather Service said this morning/ "Forecast models differ a bit on how far east this plume moves relative to Kauai and Oahu. Expect some enhanced shower activity for these western islands mainly on Friday and Saturday, with amounts and timing depending on where this mesoscale convergence feature sets up. The precipitation chances were increased slightly for the Thursday through Saturday time period in this mornings forecast grid package."
In addition, southwest and west swells generated by Walaka "will provide an increase in surf heights along some exposed south and west facing shorelines starting late Wednesday or early Thursday," reaching High Surf Advisory Surf levels along some south or west facing shores over the western end of the island chain Thursday, and may approach warning levels, forecasters say.