(BIVN) – Major Hurricane Barbara was 1,920 miles east southeast of Hilo this morning, and continues moving toward the west-northwest near 10 mph.
Barbara is a category 4 hurricane on the Saffir-Simpson Hurricane Wind Scale, with maximum sustained winds near 145 mph with higher gusts. The National Hurricane Center in Miami says some weakening is forecast during the next 48 hours, and Barbara should weaken to a tropical storm on Friday.
While the storm appears to be tracking in the direction of Hawaiʻi, forecasters say Barbara will eventually encounter a significant increase in shear, lose its deep convection, and become post tropical by the time it crosses into the central Pacific basin.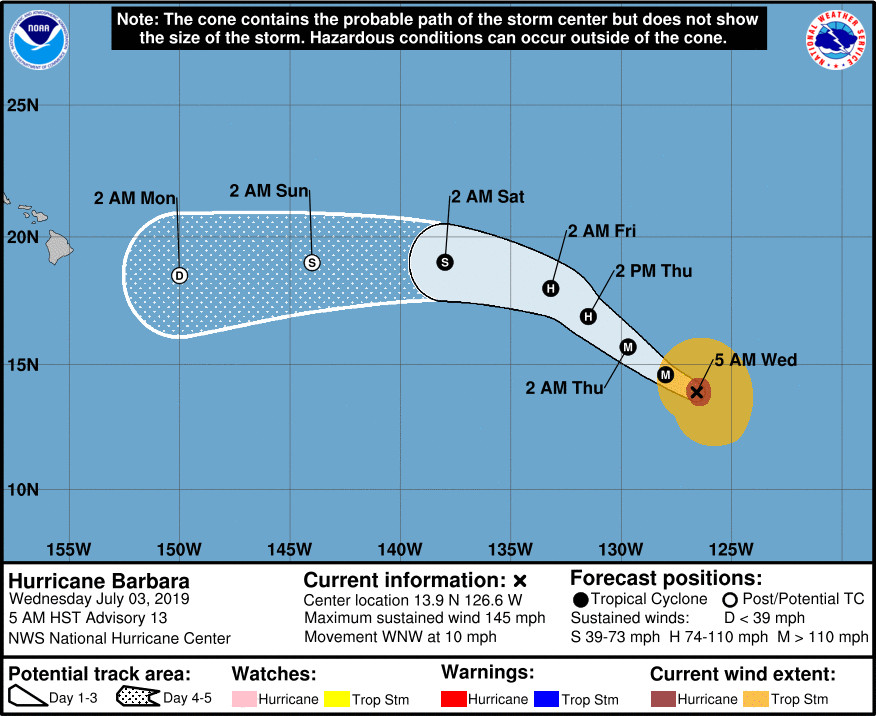 As far as specific affects Barbara may have on Hawaiʻi, the National Weather Service in Honolulu says "forecast confidence remains low due to varying solutions associated with" the storm. "As a result, it remains too early to determine the potential for impacts to the islands associated with Barbara. Interests are encouraged to continue to monitor the latest forecasts for Barbara, that are currently being issued by the National Hurricane Center," the local forecasters say.
Also, forerunners from the swell produced by Barbara "may arrive along east facing shores of the Big Island, and possibly Maui, starting late Friday." Again, the National Weather Service in Honolulu says "it is too early to know the exact height of this swell, so we will continue to monitor future tropical cyclone advisories and model guidance to determine any potential impacts that may occur along exposed shorelines."
From the National Hurricane Center discussion at 5 a.m. HST, by forecaster Avila:
It appears that the weakening process has already begun. The ring of intense convection surrounding the eye has warmed up and consequently, Dvorak numbers have continued to fall. Based on an average of the latest objective and subjective numbers, the initial intensity has been adjusted down to 125 kt in this advisory. Barbara's circulation is beginning to move toward cooler waters so a gradual weakening trend should prevail, although some minor fluctuations in intensity are possible today. Faster weakening is anticipated once the shear increases significantly in about 2 days. In fact, Barbara could lose its deep convection, and thus become post tropical, around the time it is forecast to cross 140W into the central Pacific basin. This is indicated by most of the intensity guidance.

Barbara is moving toward the west-northwest or 295 degrees at 9 kt. The hurricane has reached the southwestern edge of the subtropical high that has been steering the cyclone, and this flow pattern should force Barbara to move slowly toward the northwest during the next 2 days or so. After that time, a new ridge is forecast to re-build north of the cyclone, resulting in a more westerly track. In addition, since Barbara is forecast to become a weak shallow cyclone, it will likely become steered by the low-level trade winds. The NHC forecast is not different from the previous one, and it continues to be in the middle of the guidance envelope and basically on top of the multi-model consensus TVCE.

FORECAST POSITIONS AND MAX WINDS

INIT 03/1500Z 13.9N 126.6W 125 KT 145 MPH

12H 04/0000Z 14.6N 128.0W 115 KT 130 MPH

24H 04/1200Z 15.7N 129.7W 105 KT 120 MPH

36H 05/0000Z 16.9N 131.5W 95 KT 110 MPH

48H 05/1200Z 18.0N 133.2W 80 KT 90 MPH

72H 06/1200Z 19.0N 138.0W 40 KT 45 MPH

96H 07/1200Z 19.0N 144.0W 35 KT 40 MPH…POST-TROPICAL

120H 08/1200Z 18.5N 150.0W 30 KT 35 MPH…POST-TROP/REMNT LOW