(BIVN) – A High Surf Warning remains in effect as Tropical Storm Flossie approaches, 430 miles east of Hilo.

Onekahakaha Beach Park is now closed due to dangerous surf conditions.
As of 11 a.m. HST, Flossie continues to gradually weaken as it moves west near 12 mph. The storm's maximum sustained winds are near 40 mph. The Central Pacific Hurricane Center forecasts Flossie will move near or over portions of the main Hawaiian Islands late Monday and Tuesday.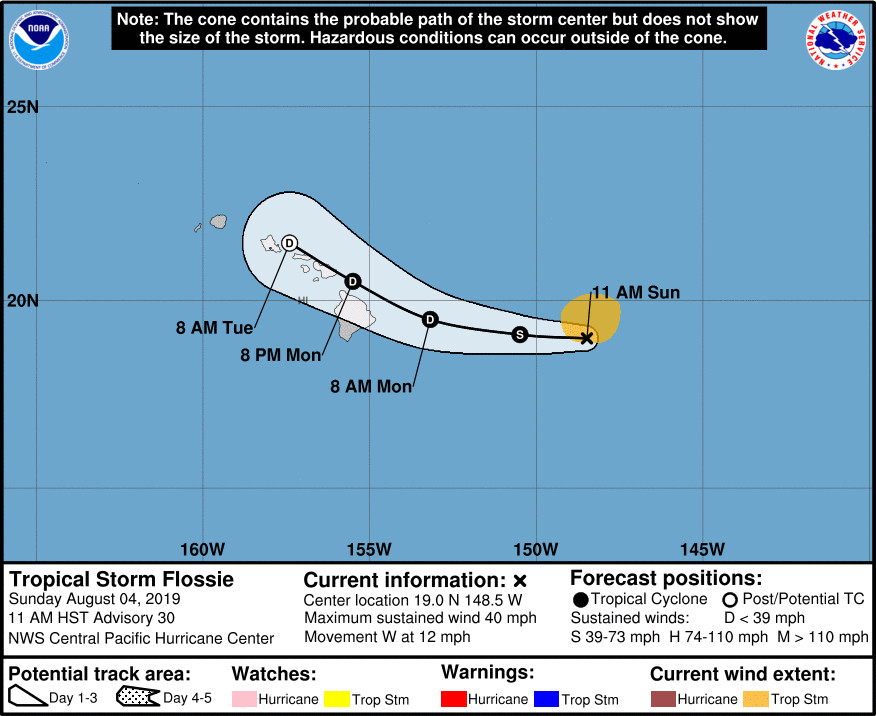 "The first visible satellite images of the day revealed that the LLCC was a bit farther south than expected, and the initial motion is now 275/10 kt," the CPHC in Honolulu wrote. "The westward motion, which will continue into Monday, is likely due to the increasingly shallow system being steered by the low- to mid-level ridge to the north. As the ridge weakens Monday night, Flossie is forecast to turn toward the west-northwest near the main Hawaiian Islands and remain on that motion until dissipation. In light of recent trends and expectation that Flossie will be shallow, the track forecast was nudged southward again near TVCN and HCCA toward the middle of the guidance envelope."
Gradual weakening is forecast during the next 48 hours, and Flossie is expected to weaken to a tropical depression on Monday, forecasters say.
"Interests in the main Hawaiian Islands should monitor the progress of Flossie," the Central Pacific Hurricane Center stated at 11 a.m. "The updated track forecast calls for the system to be near or over portions of the state as a tropical depression late Monday and Tuesday, but given average forecast errors, a Tropical Storm Watch remains possible for portions of the state later today."
"Moisture associated with Flossie will spread over portions of the main Hawaiian Islands late Monday, bringing the potential for heavy rainfall," the forecasters reported.
Hawaiʻi County Civil Defense issued this updated list of public safety measures at noon on Sunday:
Onekahakaha Beach Park is closed due to dangerous surf conditions.
Camping permits and pavilion rentals for Onekahakaha, Whittington and Punaluu Beach Parks are cancelled for today.
Bayfront Parking lot on Kamehameha Avenue will remain closed until further notice.
The Hele-On buses will continue to pick-up passengers behind the Afook-Chinen Civil Auditorium.