(BIVN) – As opponents of the Thirty Meter Telescope have effectively stopped crews from starting construction on Mauna Kea for four weeks, attention is turning towards public sentiment regarding the situation.

Civil Beat reported two-thirds of Hawaiʻi voters polled want the telescope built on Mauna Kea (although Native Hawaiians and residents under 50 were more likely to oppose the project.)  The same poll found "little love" for Governor David Ige, whose social media accounts have been sharing and retweeting support for the TMT project in recent days.
The Mauna Kea kiaʻi have in turn been promoting a #MaunaMajority hashtag over social media. "TMT since the beginning has been claiming to be the majority of people. We know that's not true," wrote the official Puʻuhonua o Puʻuhuluhulu account on Twitter.
Jam 4 Mauna Kea
Mana Maoli is collaborating with Puʻuhonua o Puʻuhuluhulu to coordinate "an unprecedented live, worldwide, #Jam4MaunaKea online event."
On Sunday, August 11, everyone in support of the effort is being encouraged to take part in a medley: Ku Haʻaheo (chorus only) & Hawaiʻi Loa (Hawaiian & English chorus only), via the "magic of social media".
Please be ready to share/repost the Mauna Kea Jam video promptly at 11a HST on SUN AUG 11th. This will be posted on Puʻuhonua o Puʻuhuluhulu Mauna Kea's Facebook and Instagram (IGTV) pages, as well as Mana Maoli and various allies/artists' pages.
Greg Chun Takes On New Mauna Kea Role
Greg Chun, previously the senior advisor on Maunakea to the University of Hawaiʻi, and chair of the Maunakea Manegement Board, has been appointed to a new position.
Chun is now executive director of Maunakea stewardship at the University of Hawaiʻi. "Chun will oversee relevant UH programs to ensure recognition of Maunakea's natural, cultural, educational and scientific resources and will report directly to UH Hilo Chancellor Bonnie D. Irwin," the University reported on August 7, adding that Chun's appointment was effective July 19, 2019.
"I have great confidence that Greg will improve models of stewardship of Maunakea, especially our abiding commitment to the triad of encouraging scientific knowledge, pursuing appropriate land use and facilitating public discussion," said Chancellor Irwin, who herself just started on the job. "He is uniquely qualified to lead the integration of cultural knowledge and practice into our management responsibilities and scientific endeavors."
"I have seen firsthand the challenges facing Maunakea and UH's stewardship of the mauna," said Chun, who will also continue to advise UH President David Lassner. "My top priority is serving the mountain itself and finding a way where its cultural and historic significance is uplifted by astronomy, not diminished by it."
Maunakea Management Board Meets, August 13
The Mauna Kea Management Board will meet in Hilo this coming Tuesday at 10 a.m.
On the agenda is an administrative rules update, an overview and status of the Caltech Submillimeter Observatory Decommissioning, and three approvals:
Office of Maunakea Management: No Commercial Activity Signs
Office of Maunakea Management: Stargazing Areas, Equipment Storage and Laydown Areas, Traffic Delineation
Gemini Observatory: Installation of Safety Infrastructure
There will also be an election of MKMB officers.
UH 2.2-meter Telescope To Deploy Breakthrough Technology
The National Science Foundation has awarded a $1.1 million grant to a scientists at the University of Hawaiʻi at Mānoa Institute for Astronomy to install "a high-tech shape-shifting secondary mirror" on the UH 2.2-meter telescope on Maunakea.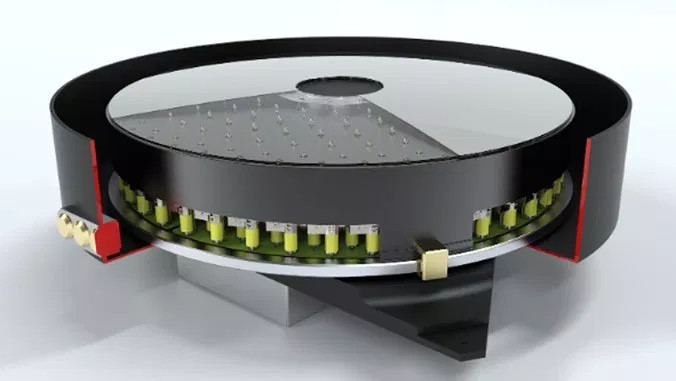 The rendering above shows the new "adaptive secondary" mirror that will be used to high-resolution images of stars and planets. (Photo credit: TNO/Mark Chun)

The mirror will allow astronomers to compensate for image blurring due to turbulence in the Earth's atmosphere using the telescope's optics.
From UH:
The larger, primary mirror acts as a big "eyeball" to collect light, and the secondary mirror is typically used to send the light into the different cameras that take the scientific data. By making the secondary mirror flexible, the corrected image can be fed into a variety of instruments, not just one.

The new mirror, an "adaptive secondary," uses a novel actuator technology developed by the research organization TNO (Netherlands) that enables very simple and high-performance operation. Once installed, it will deliver images free from the blurring effects of the atmosphere. This technology has the potential to be used in telescopes around the world of all sizes, including the next generation of extremely large ground-based telescopes such as the Thirty Meter Telescope (TMT) planned for Maunakea.

"[The UH 2.2-meter telescope] will be the first telescope on Maunakea to have an adaptive secondary and the first in the world with these novel actuators. We're leap-frogging ahead of the larger telescopes and paving a way for them," says Mark Chun. The new adaptive secondary mirror is also part of a larger plan to rejuvenate the 50-year-old telescope. "While it is the oldest telescope on the mountain, there are still new tricks we're teaching it to make it a world-class facility," adds Chun.

The new mirror, in combination with the Robo-AO-2 adaptive optics system being deployed by UH astronomer and co-primary investigator Christoph Baranec, will enable the UH 2.2-meter telescope to deliver images comparable in resolution to the Hubble Space Telescope.

"We know Maunakea can provide the best images in the world and we're positioning [this] telescope to do this routinely," said Baranec.
In addition to giving new life to an old telescope, the project presents a perfect opportunity to train the next generation of local scientists and engineers with new core technologies for astronomy.

"We are providing a unique educational experience for local high school students in Hilo and for UH Mānoa and UH Hilo graduate and undergraduate students, said Chun "They are developing cutting-edge technology at a world-class science facility right here in UH."