(BIVN) – A north-northeast swell that increased overnight and will hold into Thursday, officials reported today, continuing the High Surf Advisory for east-facing shores and prompting the closure of the Hilo Bayfront Highway in both directions on Wednesday.
"This swell will produce moderate to heavy surges in north facing harbors, including Hilo and Kahului, and could generate breaking waves near harbor entrances," the National Weather Service stated in a Marine Weather Statement. "Mariners using these harbors should exercise caution when entering and leaving port and when launching vessels."
Surf heights of of 8 to 12 feet are expected for east-facing shores of Kauai, Oahu, Molokai, Maui, and Big Island.
A Flood Watch remains in effect for the entire island of Hawaiʻi. "A passing upper level disturbance will produce heavy showers and thunderstorms that could lead to flash flooding today," the National Weather Service stated. "The highest flood risk will be across windward slopes, though heavy rainfall and thunderstorms could occur anywhere."
A Flood Advisory was issued for an area of East Hawaiʻi on Wednesday morning. At 8:48 a.m. HST, radar indicated moderate showers over the windward side of the Big Island, with some heavier rain moving over the Puna district, forecasters said.
A Winter Weather Advisory is also in effect for Hawaiʻi island summits. Additional snow accumulations of 1 to 3 inches, with a chance of freezing rain, are possible for the tops of Maunakea and Mauna Loa. Maunakea webcams already show snow covering the summit area.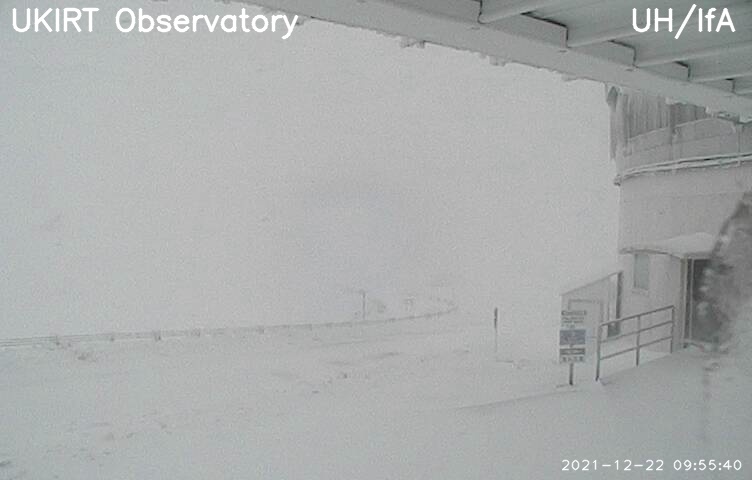 Due the Flood Watch and Flood Advisory, the Hawaiʻi County Civil Defense says:
All Residents in flood prone areas are asked to remain alert for flooding conditions.
Be aware that road closures may occur without notice.
Do not attempt to cross flowing water in your vehicle or by foot; turn around don't drown.
Be on the alert for malfunctioning traffic signals and treat flashing traffic lights as a four-way stop.
If lightning threatens your area, the safest place to be is indoors.
Should you be experiencing active flooding conditions requiring sandbags, please call Civil Defense at 808-935-0031.