(BIVN) – Firefighters are said to be making good progress on containing two wildfires that continue to burn in the Keamuku Maneuver Area on Tuesday.
At 10 a.m., the U.S. Army Garrison Pōhakuloa reported "the small fire by Hawaii Belt Road (Highway 190) remains at approximately 90 percent contained, and the larger fire in the interior hills of Keamuku Maneuver Area (KMA) remains at approximately 70 percent contained."
Both the County of Hawaiʻi and U.S. Army say there is no community threat at this time.
The County also issued a news release on Tuesday morning: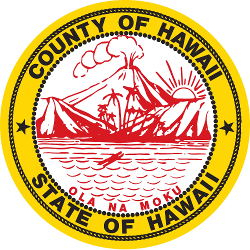 County of Hawaiʻi news release
on February 14, 2023
Bulldozer operators surrounded the Keamuku wildfires in mauka South Kohala with fire breaks Monday night and Tuesday morning and are now cutting another break around the burning areas.
Firefighters from Pohakuloa Training Area (PTA), Hawai'i County, and Volunteers, along with bulldozer operators and military helicopter crews continue to battle the Keamuku Maneuver Area (KMA) Complex fires, which were caused by lightning strikes Sunday. It is estimated that between 1,500 and 1,800 acres have been burned by both fires.
On Monday, the 25th Combat Aviation Brigade of the 25th Infantry from Oahu used three helicopters to make 80 water bucket drops totaling 67,000 gallons of water. The choppers will continue to drop water Tuesday. Ground crews will patrol the breaks to put down hot spots that could ignite other blazes.
There are no threats to communities, roads or structures at this time. While the larger of the two fires is a mile from Waiki'i Ranch, the community is protected by a thousand-meter buffer of pasture that the U.S. Army established between KMA and Waiki'i Ranch.
PTA and Civil Defense will continue to ensure the public is kept informed.
"We are extremely thankful for the team of teams from throughout our Hawaii Island community that are out here battling these fires, in addition to the Pohakuloa team and our helicopter crews from Oahu. Absolutely incredible effort across the board," said PTA Commander Lt. Col. Kevin Cronin in a PTA news release. "We truly are a team of teams."