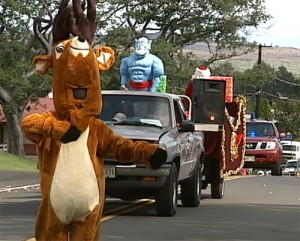 December 13, 2010 – PAHALA, Hawaii
Video by David Corrigan | Voice of Stephanie Salazar

It was a huge weekend for country style Christmas parades on the Big Island of Hawaii.
On Sunday, the Pahala Christmas Parade was held; a small but spirited set of floats and trucks marched down Kamani Street to the cheers of the Ka'u district ohana.
This year, the parade had numerous onlookers from "out of town". Thats because many in attendance were also at the new governor's inaugural celebration at the Pahala Plantation House earlier that same day. 
Other parades were held in Kona on Friday evening and the traditional lighted parade in Keaau. Big Island Video News will have more form the Kona parade, coming up shortly.