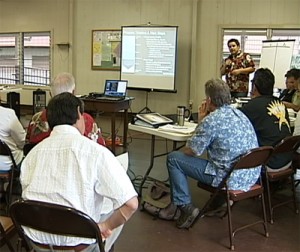 Video by David Corrigan | Voice of Stephanie Salazar
The Hamakua CDP Steering Committee Meeting met at the Papaikou Community Center on Tuesday evening.
Among the items on the agenda was a review of the recently released (and extensive) draft community profile.
The document comprehensively describes the existing conditions of the planning area, full of the streams, steep cliffs and ag lands that make Hamakua special. The profile will provide a fact-based foundation on which to build policies. The sources of information includes previous plans and studies, available mapping data, interviews with agencies, and input from the residents of the area who possess local knowledge.
Big Island Video news will take a closer look at the profile in the coming weeks.
Another item on Tuesday's agenda was the creation of a Waipio Valley Gathering Subcommittee. The group will visit the treasured wahi pana this Saturday, in order to conduct an information gathering session on the unique characteristics of the valley as they relate to the CDP.
The first draft of the Hamakua community profile is avaialbe for download from the county, in this pdf file.