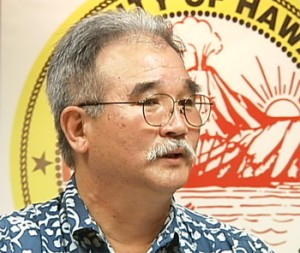 By Stephanie Salazar
On Friday, Hawaii County Prosecuting Attorney  Jay Kimura told the Hawaii Tribune-Herald that  he plans to resign his position effective April 1st.
The 59 year old Kimura has held the position for three decades, and is a respected official in the community.
Kimura's job will be assumed by First Deputy Prosecutor Charlene Iboshi, who will serve until the 2012 election.
Kimura's final term as Prosecuting Attorney was plagued by the differing interpretations of the so called Peaceful Sky Ordinance, which was supposed to make marijuana use the lowest law enforcement priority when the measure was voted into law in 2008. The pro-marijuana community tried to debunk Kimura's stance around every turn, saying that his continued prosecutions were beyond the intent of the Peaceful Sky Ordinance.
Some have also speculated that Kimura's decision was a result of his older brother Lloyd's guilty plea in connection with a $23 million Ponzi scheme on Maui. But Kimura told reporter John Burnett that his decision to retire is not directly related to the scandal.
Kimura will, however, be moving to Maui where he will still practice law.