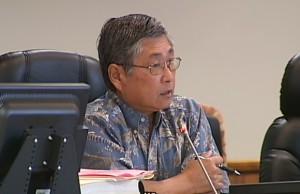 Video by David Corrigan | Voice of Stephanie Salazar
The current Hawaii County Council majority has been highly critical of Mayor Billy Kenoi's proposed budget, however the mayor did find support from the councilmembers from Hilo.
Still, District 2 councilman Donald Ikeda had some concerns. Ikeda wondered why the mayor didn't consider a property tax increase. He also asked why the mayor would reinstate the former 2% property tax set aside for the county open space land fund, when a recently passed charter amendment mandates only a 1% set aside.
District 4 councilman Dennis "Fresh" Onishi also warned that the state legislature is once again rumored to be eyeing the county's share of the Transient Accomodations Tax.
The council will be conducting reviews, department by department, over the next two days in Hilo.