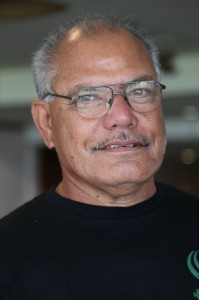 Media release | The Kohala Center
KAMUELA, Hawai'i — April 20, 2011 — Kupuna Mac Poepoe will share some of his insights as a Moloka'i fisherman and conservationist in an upcoming Puana Ka 'Ike lecture in Kona and an Eia Hawai'i presentation in Hilo.
Poepoe will speak on "Feeding Family" from 5:30–7 p.m. on Friday, April 29, at the Keauhou Beach Resort Ballroom in Kona and from noon to 1:30 p.m. on Monday, May 2, at the University of Hawai'i at Hilo, Campus Center Room 301.
As co-founder of the 18-year old Hui Mälama o Mo'omomi, Poepoe has led the way toward educating others about the coastal resources found in Mo'omomi Bay and pono (proper) behaviors that ensure not only familial but community subsistence. Hui Mälama o Mo'omomi has produced a fishing calendar based on the cultural practices that are linked with the phases of the moon.
Poepoe was the 2006 recipient of a lifetime achievement award from Hawai'i's Living Reef Awards Program.
For more information on Poepoe's presentations, contact Joy Cunefare at (808) 534-8528 or e-mail info@kohalacenter.org. For lecture schedules and webcasts of previous lectures, visit http://kohalacenter.org/puanakaike/about.html and www.keauhouresort.com/learn-puanakaike.html.
The Puana Ka 'Ike and Eia Hawai'i lecture series are presented in partnership with Keauhou-Kahalu'u Education Group of Kamehameha Schools, The Kohala Center, the Kīpuka Native Hawaiian Student Center at the University of Hawai'i at Hilo, and Keauhou Beach Resort.