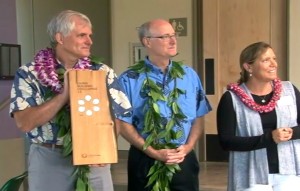 Video courtesy HPA | Voice of Stephanie Salazar
The Hawaii Preparatory Academy was honored for achieving the full certification under the Living Building Challenge for its Energy Lab located on the school campus in Waimea.
The announcement of the designation was made in April, but the ceremonial recognition was held just a few days ago.
A Living Building must generate all of its own energy through clean, renewable resources; capture and treat its own water through ecologically sound techniques; incorporate only nontoxic, appropriately sourced materials; and operate efficiently and for maximum beauty.
From the media release that was issued when the announcement was first made:
"The purpose of the Living Building Challenge is to fundamentally transform the relationship between the built and natural environments," commented Jason F. McLennan, CEO of the International Living Building Institute. "By incorporating the most advanced restorative design practices into its Energy Lab, Hawai'i Preparatory Academy has created an unparalleled educational opportunity. Students who interact with this building will emerge with a new understanding of their role as the planet's stewards. What's really exciting is that with a space this beautiful and carefully considered, students discover that sustainability isn't about deprivation: it's about learning how to thrive in a manner that benefits the ecosystems we inhabit."

The project team's goal was to create a new kind of classroom that would facilitate scientific study both indoors and out, linking interior spaces with the surrounding landscape. Students are immersed in the systems that they study, collecting real-time comparative data on how the Lab's three different types of photovoltaic panels perform and encountering indisputable evidence of how individual actions affect the building's performance. The Lab also demonstrates that modern, highly used buildings can actively contribute needed resources, rather than simply consuming them. By producing substantially more energy than the Lab requires, the building's photovoltaic panels and wind turbines are helping to power the Academy's other campus buildings.

Energy Lab Director, Dr. Bill Wiecking, noted that the project has been fully integrated into the students' educational experience. "What makes the Living Building Challenge so powerful, and so perfect for schools, is that the students have to participate in it fully if they want certification. It brings out their playful and competitive spirit. Now they're so invested in it, they understand everything about how the building functions, and they're the first ones to notice if we're using too much energy or wasting water. Our kids want to lead; they love rising to a challenge. This project has made them sustainability leaders in their homes and in our community. We hope that this is the first of countless schools worldwide to adopt the Living Building Challenge."

For Dr. Wiecking, the Energy Lab is much more than an individual project: it has the potential to transform our sense of what is possible. For proof of the power of inspiration, he looks back to one of the pivotal events of his childhood. After watching Neil Armstrong walk on the moon, Wiecking had a new sense of what can happen when people are committed to achieving something. "When I look at what we've accomplished here, I feel a bit like a member of the NASA team," he said. "I mean, if we can create something like this out here in the middle of the Pacific, there's really no limit to what dedicated people can achieve elsewhere."